This article first appeared in The Edge Malaysia Weekly, on June 10, 2019 - June 16, 2019.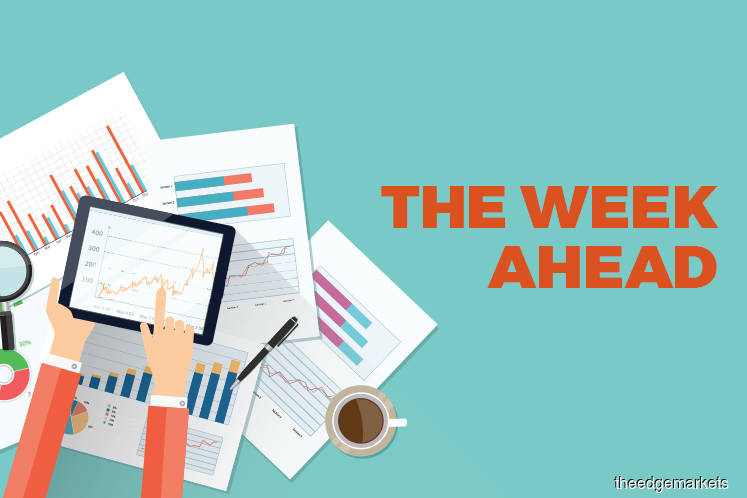 Given that it is a relatively quiet week on the home front, a slew of key data from China and the US may take centre stage as they could provide some insight into how the world's largest and second largest economies are holding up amid their prolonged — and recently escalated — trade war.
On the domestic front, many are still away on an extended Hari Raya break. However, former prime minister Datuk Seri Najib Razak's trial in relation to the misappropriation of funds belonging to SRC International Sdn Bhd will resume on Monday and continue until Friday.
In China, the statistics releases will kick off with May financing and monetary aggregates data on June 9 to 15, followed by trade data (June 10), foreign direct investment (June 11), Consumer Price Index (CPI) and Producer Price Index ([PPI] June 12), industrial production, retail sales and surveyed jobless rate (all on June 14).
Over in the US, May PPI data is set to be released on June 11, followed by headline CPI inflation on June 12. It is widely expected that the CPI will ease to 1.9% year on year, from 2% y-o-y in April, while core inflation could stay unchanged at 2.1%. Other data include May retail sales and industrial production, as well as June consumer sentiment (all on June 14).
There may also be spillover news from the Group of 20 Finance Ministers and Central Bank Governors meeting held over the weekend in Fukuoka, Japan. A key bilateral meeting there between US Treasury Secretary Steven Mnuchin and the People's Bank of China governor Yi Gang would have been closely watched for more rhetoric on the trade war.
In an interview with Bloomberg last Thursday, Yi — who was part of the Chinese delegation for US-China trade talks — said that the topic of the trade war would be "uncertain and difficult", but he nevertheless expected a "productive talk, as always". He also said China has "tremendous" room to adjust monetary policy if the trade war with the US deepens.
Meanwhile, the markets will be keeping a watch to see if US President Donald Trump's threat to impose a 5% tariff on all goods from Mexico takes effect on Monday, as previously announced. US stock markets had rallied last Thursday following unconfirmed news that the US may delay the tariff, but Vice-President Mike Pence was firm in his comments on the same day that the US would proceed.
Trump also warned last Thursday, when speaking to reporters in Europe, that the US may raise tariffs on Chinese goods by another US$300 billion if necessary. However, he tempered the statement by adding: "But I think China wants to make a deal and I think Mexico wants to make a deal badly."
Already, global banks like Morgan Stanley and Citigroup have expressed increasing concerns that the escalating trade war risks tipping the world into a recession.
Last Friday, Finance Minister Lim Guan Eng said he hoped the trade conflict would come to an end — despite expectations that Malaysia would be one of the major beneficiaries of a trade diversion. "... Malaysia hopes the trade war will end because, eventually, there will be no winners, only losers. All parties should, instead, enhance cooperation at the regional and global levels to allow the global economy to grow sustainably," he said in a statement.
Japanese bank Nomura had earlier last week identified Malaysia as the fourth biggest beneficiary of a trade diversion, after Vietnam, Taiwan and Chile.
The Department of Statistics Malaysia will release the April Industrial Production Index (IPI) and manufacturing statistics on Tuesday. A Bloomberg survey sees the IPI slowing to 2.5% y-o-y, from 3.1% in March.
Tuesday will also see Bank Negara Malaysia release its statement of accounts as at May 31.
Elsewhere in Asia-Pacific, Taiwan will announce its May trade data on June 10, and India between June 12 and 15, while the Philippines will release April trade data on June 11.
Australia's markets will close on Monday for the Queen's Birthday holiday, while that of the Philippines will close on Wednesday for its Independence Day.
There will be no monetary policy decision from any major Asia-Pacific central banks this week.
On Monday, Japan will announce its revised first-quarter economic growth.  A Bloomberg survey sees it being raised slightly to 0.6% quarter on quarter, from 0.5% previously, due to an upward revision to business spending growth.
Back home, there will be a slew of annual general meetings this week, including that of LFE Corp Bhd, HeveaBoard Bhd and Pentamaster Corp Bhd (Monday); MBSB Bank Bhd (Tuesday); WCT Holdings Bhd, Muhibbah Engineering Bhd, Oriental Holdings Bhd, Mulpha International Bhd (Wednesday); and Petron Malaysia Refining & Marketing Bhd (Thursday). Those holding extraordinary general meetings include Time dotCom Bhd (Thursday) and Gadang Holdings Bhd (Wednesday).