This article first appeared in The Edge Malaysia Weekly, on January 28, 2019 - February 03, 2019.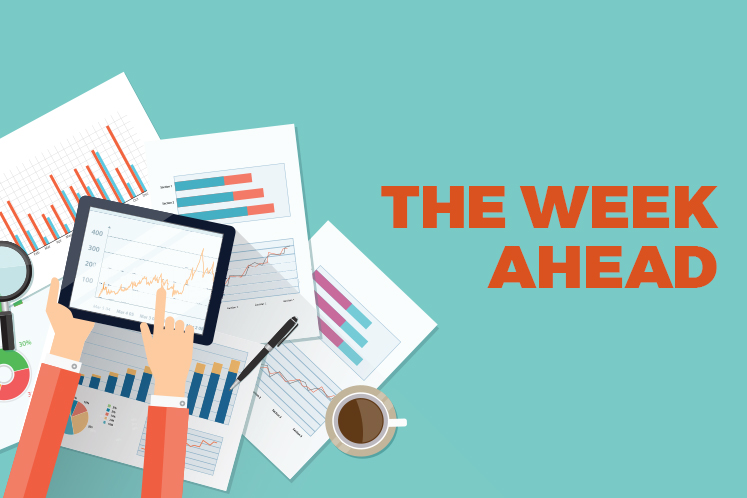 The key things to watch out for in this relatively quiet week ahead of the Lunar New Year are Malaysia's trade data (Jan 30), the US Federal Reserve's first monetary policy decision of the year (3am local time, Jan 31) and Brexit updates.
Friday is a stock market holiday in conjunction with Federal Territory Day.
On Thursday, the Sultan of Pahang, Al-Sultan Abdullah Ri'ayatuddin Al-Mustafa Billah Shah, will be installed as the 16th Yang di-Pertuan Agong. The Conference of Rulers elected him on Jan 24, and retained Sultan Nazrin Shah of Perak as the deputy. The two will have a five-year reign from Jan 31.
The election of the new king came about following the unprecedented resignation of Sultan Muhammad V, the Sultan of Kelantan, on Jan 6.
On Wednesday, the Department of Statistics Malaysia will release trade data for December 2018. There will be much interest in the numbers because in November, the trade surplus fell sharply after hitting its highest-ever level a month earlier, as exports lagged behind imports.
November's trade surplus stood at RM7.6 billion, less than half of the RM16.3 billion of the previous month. Total exports in November grew 1.6% year on year to RM84.8 billion, falling short of the 6.6% forecast by economists, owing to a sharp drop in demand from China and a contraction in the export of manufactured goods to the US.
Imports grew 5% to RM77.2 billion. Total trade that month was valued at RM162 billion, a 3.2% increase from a year ago.
Meanwhile, Bank Negara Malaysia is expected to release banking sector statistics for December on Thursday. On the same day, it will provide a detailed disclosure of its international reserves as at end-December.
Over in the US, the Federal Reserve is expected to keep interest rates unchanged following its two-day monetary policy meeting that starts on Jan 29. Chairman Jerome Powell's press conference right after the meeting will be closely watched for clues on the timing of future rate hikes. In December last year, the central bank officials projected two hikes for this year.
"Attention is likely [to be] on Powell's press conference, where he may expound further on the merits of being patient and data dependent, especially in the face of a record US government shutdown and missing key economic data like this week's 4Q2018 gross domestic product release," UOB Global Economics & Markets Research says in a report.
The US was supposed to release its 4Q GDP data on Jan 30, but the Bureau of Economic Analysis is closed due to the longer-than-expected government shutdown. Other data that is expected to be affected this week by the shutdown include December advance trade, construction spending and wholesale inventories.
US President Donald Trump has also had to postpone the delivery of his State of the Union address, originally scheduled for Jan 29, due to the shutdown. He agreed to postpone it after House Speaker Nancy Pelosi told him she would not let him give his speech in the House of Representatives' chamber until the partial government shutdown is resolved.
The Bureau of Labor Statistics will go ahead and release its January 2019 Employment Situation report as scheduled, on Feb 1. According to Bloomberg, the US unemployment rate could slow to 3.8% compared with 3.9% in December.
There will be a slew of US corporate earnings this week.
In China, the key focus will be on the manufacturing and non-manufacturing Purchasing Managers' Index (PMI) for January, on Thursday. On Friday, there will be the Caixin manufacturing PMI data.
Taiwan will announce its 4Q2018 GDP on Friday. There are no monetary policy decisions from Asian central banks this week.
The UK parliament is scheduled to have a second vote on Prime Minister Theresa May's revised Brexit plan on Jan 29. "PM May and her government look doomed to fail again to pass the revised European Union-endorsed Brexit deal on Tuesday. The probability of an extension of Article 50 is increasing, although the length of the extension remains uncertain," says UOB Global Economics & Markets Research.
Article 50 of the Treaty of Lisbon gives any EU member the right to quit unilaterally and outlines the procedure for doing so, giving the member two years to negotiate an exit deal.
Meanwhile, the eurozone is expected to release its 4Q GDP on Jan 31.
At home, Bursa Malaysia Bhd (Jan 30) will be among those releasing its 4Q2018 financial results.
Those with annual general meetings include BSL Corp Bhd (Jan 28), Chin Teck Plantations Bhd and PLB Engineering Bhd (Jan 30), while those with extraordinary general meetings are Sapura Energy Bhd (Jan 28) and Alam Maritim Resources Bhd (Jan 30).
Save by subscribing to us for your print and/or digital copy.
P/S: The Edge is also available on Apple's AppStore and Androids' Google Play.