This article first appeared in The Edge Malaysia Weekly, on August 26, 2019 - September 01, 2019.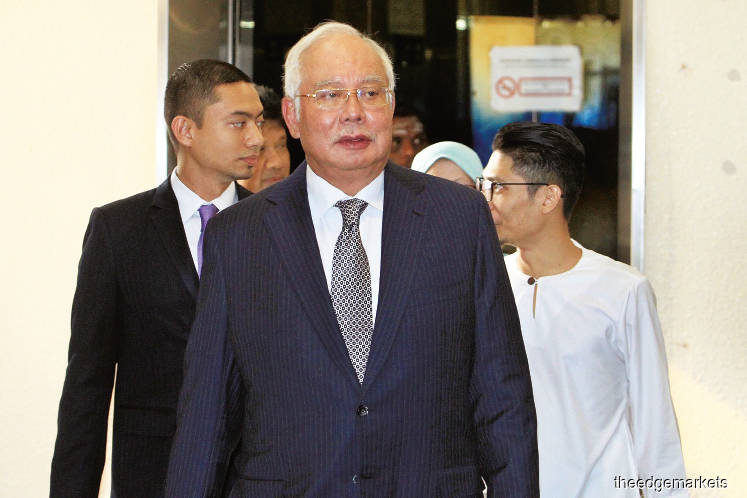 There is expected to be much interest this week in former prime minister Datuk Seri Najib Razak's trial relating to his alleged involvement in the embezzlement of RM2.28 billion of 1Malaysia Development Bhd (1MDB) funds, which starts on Wednesday.
It is understood that the first six prosecution witnesses to testify in the 1MDB trial comprises officials from the Prime Minister's Office as well as certain witnesses who also testified in the SRC International Sdn Bhd (SRC) court case.
The 1MDB trial follows the expected conclusion, on Tuesday, of Najib's case relating to the misappropriation of SRC funds.
The judge for the SRC trial, Mohd Nazlan Mohd Ghazali, had reminded all parties involved that the trial must be concluded by Tuesday morning, as he had other matters to attend to in the afternoon.
Also in focus this week, is a slew of earnings announcement from public-listed companies, including six banks that have yet to release their numbers for the quarter ended June 30. Those expected to release thier results include RHB Bank Bhd (Monday), Telekom Malaysia Bhd, IJM Corp Bhd (both on Wednesday), Malayan Banking Bhd and CIMB Group Holdings Bhd (both on Thursday).
Axiata Group Bhd, which came under the media spotlight of late over speculation about whether it will proceed with a plan to explore a merger with Telenor ASA's Asian operations, is expected to release its 2Q results on Wednesday.
On Friday, Bank Negara Malaysia will release banking statistics for July and disclose in detail its international reserves position as at end-July. The Department of Statistics Malaysia will come out with labour productivity data and its latest business tendency survey report on Thursday.
Malaysians will celebrate the country's 62nd National Day on Saturday, with the Merdeka Parade to be held in Putrajaya and a public holiday to follow on the coming Monday. The theme for this year's Merdeka celebration is "Sayangi Malaysiaku: Malaysia Bersih", the same as for the upcoming Malaysia Day on Sept 16.
Meanwhile, developments on the trade talks between the US and China will continue to be a focal point for global markets as investors look for dates for the anticipated face-to-face meetings among negotiators in Washington next month.
The White House's economic adviser, Larry Kudlow, said last Thursday that the trade deputies for Washington and Beijing had had a "productive" conference call, and he expects Chinese trade negotiators to meet with US trade officials in Washington in September to continue trade talks — but he did not specify any meeting dates.
The three-day G7 summit in Biarritz, France, ends today (Monday) and there will be spillover news from their discussions, ranging from tensions over Iran's nuclear programme to the US-China trade war.
China is scheduled to release its July industrial profits on Tuesday, and official manufacturing and non-manufacturing Purchasing Managers Index (PMI) data for August on Saturday.
Thailand will announce July trade data on Friday while Vietnam is expected to release its August trade data sometime this week.
The only major Asia-Pacific central bank with a monetary policy decision this week is the Bank of Korea (BoK), on Friday. A Bloomberg poll of 15 economists expects BoK to keep its policy rate unchanged at 1.5%.
"We also expect BoK to stay on pause in August and we maintain our forecast of another 25-basis-point rate cut to bring the base rate to 1.25% later in 4Q2019, matching the record low from June 2016 to October 2017," says UOB Global Economics & Markets Research in its weekly outlook report last Friday.
India will announce its 2Q economic growth on Friday, and expectations are that its growth will slow to 5.6% year on year, from 5.8% in 1Q.
The Philippine stock market will be closed on Monday for National Heroes Day. The UK markets will be closed on Aug 26 for a summer bank holiday while the US markets will head into a long weekend with the Labour Day holiday on Sept 2.
There will be a slew of economic data out in the US this week, including July durable goods orders (Aug 26), Conference Board consumer confidence survey (Aug 27) and preliminary wholesale inventories (Aug 29).
The US government is scheduled to publish its second gross domestic product (GDP) estimate for 2Q2019 on Aug 29. Last month, it said 2Q GDP grew 2.1%, which was significantly slower than the 3.1% expansion in 1Q.
Back home, companies with annual general meetings this week include Karambunai Corp Bhd, Ajinomoto Malaysia Bhd and Nationwide Express Holdings Bhd (all on Aug 26); Selangor Dredging Bhd and IJM Plantations Bhd (Aug 27); as well as Symphony Life Bhd, RCE Capital Bhd and IJM Corp Bhd (Aug 28).