This article first appeared in The Edge Malaysia Weekly, on December 2, 2019 - December 08, 2019.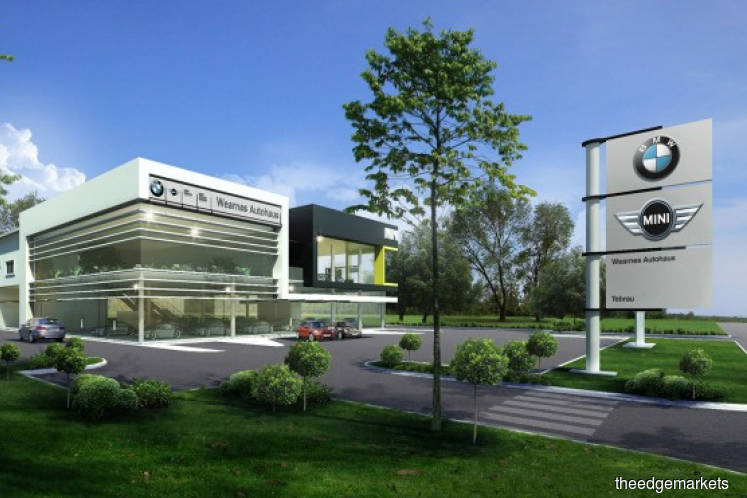 THE Samling group is understood to be looking to let go of more units of its automotive business as a result of the challenging market environment, industry sources tell The Edge.
Up for grabs now, it seems, are some of its Malaysian automotive businesses, namely Wearnes Autohaus Sdn Bhd, which owns a showroom and service centre for BMW and Mini marques, in Tebrau, Johor Baru.
Also on the cards could be the sale of AutoWorld Asia Sdn Bhd, which has a Honda dealership and service centre, but this bit of news remains conjecture at press time.
This possible sale of the BMW showroom and service centre comes on the back of news last month that Wearnes Automotive Sdn Bhd, which operates a service centre in Segambut, Kuala Lumpur, is closing down. Just a month earlier, Wearnes Automotive shut down its multimillion-ringgit 4S Volkswagen centre in Sungei Besi, Kuala Lumpur.
"Several parties have expressed interest in their Johor assets (Wearnes Autohaus), but it's still early days ... you must understand that if a company like Wearnes [Autohaus] can't do it, many will be hesitant to take over. Wearnes is a big name, mind you," one source says.
At least two other automotive industry sources know about Samling's plan to cut its losses in a venture into the automotive sector five years ago.
With Wearnes and Samling being big names, industry observers are wondering how bad things are in the automotive sector.
Samling's main companies on Bursa Malaysia, Glenealy Plantations (M) Bhd and Lingui Developments Bhd, were privatised in 2012 and 2013 respectively. Similarly, Samling Global Ltd was privatised from the Hong Kong stock exchange in 2012.
The controlling shareholder of Samling is Sarawak tycoon Tan Sri Yaw Teck Seng.
A check on Companies Commission of Malaysia filings via CTOS LitE reveals that Wearnes Autohaus suffered an after-tax loss of RM4.04 million from RM167.13 million in sales in its financial year ended December 2018. To put things in perspective, Wearnes Autohaus has been bleeding red ink in the last five financial years.
To recap, in 2014, Samling acquired Wearnes Automotive for S$450 million (then RM1.1 billion) — which gave it a strong presence in the motor industry regionally — beating the likes of Hong Kong's Swire Pacific Ltd and Dubai's Al-Futtaim Group.
But things have not exactly gone well since then.
In Malaysia, Samling, via its various units, has dealerships for Bentley, Aston Martin, BMW, Mini, Honda and Mitsubishi among others, and, via StarChase Motorsports, has a strong presence in China and Singapore as a dealer of several top-notch marques.
What seems certain, however, is that Samling's Bentley and Aston Martin businesses under Wearnes Quest Sdn Bhd will remain intact as part of the group.
While details are scarce, market talk has it that there may be other BMW dealers interested in Wearnes Autohaus' BMW business such as Auto Bavaria Sdn Bhd, a wholly-owned unit of conglomerate Sime Darby, which has a 49% stake in BMW Malaysia Sdn Bhd.
"Wearnes is an old name, a big name. For it (Samling) to sell the businesses says a lot," says another automotive industry executive.
While most industry players speak of a gloomy scenario, checks on CTOS for BMW Malaysia reveal improving financials. In its financial year ended December 2018, BMW Malaysia registered an after-tax profit of RM289.69 million from RM3.43 billion in sales. In FY2017, it chalked up an after-tax profit of RM212 million on the back of RM3.12 billion in revenue.
The Malaysian Automotive Association has maintained this year's target sales at 600,000 units. Last year, the total industry volume was 598,714 units, 3.83% higher than that in 2017.
It is worth noting that the target of 600,000 units is buoyed by a resurgent Proton Holdings Bhd. It is also known that banks have tightened lending requirements.
The sale of Wearnes Autohaus comes on the back of Swire Pacific — part of the automotive giant Swire group — exiting Malaysia as well, selling its Mercedes-Benz dealership to Naza group's NZ Wheels Sdn Bhd.
Swire Pacific's exit has raised eyebrows, given its size. To put things in perspective, Swire Pacific has a majority stake in Cathay Pacific and is a huge conglomerate.
Also worth noting is that Cycle & Carriage Bintang Bhd is being privatised by major shareholder Jardine Cycle & Carriage Ltd, which has 59.1% equity interest or 59.54 million shares in the Malaysian-listed company. Jardine Cycle & Carriage is forking out RM2.20 per share, or RM90.68 million in total, to privatise Cycle & Carriage Bintang.
Cycle & Carriage Bintang is a dealer of Mercedes-Benz cars, and locally, sales of the luxury car dropped 26% year on year in the first nine months of this year.
"It used to be that the high-end car industry was immune to downturns, but that is not the case anymore," the automotive industry executive says, predicting things to get worse after Chinese New Year next year.
The uncertainty surrounding the industry has not helped. For instance, the National Automotive Policy (NAP) was to be launched in mid-2018, but one-and-a-half years later, it has yet to be made known. In September, Malaysia Automotive, Robotics and IoT Institute (previously known as Malaysia Automotive Institute) CEO Datuk Madani Sahari said the NAP 2019 will be launched soon.