This article first appeared in The Edge Malaysia Weekly, on August 6, 2018 - August 12, 2018.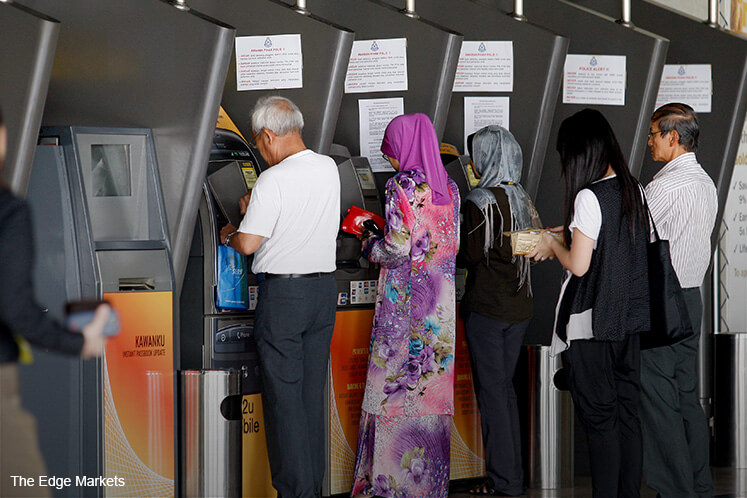 BANKS are likely to post sequentially weaker earnings in the second quarter, hurt by markedly softer capital markets and a period of slowdown due to uncertainties following the country's general election on May 9.
Those with a relatively bigger dependency on investment banking income and with greater exposure to large corporates may be the most affected. They would include CIMB Group Holdings Bhd, Malayan Banking Bhd (Maybank) and RHB Bank Bhd, analysts say.
"Their non-interest income (NOII) would have slowed down significantly because it has been quiet on the equity and debt capital markets, and in terms of trading activity. And, corporate lending has been slow," points out a banking analyst from a local brokerage.
However, banks with a stronger focus on the consumer or retail banking operations, such as Public Bank Bhd, are expected to hold up well.
Several bankers The Edge spoke to have the same sentiment — that it has been tough to grow revenue in the quarter amid increased uncertainty and challenges, both at home and abroad.
"All the banks' revenues should be affected, for sure. Revenue lines … we're seeing them coming from the SME (small and medium enterprise) and retail space, but it's been tough in the corporate and investment banking space. Bond-issuance jobs we were expecting to get are now not coming through after certain infrastructure projects were either cut or shelved [by the new government or companies themselves]," a senior bank executive tells The Edge.
"It's a tough market. We're pushing like crazy to get deposits, CASA (current account, savings account), assuming that loan growth would compensate for it ... but people are just cautious about spending, overall. And, without much clarity on the [upcoming] Sales and Services Tax, people are just adopting a wait-and-see attitude about spending."
According to an official from another bank, who also spoke on condition of anonymity, "things have improved now, but there was a point [during the second quarter] that we were struggling to meet our monthly loan targets".
Still, analysts expect domestic loan growth in 2Q to be decent and possibly higher than that in 1Q. Most are not changing their full-year loan growth forecasts. It should also be noted that several banks that had undergone cost-cutting/transformation programmes, such as AMMB Holdings Bhd and Alliance Bank Malaysia Bhd, could see their earnings hold up as cost-savings filter through.
"While banks' NOII would be affected, I would say loan growth [in 2Q] will still be okay. Except for the large corporates, which are more affected by the uncertainty around policy and regulations, loans in the consumer and mid-sized segments are doing better. So, while we expect bank earnings to be softer quarter on quarter due to the weaker market conditions, they're not going to be devastatingly bad," remarks another banking analyst.
Early last month, he cut his full-year earnings growth forecast for banks to 7.6% from over 9% to adjust for the expected lower NOII. Last year, earnings of banks under his coverage grew 10.6%.
However, he expects this year's loan growth to be higher at 5%, compared with 4.1% last year. Bank Negara Malaysia's latest statistics show that loans in the banking system as at June grew 5.2% on an annualised basis. 
"What's more critical than loan growth is whether the banks' margins will hold up. While the latest Bank Negara statistics seem to show that margins are indeed holding up, I don't know whether it applies to the individual banks," points out another analyst.
The average lending rate in the banking system rose to 5.05% as at end-June from 4.61% in end-December. Analysts say this could be due to improvements in banks' portfolio mix and loans being repriced following the overnight policy rate hike last January. As a result, interest spreads have been widening — the current spread of 1.86% is the highest banks have seen since January 2012.
Domestic-centric banks could see "stable to slightly better" margins in 2Q, but those with regional exposure, such as CIMB Group and Maybank, may see margins compress, the earlier analyst says.
"The increase in capital market volatility, coupled with the challenging net interest margin (NIM) environment in Indonesia, could weigh on CIMB Group's NOII and NIM outlook in 2Q and this year. However, its management indicated that a pick-up in consumer loan growth in Malaysia (mainly mortgages), lower-than-expected net credit costs across its key markets and solid operating cost discipline could partially offset the weakness," says UOB Kay Hian Research in a July 26 report on the group.
NOII accounted for just under 30% of CIMB Group's and Maybank's total income in FY2017.
Analysts will also be watching out for provision risk from Maybank due to its exposure to financially distressed Hyflux Ltd, a Singaporean water treatment company. "It remains a concern and we hope to get some clarity from Maybank soon," says one of them.
Analysts note that the three-month zero-GST period that began in June, which boosted car sales, will only have an impact in the third quarter.
"The tax-free period hasn't filtered through yet. June didn't see a pick-up in automotive lending, for instance, but loan applications and approvals were up, which means it will only filter through in July and August," remarks one.
Public-listed banks will have to announce their April-to-June financial results by the end of this month, with Public Bank usually the first to kick off. Bank valuations are compellingly low amid an overall weaker stock market and analysts are advising investors to buy selectively.
UOB Kay Hian, in a report on the banking sector on Aug 1, notes that the post-election macro policy uncertainty could have a dampening effect on the sector's growth and result in downside risk to earnings.
"Given this scenario, we advocate a two-pronged strategy to navigate the potentially near-term sector outlook with a focus on banking stocks with defensive earnings qualities and those that have been excessively sold down due to sentiment rather than material changes in fundamentals," it says. In that respect, it likes Public Bank and CIMB Group. 
 
Save by subscribing to us for your print and/or digital copy.
P/S: The Edge is also available on Apple's AppStore and Androids' Google Play.