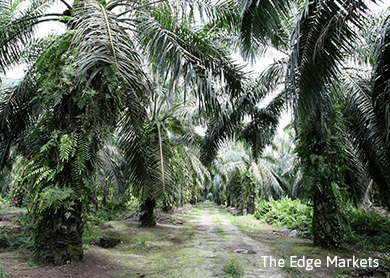 KUALA LUMPUR (Nov 12): CIMB Investment Bank Bhd said Malaysian oil palm plantation firms could have posted weaker third quarter earnings on a year-on-year (y-o-y) basis, due to lower crude palm oil (CPO) prices.
In a note, CIMB analyst Ivy Ng Lee Fang said the 4% y-o-y rise in CPO output would only partly offset the 7% drop in local CPO prices during the period.
"However, 3Q15 results should be much better than 2Q15's, as the 11% q-o-q (quarter-on-quarter) bounce in output should more than offset the 7% q-o-q drop in average CPO price.
"We expect near-term CPO prices of RM2,100-2,500 per tonne and maintain our average CPO price forecast of RM2,230 per tonne for 2015 and RM2,450 for 2016. We maintain our Neutral sector rating, with a preference for First Resources, Astra Agro and Genting Plantations," Ng said.
CIMB's note followed the Malaysian Palm Oil Board's (MPOB) Oct oil palm sector updates.
 
Yesterday (Nov 11), MPOB said October palm oil inventory, comprising CPO and processed palm oil, rose 7.29% to 2.83 million tonnes, from 2.64 million tonnes in September.
CPO output rose 4% to 2.04 million tonnes, from 1.96 million tonnes. Palm oil exports climbed 1.87% to 1.71 million tonnes, from RM1.68 million tonnes.
Today, Ng said the inventory level was higher than analysts' forecast. Higher palm oil inventory does not bode well for the commodity's prices.
CPO for Jan 2016 delivery fell RM1 to RM2,329 a tonne at 11:43am today. This compared to RM2,474 on Sept 29, 2015.
 
"The stock level was 4% ahead of our and consensus (Bloomberg and Reuters) forecasts of 2.72m tonnes, due mainly to higher-than-expected output and imports. We are negative on this, as palm oil stocks are above our and Bloomberg consensus estimates, and the US raised its soybean production to record levels yesterday
"Our initial tentative estimates suggest that palm oil stocks may rise by another 1% m-o-m (month-on-month) in November to 2.86m tonnes, before receding in December," she said.