This article first appeared in City & Country, The Edge Malaysia Weekly, on December 9, 2019 - December 15, 2019.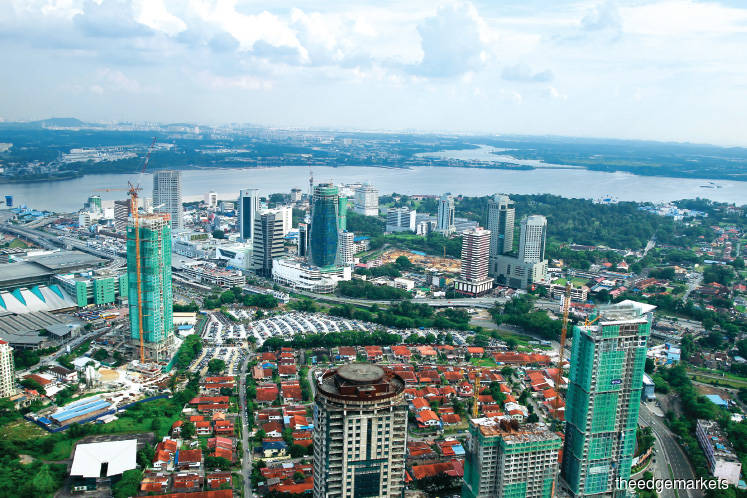 The Johor Baru skyline … developers in the city continued to concentrate on clearing existing stock, particularly high-rises, during the quarter under review. Photo by Mohd Shahrin Yahya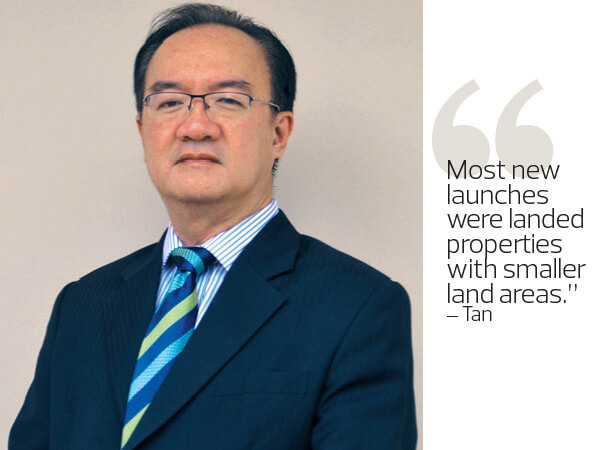 The Johor Baru property market stayed soft in 3Q2019. Developers continued to concentrate on clearing existing stock, particularly high-rises.
"We understand that some developers either have converted or are contemplating converting the approval for high-rise developments to landed houses. More developers will shelve their plans to launch high-rise projects, especially the ones targeted at the middle to high-end segments," says KGV International Property Consultants (Johor) Sdn Bhd executive director Samuel Tan in presenting The Edge-KGV International Property Consultants Johor Baru Property Monitor 3Q2019.
According to Tan, the oversupply of high-rises was still at its peak in 2Q2019. "The total unsold high-rise residential properties then stood at 34,000 units.
"Most new launches were landed properties with smaller land areas due to higher land and construction costs. Two-storey terraced houses targeted at the mid-end market will remain popular and sellable," he notes.
"In view of the stagnant market with high overhang and oversupply of high-rises, many parties have been lobbying for the tweaking or relaxing of existing policies.
"Some examples include the threshold for foreign buyers at RM1 million, the imposition of 5% Real Property Gains Tax (RPGT) even for Malaysians after five years and clearer guidelines on the bumiputera unit release mechanism," says Tan.
"Budget 2020 made only two minor adjustments — the change in the base year for RPGT from year 2000 to year 2013 and the minimum price for foreign purchases [which was decreased from RM1 million to RM600,000] of completed, high-rise residential properties. For the latter, the measure is only for one year.
"We maintain that the rationale of imposing RPGT on long-term property buyers is fundamentally wrong. In addition, the tax revenue collected as a result of property gains is insignificant at about RM90 million in the past year.
"It is an additional dampener for aspiring, long-term property investors. Still, the change in the base year to year 2013 effectively makes RPGT redundant now as there has hardly been any price appreciation from year 2013 until now," Tan asserts.
"Lowering the price threshold for foreign purchasers will help clear the unsold stock, especially high-rises. However, we do not expect a substantial increase in the take-up rate as the market sentiment is weak. Nonetheless, this is a minor, calibrated measure to help reduce the unsold high-rise units.
"The weak sentiment is likely to persist for a while in the light of the oversupply of high-rises and the lacklustre macro-economy."
Sombre economy and RTS delay
Tan highlights the current global economic climate: "The trade war between the US and China continues to cause uncertainties in the global economy. The full impact is likely to be felt from 4Q2019 onwards when higher prices of consumer goods will hit the market in full force. Although there are signs that US President Donald Trump may eventually seal the deal with China, the damage has been done. No one has confidence in what Trump says after the never-ending flip-flopping."
Malaysia's GDP growth is expected to be less than 5% while Singapore's is forecast at about 1% next year, he adds.
"Singapore, an open economy that is heavily reliant on trade, will be greatly affected. Its unemployment and lay-offs are expected to rise. Consequently, Johor Baru's economy and property market will be affected as there are many Malaysians working in the republic.
"Many Johor Baru developers are still positioning their products in the mid to middle-upper segment of more than RM500,000 each. Malaysians earning Singapore dollars are a dominant group of buyers for this market segment. The sales rate of properties in the middle-upper segment will be more affected as a result," says Tan.
Meanwhile, the delay in the Johor Baru-Singapore Rapid Transit System (RTS) may have an effect on the market. "The Malaysian and Singaporean governments have extended the date of deliberation to April next year before making a final decision on the RTS project."
"[Judging by] the governments' statements so far, the public's perception is that the RTS will proceed but the cost may have to be lowered. This is to ensure a lower fare eventually," says Tan. "[The public] from both sides are watching closely and anticipating the decision on this important project.
"Should the RTS be confirmed to proceed, the Johor Baru property market in general will get a much-awaited boost as a result of the better linkage. Property schemes in close proximity to the RTS terminal will benefit immediately."
Tan also highlights the status of other catalytic projects in Johor Baru. "Pinewood Studios has closed down. Last month, Sanrio Hello Kitty Town also closed down. There are talks that Khazanah [Nasional Bhd] is looking for buyers for the Legoland theme park.
"It is time for the relevant authorities to think hard about what is sustainable and effective in spearheading Iskandar Malaysia. Instead of building physical catalytic projects, the authorities should place more emphasis on 'catalytic software' such as selling or leasing the government's or government agencies' land to the private sector via open tender to spearhead catalytic projects. There should also be a centralised agency to plan and coordinate catalytic developments, their infrastructure and so on," he stresses.
Price and rental trends in 3Q2019
According to the monitor, most of the selected schemes maintained the same prices during the quarter under review. There was a slight price decline in East Ledang, with 2-storey terraced houses dipping from RM920 to RM900 psf while 2-storey semi-detached houses fell from RM1,700 to RM1,600 psf.
"Among the semidees, only those in East Ledang saw a marginal drop of 5% while the rest remained unchanged," notes Tan.
In terms of rental movements, 2-storey terraced houses in selected schemes saw a decrease of 10% to 20% during the quarter. "This could be due to the increased supply of high-rise apartments for rent. Some tenants may choose to relocate to these developments due to the facilities provided," he explains.
Two-storey terraced houses that saw a decline in rental rates include those in Taman Bukit Indah (from RM2,000 to RM1,700 per month), Horizon Hills (from RM2,500 to RM2,200 per month), Taman Molek (from RM2,000 to RM1,600 per month) and Taman Ponderosa (from RM2,500 to RM2,300 per month).
"Among the high-rises, only Ujana's rental rate fell — about 10% [from RM2,000 to RM1,800 per month]. This could be attributed to the high number of completed high-rises in the vicinity of Iskandar Puteri," says Tan.
New launches in 3Q2019
There were four new launches during the quarter — two landed and two high-rise projects.
"Both landed residential projects are of 2-storey terraced houses. They are Crest @ Austin at Bandar Jaya Putra, Mukim Tebrau, and Aspira Park Homes at Gelang Patah, Mukim Pulai," says Tan.
"The 2-storey terraced houses at Crest @ Austin have a land area of 1,170 sq ft each, with prices ranging from RM554,000 to RM823,000, while those in Aspira Park Homes have a land area of 1,402 sq ft each and are priced at RM659,000 to RM998,000," he adds. "We are given to understand that the non-bumi lots for both schemes have been fully booked or sold."
Meanwhile, the Sky Trees (Duta Hijauan) serviced apartment in Taman Bukit Indah was launched in September. "The built-up area of the units ranges from 581 to 1,001 sq ft. The project was launched with a starting price of RM546 psf and the developer claims to have achieved a sales rate of 50% out of the 484 units launched."
The other serviced apartment project, located above Paradigm Mall and known as Paradigm Residences, was also launched in September. The units have a price of RM600 psf with built-ups of 530 to 1,123 sq ft. The developer claims to have achieved a sales rate of 60% out of the 263 units launched, says Tan.