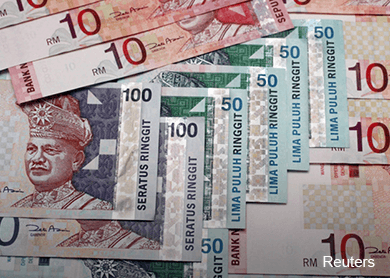 THE accelerating depreciation of Asian currencies against the dollar this year has hurt the bottom line of Malaysian firms that have foreign currency-denominated borrowings. While the US dollar is the favoured currency for borrowers due to its historically low interest rates, the currency's strength has resulted in a substantial growth in foreign exchange losses for the affected companies.
The ringgit and the rupiah were hovering near multi-year lows of 3.70 and 13,200 respectively against the greenback last week. Both currencies are highly sensitive to foreign capital outflows due to the large participation of foreign capital in their local equity and fixed-income markets.
On the other hand, as forex exposure is usually pegged to long-term borrowings and is a non-cash-flow item, industry observers say it is not fair to just look at the unrealised losses and the resulting adjusted net profit reported by the companies. This is because the stated forex loss has little impact on the  the companies' business in the near term.
Those that are primarily affected by this situation are airlines and plantation players, both of which typically have substantial forex exposure related to their business requirements. A check on two public-listed airlines and six oil palm players shows cumulative forex losses amounting to RM1.03 billion based on their latest quarterly filings compared with a cumulative gain of RM76.22 million over the same period last year (see table).
Companies with big market capitalisation, such as IOI Corp Bhd (fundamental: 1.20; valuation: 1.10) and AirAsia Bhd (fundamental: 0.20; valuation: 0.80), made up the bulk of the forex loss exposure with RM332.7 million and RM536.1 million in unrealised losses respectively.
Between March 31 last year and Feb 28 this year, the ringgit and rupiah declined 13% and 15% respectively.
As for the oil palm players, their forex exposure is due to borrowings associated with landbanking and refining activities in neighbouring Indonesia. Explaining the exposure as part and parcel of a company's operations, TSH Resources Bhd (fundamental: 0.45; valuation: 0.50) founder and chairman Datuk Kelvin Tan emphasised that looking at forex losses alone would distort an investor's perception of a company.
"There is a lot of confusion when people talk about unrealised forex losses or gains. The core profit is a better reflection of a company's performance as it is within management's control. For plantation companies, look at their yields and their production costs. As for forex exposure, on paper you may lose, but in reality there is more rupiah," he told reporters following the group's annual general meeting last Tuesday.
A natural hedging mechanism against currency fluctuations can be implemented by selling crude palm oil in US dollars. When converted, there would be more rupiah to pay for part of the borrowing obligations while the rest can be used to pay off current expenses, said Tan.
The situation is somewhat different for airlines. Carriers such as AirAsia and AirAsia X Bhd are impacted by forex fluctuations because the bulk of their cost base is denominated in US dollars while their revenue is reported in ringgit.
The resulting fluctuation in earnings as well as costs make the forex swings more prominent, as shown by AirAsia's unrealised forex loss on borrowings amounting to RM536.1 million in 1Q2015 compared with a gain of RM13 million a year ago.
On the other hand, those who hold an opposing view would say that a growing forex loss would eat up the company's earnings, causing it to report growing net losses in its quarterly earnings disclosure. For companies that have a stated dividend policy, shareholders would lose out on the payouts as, technically, the companies would not have a positive net income to distribute.
"While this can be offset with the award of special dividends on a full-year basis, previous dividend yield projections may be unreliable as analysts tend to derive these from net profit assumptions. Net profit would continue to dwindle if forex losses continue to grow at a faster pace," says an analyst with a bank-backed research house.
Another side of the equation would be the expected tightening of US interest rates, which would cause a hike in financing costs for companies with dollar-denominated borrowings.
Some of the companies may already have taken action to mitigate such a risk. For example, MKH Bhd (fundamental: 1.20; valuation: 2.40) has disclosed that it has been buying US dollars since last year to be kept for loan repayments beginning this year. This strategy appears to have been effective as the company has managed to reduce its forex loss exposure on a year-on-year basis from RM29.4 million to RM13.8 million currently.
Nonetheless, it is important to note that the forex exposure shown by the companies does not constitute a solvency risk. In other words, the figures are simply marked-to-market values of how much the companies would lose if the borrowings were settled immediately, an event that is highly unlikely to occur as the liabilities are long term in nature.
CIMB Research plantation sector analyst Ivy Ng explains that from an operational standpoint, the fluctuation in forex exposure is not a major concern for the affected companies.
"It is important to make the distinction between operation needs and funding needs, with the forex component being part of the latter. No one can accurately predict where the currencies will move over the next 10 years, so the most prudent thing for the companies to do is to implement natural hedging and proactively manage their finance costs depending on their own capabilities," she says.
---
Note: The Edge Research's fundamental score reflects a company's profitability and balance sheet strength, calculated based on historical numbers. The valuation score determines if a stock is attractively valued or not, also based on historical numbers. A score of 3 suggests strong fundamentals and attractive valuations. Visit www.theedgemarkets.com for more details on a company's financial dashboard.
This article first appeared in The Edge Malaysia Weekly, on June 8 -14, 2015.