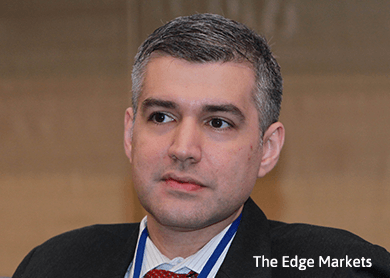 KUALA LUMPUR: The local economy, which the World Bank expects to grow at 4.7% this year and 5% in 2016, faces significant risks amid the possibility of new declines in commodity prices and volatile capital flows.
"US monetary policy was so unprecedented with its low interest rates for such a long period of time, that we are concerned about the volatility that might come," World Bank economist for Malaysia, Frederico Gil Sander told The Edge Financial Daily in an interview yesterday.
US Federal Reserve chair Janet Yellen is due to speak after the US Federal Open Market Committee meeting overnight, where she is expected to reveal the path of US monetary policy moving forward.
However, Sander said this is not a problem that concerns just Malaysia, but other Asian countries as well, which will also experience outflow of funds in response to an interest rate hike in the United States.
"In fact, Malaysia is probably better prepared than many other countries (to meet capital outflows) because Malaysia has a current account surplus, so it doesn't need to finance current account deficits as in the case of other countries," he said.
According to the World Bank in its Malaysia Economic Monitor: Transforming Urban Transport report, uncertainty in the direction of commodity prices, especially crude oil, further clouds the overall outlook of the economy and fiscal policy, in particular.
"A lot of the country's balance sheet is linked to oil prices. Petroliam Nasional Bhd holds many productive investments overseas, so all its assets — which are really assets of the country — are tied to the oil price," said Sander.
Fortunately, oil prices have stabilised, rising to US$63.94 (RM239.77) per barrel from US$55 per barrel, which has been budgeted in the revised National Budget 2015.
As a result, Sander said the government is likely to exceed its fiscal deficit target of 3.2% of gross domestic product to 3.1%, largely due to higher oil prices.
"I also think inflation will come down in 2015 even with the introduction of the goods and services tax (GST).
"Low oil prices will dampen inflation expectations, although there might be second round impact on inflation [due to the GST], putting pressure on household consumption," he said.
Speaking at the launch of the 12th Malaysia Economic Monitor: Transforming Urban Transport, Minister in the Prime Minister's Department Datuk Seri Abdul Wahid Omar pointed out that the government has consciously reduced its dependency on oil and gas revenue to 30% of total government revenue last year from 40% in 2013.
On improving public transport and urban planning to ease traffic congestion in Greater Kuala Lumpur, the World Bank recommended the establishment of lead agencies at the metropolitan level.
"While the existing Suruhanjaya Pengangkutan Awam Darat operates at a federal level, there are institutional voids that must be filled by metropolitan agencies, whether new or by developing the roles of existing municipal councils and companies such as Dewan Bandaraya Kuala Lumpur," said senior transport specialist at the World Bank Luis C Blancas.
This article first appeared in The Edge Financial Daily, on June 17, 2015.