This article first appeared in The Edge Financial Daily, on February 11, 2020.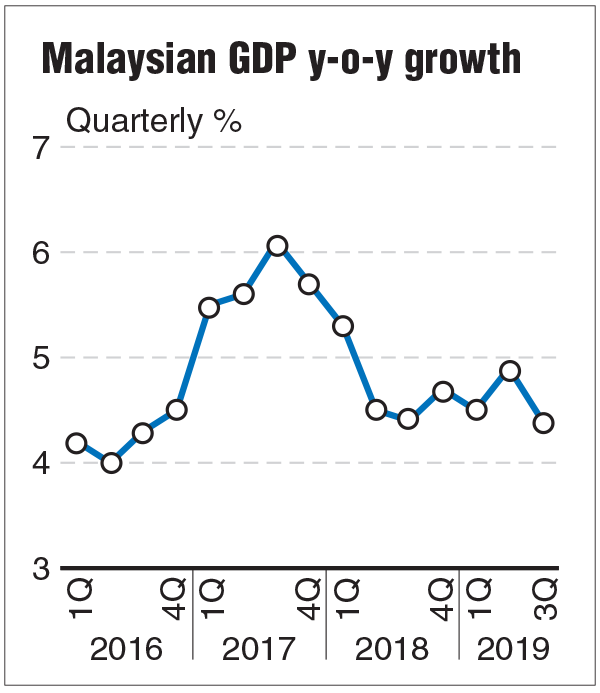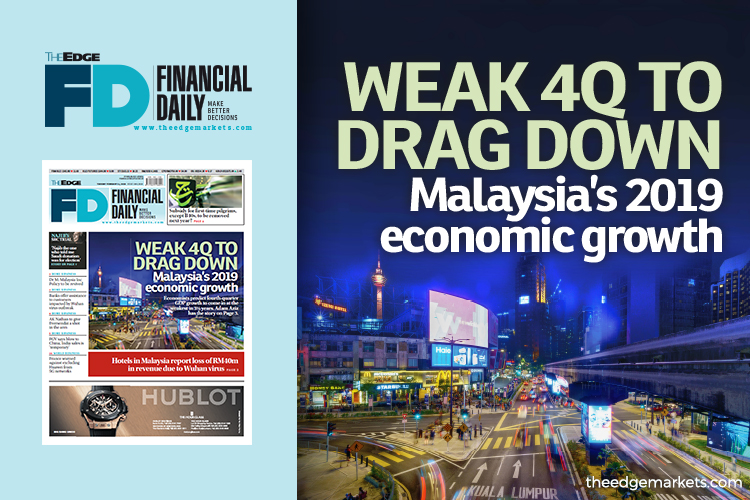 KUALA LUMPUR: Malaysia's 2019 economic growth is likely to come in lower than expected, economists said, on the back of a moderate pace of activities in the final quarter of last year (4Q19).
A Reuters poll of 13 economists is predicting a growth of 4.2% in the October-December quarter compared with a year earlier, the slowest pace since 2Q16 when it grew at 4%, on weaker private consumption and external demand.
And given new risks such as the Wuhan virus outbreak, economists such as UOB Global Economics & Markets Research are considering trimming their 2020 growth outlook after incorporating actual 4Q19 gross domestic product (GDP) data that will be released tomorrow.
This is despite Prime Minister Tun Dr Mahathir Mohamad saying yesterday that the government still expected growth to come in at 4.8% in 2020 "despite challenging times".
And last Friday, Finance Minister Lim Guan Eng said the government would initiate an economic stimulus package to ease the impact of the virus outbreak.
As recent as November last year, Guan Eng said Malaysia remained on track to achieve its 2019 GDP growth target of 4.7%, noting that "4Q is typically a strong quarter in terms of economic growth".
This is despite weaker 3Q19 performance and external headwinds from the lingering US-China trade disputes.
Bank Negara Malaysia, meanwhile, is forecasting Malaysia's GDP growth in 2019 to come in at between 4.3% and 4.8%.
Malaysia's GDP growth stood at 4.5%, 4.9% and 4.4% in 1Q19, 2Q19 and 3Q19 respectively — for an average of 4.6% in the first nine months of the year. The local economy slowed to 4.7% in 2018 from 5.7% the year before.
In a report yesterday, UOB expects Malaysia's 2019 full-year growth to miss its initial projection of 4.6% to register a growth of 4.4%, following a weaker showing in 4Q19.
UOB is projecting a GDP growth of 4.4% for 2020 as it noted that there is now added uncertainty to Malaysia's growth outlook given the Wuhan virus outbreak.
"Although we saw some green shoots of revival based on leading indicators as at December last year, the virus outbreak could spell a different outlook if not contained in the next few months," it said.
For 4Q19, UOB is expecting real GDP to expand by 3.9% year-on-year (y-o-y) in 4Q19, from 4.4% y-o-y in 3Q19.
This is lower than Bloomberg's consensus poll of a 4.1% y-o-y growth.
UOB said the slowdown in 4Q19 GDP growth is expected to be triggered by declines in mining and agriculture output, as well as slower manufacturing activities amid lingering US-China trade disputes.
"A muted recovery in the construction sector alongside a stronger expansion in the services sector are insufficient to offset the drag from the decline in the mining and agriculture sectors.
"Ongoing supply disruptions of crude oil and liquefied natural gas were factors dragging the mining sector into contraction territory for the second straight quarter in 4Q19, while the agriculture sector would be primarily weighed down by declines in crude palm oil production," it added.
MIDF Research concurred, expecting the local economy to expand at a moderating pace of 4.3% y-o-y in 4Q19. This has led it to shave the country's full-year GDP growth to 4.5% from its previous forecast of 4.6%.
"Global trade war remains a downside risk factor particularly for Malaysia's external trade and industrial activities during the third and final quarters.
"We view 4Q19 GDP to be the weakest in 2019 due to weak external trade and moderate domestic activities," MIDF Research said in a report yesterday.
Going forward, the research firm is of the view that 2020 will remain a challenging year due to global protectionism, domestic political uncertainty in the US and Wuhan virus effects.