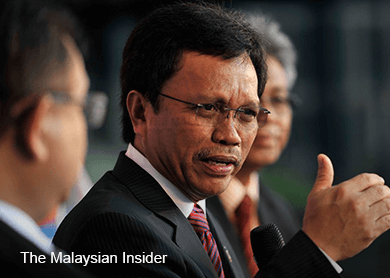 (May 28): Datuk Mohd Shafie Apdal has questioned claims that the Cabinet was collectively responsible for the problems at debt-laden 1Malaysia Development Berhad, saying he and his colleagues were just as unclear on the company's dealings.
The rural and regional development minister also said ministers did ask questions about the strategic investment firm during Cabinet meetings.
"We are responsible Cabinet members. That's why we asked the questions... We want to know (as well)," Shafie was quoted by Malaysiakini today.
"We can't be blamed for something we are not clear on," he said.
Former finance minister Tengku Razaleigh Hamzah had said on Monday that the entire Cabinet should be held responsible for 1MDB's problems, adding that the onus was not on the prime minister alone.
Tengku Razaleigh, popularly known as Ku Li, said that if ministers were not aware of 1MDB's issues, they should investigate it rather than point fingers at others.
"Everybody there (in the Cabinet) must be responsible collectively for the problem. You cannot say this is your problem, not my problem," said the Gua Musang MP.
"So long as you're a member of the Cabinet, whether you know or don't know what goes on in the government, you are equally responsible."
Ku Li said it was unreasonable for Cabinet members to claim ignorance about the scandal, given that many had already spoken out on 1MDB.
Shafie today said Cabinet ministers who raised questions on 1MDB were looking for answers and not trying to blame anyone.
"We want to know, not for our own benefit, but (so we can) explain to the people at large," he was quoted as saying in Malaysiakini. – The Malaysian Insider