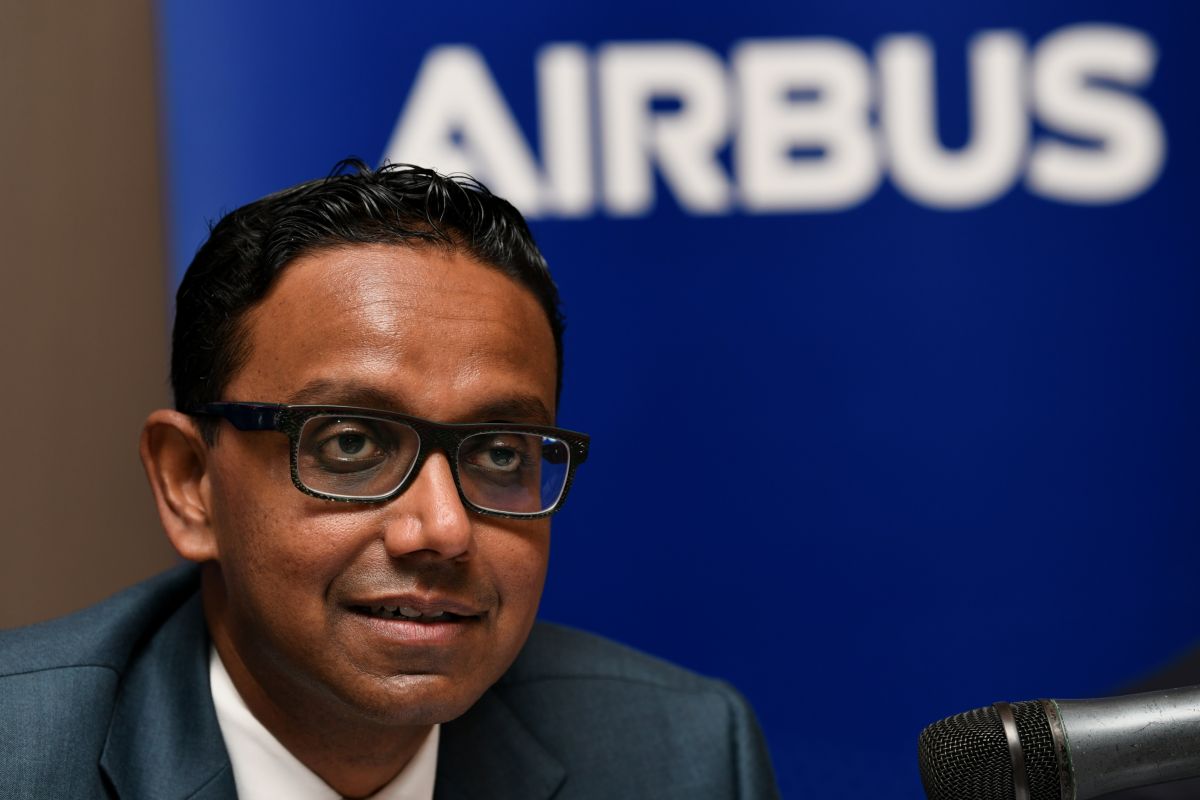 KUALA LUMPUR (April 7): European plane maker Airbus says it is working with its cash-strapped airline customers across the world including Malaysia to find solutions as they struggle to stay afloat during the Covid-19 pandemic.
"The pandemic's impact on airlines around the world, including Asean and Malaysia, has been severe and prolonged. We are actively working with our airline customers to find solutions, which are on a wide range of issues and very different from airline to airline," Airbus president for Asia-Pacific Anand Stanley told selected Malaysian media today — his first in-person foreign press briefing since assuming the post last July.
Based in Singapore, Anand is on a three-day visit, having called on Transport Minister Datuk Seri Dr Wee Ka Siong and AirAsia Group Bhd group chief executive officer Tan Sri Tony Fernandes yesterday and is scheduled to meet Malaysia Airlines Bhd tomorrow.
"I cannot discuss specific solutions regarding specific airlines because of the broad range of discussions that are very different from airline to airline and all these discussions are individually bound by confidentiality agreements.
"But the discussions are centred on helping our airline customers during this challenging time and (helping them) be prepared for the post-pandemic recovery," he added.
AirAsia Group, together with AirAsia X Bhd (AAX), is one of Airbus' largest customers. AAX is currently in talks with its lessors and creditors to reconstitute RM64.15 billion of debt into RM200 million of debt.
Anand declined to reveal how its airline customers' restructuring talks with Airbus have affected the latter's aircraft production and delivery rates in the region except to say that globally the company had reduced its deliveries last year in response to the market environment.
In February, Airbus announced that it managed to deliver 566 aircraft last year, down 34% from the 863 it handed over in the previous year. This year, the company targets to at least achieve the same number of commercial aircraft deliveries as in 2020.
"As we emerge in the world post-pandemic, our production and delivery rates will be calibrated to match the demand," said Anand.
Anand also reaffirmed Airbus' commitment to Malaysia.
"Our commitment to the market be it the airlines, Malaysian air force, space and helicopter groups, and to our industrial presence here has not changed. While our activity and procurement in the Malaysian supply base have not been at the pre-pandemic level because of pandemic restrictions, but pre-pandemic period, we were procuring, investing and exporting US$400 million a year in Malaysia.
"Once we move to the post-pandemic world, the commitment remains to our 14 major suppliers in Malaysia, and the 4,000 employees, partners and subcontractors in the region," he said.
"Malaysia represents Airbus' largest supplier base in Southeast Asia while it is the third largest market and hub in Asia-Pacific after China and India.
"Today, 14 Malaysian companies are producing aero structures, aviation and aircraft components and parts for our complete range of civil aircraft as well as for the A400M military transporter. Our key Malaysian suppliers include Composite Technology Research Malaysia Sdn Bhd, Spirit Aerosystems Malaysia Sdn Bhd and SME Aerospace Sdn Bhd," he added.
There are currently about 300 Airbus commercial aircraft in Malaysia including the A320s, the A330s and the latest-generation A350s, as well as 80 Airbus helicopters in service in the country.
"Covid-19 has severely impacted the aviation sector. Recovery has been slow, but all the measures and protocols are in place to enable a safe return to travel when the borders reopen. All of our aircraft are fitted with the latest technology to ensure the quality of air in the cabin.
"We believe carriers in Malaysia are well-positioned (for the recovery). They operate state-of-the-art Airbus fleets that are tailored to the new market conditions and hence, these fleets are well-positioned in the post-pandemic world," said Anand.
In February, Airbus forecast that the recovery in commercial air transport won't return to 2019 levels until some time between 2023 and 2025.
On its relationship with airline customers following the bribery scandal that saw the company paying penalties of €3.6 billion plus interest and costs to the French, UK and US authorities last year, Anand said: "We cannot comment on the activities or actions of governments, but we comply and support any government investigations.
"We are very proud that we have a lot of long standing customers in the region. Through this impact of the pandemic, we are working with our customers including those in Malaysia to help them find solutions in this challenging time. I had a meeting with the Transport Minister yesterday and I will be meeting with all our customers during this visit."
Commenting on his meeting with Fernandes, Anand said: "We had a very, very good meeting and I strongly believe that low-cost carriers such as AirAsia play a key role in enabling more and more people to fly and that the low-cost carrier market will resume with strong growth post-Covid-19. We are also working closely with Malaysia Airlines, which I am looking forward to meeting with (tomorrow)."