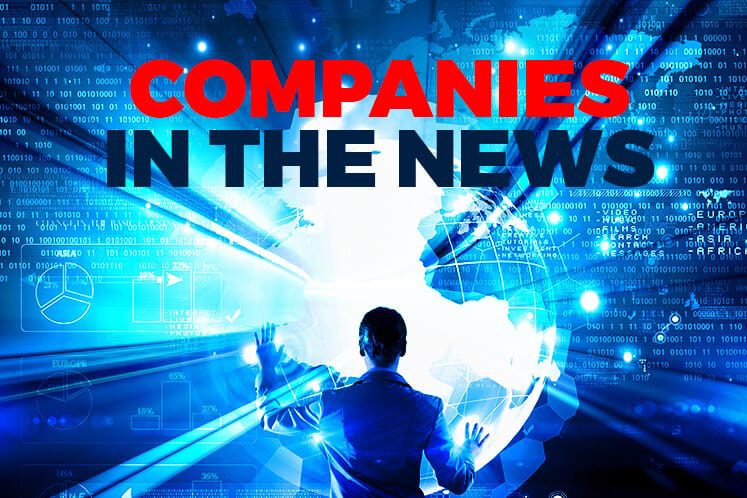 KUALA LUMPUR (April 2): Based on corporate announcements and newsflow today, stocks in focus tomorrow (April 3) may include: WCT Holdings Bhd, Tenaga Nasional Bhd, Leweko Resources Bhd, GFM Services Bhd, Datasonic Group Bhd, Pasukhas Group Bhd, Hibiscus Petroleum Bhd.
WCT Holdings Bhd is acquiring a 60% stake in Subang Skypark Sdn Bhd — operator of the Skypark Terminal (formerly Terminal 3) of the Sultan Abdul Aziz Shah Airport in Subang, Selangor — for RM44.56 million cash.
This confirmed a report by The Edge Malaysia Weekly on Feb 19, quoting sources, that tycoon Tan Sri Desmond Lim Siew Choon, the largest shareholder of WCT with a 19.57% stake, was looking to buy 60% of Subang Skypark from Tan Sri Ravindran Menon and his partner Datuk Aisamar Kadil Mydin Syed Marikiah.
WCT is making the acquisition via its indirect wholly-owned subsidiary Skyline Domain Sdn Bhd.
It said the acquisition is to enable it to invest in Subang Skypark, which it believes has potential for value enhancement, as well as potential for development of the car park area into a mixed commercial development project.
Tenaga Nasional Bhd (TNB) has entered into a new £120 million (RM651.86 million) financing facility with Bayerische Landesbank (BayernLB) to refinance its 80% stake in renewable energy companies GVO Wind Ltd and Bluemerang Capital Ltd held by its wholly-owned subsidiary Tenaga Wind Ventures UK Ltd.
It said the refinancing exercise was the first overseas non-recourse acquisition refinancing that TNB has undertaken through a wholly-owned subsidiary, highlighting that the exercise is the largest financing for medium-scale operational feed-in tariff (FiT) onshore wind portfolio.
Leweko Resources Bhd's subsidiary Dura Technology Sdn Bhd has inked a licensing agreement with India-based Shinde Developers Pte Ltd to allow Shinde to use Dura's know-how and technology related to ultra-high performance cementitious composite technology.
Under the agreement, Shinde will have the right to manufacture, sell and export a list of products under the Dura brand name within India and other South Asian countries like Afghanistan, Bangladesh, Bhutan, Maldives, Nepal, Pakistan and Sri Lanka.
Shinde will commence manufacturing within one year from the date of the execution of the licensing agreement. The agreement will be valid for a period of 15 years.
GFM Services Bhd has bagged an RM51.78 million contract from Sinar Uni-Resources Sdn Bhd to provide integrated facilities management (FM) services to the Sabah state administration centre in Kota Kinabalu. The contract is for five years from January this year till January 2023.
Datasonic Group Bhd is buying a factory in Klang for RM18.88 million to be used for smart card manufacturing. It said the factory is currently being built on 84,032.76 sq ft of freehold land.
Pasukhas Group Bhd (PGB) has proposed to undertake the diversification of its business to include property development as well as coal.
PGB's executive director cum chief executive officer, Wan Thean Hoe, said the proposed diversification is within the group's plan to diversify into new viable businesses to enhance its income stream.
With this, the group's wholly-owned subsidiary Pasukhas Development Sdn Bhd, with joint developers Pasukhas Properties Sdn Bhd and Midtown Pearl Sdn Bhd will be undertaking the development of Lushwoods Towers and Residences upon approval from Dewan Bandaraya Kuala Lumpur.
Meanwhile, the group has also proposed a special issue of up to 116.06 million new shares or 12.5% of the company's issued share capital to raise gross proceeds of up to RM13.93 million – assuming the shares are issued at 12 sen apiece – for future expansion in its energy utilities services and power generation business.
Hibiscus Petroleum Bhd announced today its wholly-owned subsidiary SEA Hibiscus Sdn Bhd has completed the acquisition of a 50% participating interest in the North Sabah Enhanced Oil Recovery Production Sharing Contract (PSC) for US$25 million (about RM96.44 million) from Shell.
Hibiscus said SEA Hibiscus completed the acquisition on Saturday (March 31), and that the acquisition would "significantly boost" Hibiscus' oil production.