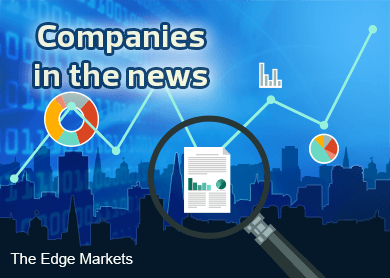 KUALA LUMPUR (July 8): Based on corporate announcements and news flow today, the companies that may be in focus tomorrow (Thursday, July 9) could be the following: WCT, Super Enterprise, Meda Inc, FGV, Asia Bio, AirAsia X, LPI, Wing Tai, MRCB and Magna Prima.
WCT Holdings Bhd has won an arbitration case against Meydan Group LLC today, which will see the Dubai-based company paying AED1.15 billion (RM1.2 billion) to WCT.
In a filing with Bursa Malaysia today, WCT said the tribunal has passed a judgment in the dispute between its wholly-owned subsidiary WCT Bhd (Dubai Branch) (WCTB) and Meydan regarding the cancellation of the Nad Al Sheba race course project in Dubai, ruling in favour of WCTB.
On February 2009, WCT had initiated arbitration proceedings against Meydan for cancelling a RM4.6 billion contract to build the Nad Al-Sheba Racecourse. The project was awarded to the 50:50 joint venture (JV) between WCTB and Arabtec Construction LLC.
Meydan had cancelled the contract on the basis of alleged breach in the form of non-adherence to the agreed construction schedule. Meydan had also called on the performance and advance payment bonds.
WCT (fundamental: 0.6; valuation: 1.4) said the tribunal has found that Meydan's cancellation and purported termination of the contract was unlawful, invalid and of no effect; and Meydan was not entitled to call on the JV's performance bond and must repay the same.
The RM1.2 billion award comprised claims for work done, repayment of performance bond, loss of profit, damages and interests; arbitration costs; and legal costs.
Super Enterprise Holdings Bhd announced it has received a press notice from MCC LABL2 Netherlands B.V. for a conditional voluntary takeover offer at RM3.80 per share.
In a filing to Bursa Malaysia today, Super Enterprise (fundamental: 2.2; valuation: 1.4) said the offer to shareholders was to acquire all ordinary shares of RM1 each, which are not yet held by MCC LABL2, at RM3.80 per share.
It added the offer is open for acceptances until 5pm, July 29, unless revised or extended.
Super Enterprise's share price closed 1.96% or seven sen lower at RM3.51, for a market capitalisation of RM149.2 million.
Property developer Meda Inc Bhd has aborted the proposed acquisition of a RM31.7 million freehold land in Hulu Langat district, Selangor.
In a filing with Bursa Malaysia, Meda Inc (valuation: 0.6; fundamental: 0.35) said it was terminating the sale and purchase agreement (SPA) for the acquisition of the 3.9-ha land in Tempat Sungai Sekamat in Cheras.
On Oct 20 last year, Meda Inc together with Global Jubilee Sdn Bhd had entered into a SPA with Natwest Trading Sdn Bhd to buy the land to build condominiums with an approximate gross development value of RM252 million.
According to the earlier statement to the stock exchange then, both Meda Inc and Global Jubilee would acquire a total of 4.2ha of land, of which Global Jubilee's share amounted to 0.3ha at a cost of RM2.6 million.
Felda Global Ventures Holdings Bhd (FGV) plans to raise more than RM1 billion (US$260 million) selling non-core assets as the company focuses on plantations to repair investor confidence dented by an acquisition, according to Bloomberg.
Unprofitable crushing and refining businesses in the US and Canada that have drawn initial bids ranging from $180 million to $250 million may be sold later this month, chief executive officer (CEO) Mohd Emir Mavani Abdullah said in an interview. Holdings in a travel firm, and engineering and information technology units may fetch another RM300 million, he said.
Shares of FGV (fundamental: 1.15; valuation: 2.0) dropped 14% after opposition lawmakers and analysts said the company overpaid in its purchase of a 37% stake in Indonesia's PT Eagle High Plantations for $680 million on June 12. Felda manages 450,000ha (1.1 million acres) of land in Malaysia and Indonesia.
Mohd Emir said perception is affecting them "a lot" and the company's shares are "definitely undervalued", compared with other plantation companies.
He also said FGV may monetise its other plantation estates, which are not under a land-lease agreement with the Federal Land Development Authority, through an initial public offering, adding that the talks on the sale are still in the early stages.
Asia Bioenergy Technologies Bhd (Asia Bio) has proposed a private placement of 152.06 million shares or not more than 10% of its issued and paid up share capital to raise up to RM15.21 million for the company's technology incubation fund and working capital.
In a filing with Bursa Malaysia, Asia Bio (fundamental: 0.6; valuation: 0.9) said the issue price of the shares will be determined at a later date but the exercise is expected to raise up to RM15.21 million in a maximum scenario based on an indicative issue price of 10 sen each.
The indicative price represents a premium of approximately 46.2% to the five-day volume-weighted average price (VWAP) of its shares.
Asia Bio said the proposed private placement of shares will not be priced lower than the par value of 10 sen and the exercise will raise the company's share base to 1.67 billion shares from 866.71 million shares.
AirAsia X Bhd (AAX) is urging the Securities Commission Malaysia (SC) to take action against GMT Research, saying the Hong Kong-based research firm had made "various misleading statements and allegations" about the low-cost long-haul affiliate of AirAsia Bhd in recent weeks.
In a statement today, AAX said it has lodged an official complaint to the SC against GMT Research, saying the latter had accused AAX, among others, of practising or allowing profit shifting between AirAsia and AAX by way of transfer pricing of the service fees and costs charged by AirAsia.
AAX also complained that the reports and presentation by GMT Research and its representatives concerning AAX were "untrue, misleading and inaccurate".
"The failure on the part of GMT Research to check, enquire or verify such information prior to issuing any statements necessitates an investigation by the SC for potential violation of the provisions of the 'Capital Markets and Services Act 2007' (CMSA)," it said.
AAX has also clarified that all relevant costs have been adequately captured in its books and financial statements which have been duly audited in accordance with Malaysian accounting standards and practices.
GMT Research had earlier published a report on its website questioning AirAsia Group's accounting, profit generation, cash flow issues, leverage and group structure.
LPI Capital Bhd saw its net profit jump 67.5% to RM85.74 million or 25.82 sen per share for the second quarter ended June 30, 2015 (2QFY15) from RM51.18 million or 15.47 sen per share a year ago, on higher contribution from its insurance arm, Lonpac Insurance Bhd and the realisation of gains of its investment in equities.
Revenue for 2QFY15 climbed 4.5% to RM304.73 million from RM291.49 million in 2QFY14.
LPI Capital also declared a first interim dividend of 20 sen per share amounting to RM66.4 million for the financial year ending Dec 31, 2015 (FY15), payable on Aug 3, 2015.
In a filing with Bursa Malaysia today, the group said its net profit for the quarter was boosted by a gain of RM39.2 million on the disposal of investment in equities by its investment holding division.
It added that the increase in revenue of the general insurance segment was mainly contributed by higher gross earned premium for the quarter at a growth of RM11.4 million or 4% to RM293.4 million.
For the half-year period (1HFY15), LPI Capital's net profit rose 40.5% to RM142.94 million or 43.05 sen a share from RM101.76 million or 30.75 sen a share in 1HFY14, while revenue rose 4.8% to RM596.46 million from RM569.29 million a year ago.
Wing Tai Malaysia Bhd announced that the price of its renounceable rights issue has been fixed at RM1.15, which is expected to raise gross proceeds of up to about RM188.8 million.
The issue price represents a discount of about 16.67% to the theoretical ex-rights price (TERP) of the shares of RM1.38 based on the five-day volume weighted market price of the shares of RM1.50 up to and including July 7 being the last trading day before price-fixing date of the rights shares today.
In a filing with Bursa Malaysia, Wing Tai (valuation: 2.4; fundamental: 1.05) was referring to the renounceable rights issue of up to 164.19 million new shares on the basis of one rights share for every two existing shares held by entitled shareholders on an entitlement date to be determined.
The company said the discount of approximately 16.67% to the TERP is reasonably attractive to the entitled shareholders of the company to subscribe for the rights shares and the discount is in line with the market discount rates of between 12% and 38% for major rights issue exercises implemented in Malaysia over the last three years.
Earlier, the group's chief financial officer Lee Kong Beng told reporters after the group's extraordinary general meeting (EGM) that Wing Tai is considering upping the number of its Japanese origin Uniqlo brand outlets due to its popularity in suburban major cities in Malaysia.
At the same time, the group is looking at consolidating outlets like Topman and Topshop and removing some non-performing brands.
Malaysian Resources Corp Bhd (MRCB) has teamed up with DRB-Hicom Bhd and Dekad Kaliber Sdn Bhd to build an integrated immigration, customs, quarantine and security (ICQS) complex at Bukit Kayu Hitam, Kedah.
In a filing with Bursa Malaysia today, MRCB (fundamental: 1.3; valuation: 1.4) said its wholly-owned subsidiary MRCB Engineering Sdn Bhd (MESB) has inked a joint venture (JV) and shareholders' agreement with DRB-Hicom's unit Hicom Builders Sdn Bhd and Dekad Kaliber for the proposed construction project.
Dekad Kaliber has been identified as the JV company to carry out the proposed job, in which MESB will hold a 51% stake and Hicom Builders the remaining 49%.
To recap, the Malaysian government had entered into a concession agreement with Northern Gateway Infrastructure Sdn Bhd (NGISB) on Dec 30, 2011, for the right to design, finance, develop and construct the complex.
NGISB had in turn appointed Zelan-Kiara Teratai JV as the main contractor of the project, which then awarded the job to Dekad Kaliber for a contract sum of RM310 million.
Magna Prima Bhd said it is in the process of evaluating the offers it has received for the prime lands it is looking to sell, which are located around the Klang Valley area.
Its CEO Datuk Rahadian Mahmud Mohammad Khalil told the press after the group's EGM today that they have gotten a few offers but are still waiting for some bidders to re-adjust the price.  
He said the company is in talks with a few players, including major property companies, but did not reveal who the parties were.
Currently, the group has over 30 acres of prime landbank, inclusive of the lands they are looking to dispose of. Some of the prime lands Magna Prima (fundamental: 1.1; valuation: 2) owns include the 20-acre tract in Section 15, Shah Alam, the former site of SJK (C) Lai Meng in Kuala Lumpur, and two parcels in Petaling Jaya.
(Note: The Edge Research's fundamental score reflects a company's profitability and balance sheet strength, calculated based on historical numbers. The valuation score determines if a stock is attractively valued or not, also based on historical numbers. A score of 3 suggests strong fundamentals and attractive valuations.)