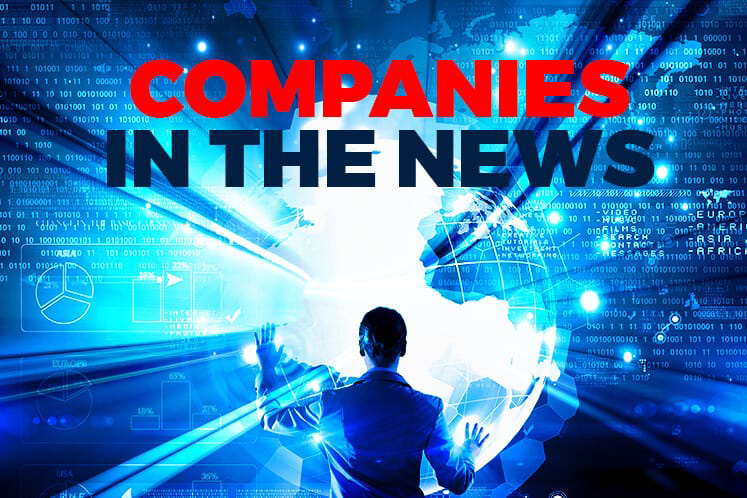 KUALA LUMPUR (June 6): Based on the corporate announcements and news flow today, companies in focus on Thursday (June 7) may include: WCT Holdings Bhd, Aeon Co (M) Bhd, Dagang NeXchange Bhd, Kimlun Corporation Bhd, AE Multi Holdings Bhd, Astro Malaysia Holdings Bhd, Chin Hin Group Bhd, Telekom Malaysia Bhd and JAKS Resources Bhd
The planned listing of WCT Holdings Bhd's real estate investment trust (REIT) may be deferred to 2019 pending the outcome of a legal dispute between WCT's indirect wholly-owned subsidiary Gemilang Waras Sdn Bhd and Aeon Co (M) Bhd.
WCT's REIT listing was originally slated to take place at the end of 2017.
WCT said the suit was in relation to the renewal of lease for Aeon Mall Bukit Tinggi.
WCT said Aeon was seeking, among others, an injunction to prevent Gemilang Waras from taking any action to terminate the lease agreement dated Nov 23, 2007 pending the court's decision.
Dagang NeXchange Bhd (DNeX) is upbeat about its prospects under the new government that has pledged to be business-friendly, and says the group is set to continue to expand its business via planned initiatives as well as the exploration of new opportunities.
The group is targeting a 20% growth in profit after tax for its financial year ending Dec 31, 2018 (FY18), on a 30% growth in revenue, which its group managing director Zainal Abidin Jalil said would be driven by improved performance from its two core business divisions.
The group is also eyeing a tender that it expects the government to call for — implementation of the Road Charge Vehicle Entry Permit (RCVEP) project for the Malaysia-Thai borders.
Kimlun Corporation Bhd has bagged a construction job worth S$27 million (RM80.43 million) from M+W Singapore Pte Ltd.
Kimlun said its wholly-owned subsidiary SPC Industries Sdn Bhd has accepted a letter of award from M+W Singapore for the supply and delivery of pre-cast concrete building components for S$27 million.
The supply and delivery of the components will be completed by the end of December 2018.
AE Multi Holdings Bhd has proposed to dispose of a property in Sungai Petani, Kedah, comprising a single-storey office, warehouse, factory building and ancillary building for RM10 million.
The group said the sale will enable it to repay outstanding  bank debts of RM2 million, upgrade its treatment plant in Thailand for RM2 million and use RM5.94 million to finance its working capital.
AE Multi said the disposal is expected to result in an estimated gain on disposal of RM73,000 and the company expects the disposal to be completed by November 2018.
Astro Malaysia Holdings Bhd's net profit slipped 10.77% to RM174.73 million in the first quarter ended April 30, 2018 from RM195.82 million in the year prior owing to higher net finance costs.
Revenue for the quarter slipped 1.14% to RM1.31 billion against RM1.33 billion in the corresponding period last year.
The group declared a first interim single-tier dividend of 2.5 sen for the financial year ending Jan 31, 2019, payable on July 6.
Touching on news reports the company could be taken private by its controlling shareholder tycoon Ananda Krishnan, Astro said in a separate statement that it had not received confirmation of any privatisation proposal.
Chin Hin Group Bhd will sell 17 units of three-storey shop offices to Chin Hin Building Materials Supply (JB) Sdn Bhd (CHBMS) for RM21.2 million in a related party transaction.
Chin Hin said the properties, located in Rawang and Alor Setar, are not being used for any business operations.
Chin Hin said the disposal will provide an avenue for the group to realise its investment in the non-core assets at their market value and raise cash proceeds which can be channeled towards the group's business operations.
Telekom Malaysia Bhd (TM) managing director and group chief executive officer Datuk Sri Mohammed Shazalli Ramly has resigned from his positions effective immediately.
TM also announced the appointment of its deputy group chief executive officer, Datuk Bazlan Osman, as the acting group CEO.
JAKS Resources Bhd is launching another cash call, this time to raise up to RM69.54 million from a proposed rights issue of warrants to expedite the construction progress of its power plant project in Vietnam, for partial repayment of bank borrowings and to fund preliminary expenses relating to exploring new renewable energy projects in Southeast Asia.
The proposed rights issue of warrants involves the issuance of up to 278.16 million warrants on the basis of one warrant for every two existing JAKS shares held on an entitlement date to be determined later.
JAKS will also be able to raise further proceeds of up to RM278.16 million as and when the warrants are exercised.
JAKS expects the proposed rights issue of warrants to be completed in the second half of 2018.