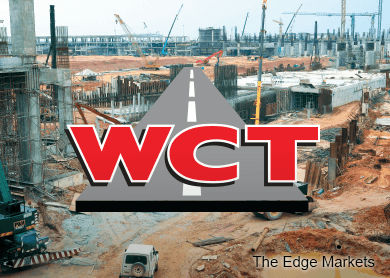 KUALA LUMPUR: WCT Holdings Bhd will embark on a two-pronged strategy to enhance shareholder value given the current challenging environment in the local property market.
WCT deputy managing director Goh Chin Liong said the company would focus on demand oriented property sales and land value enhancement.
He noted that WCT would prioritise its current launches mainly in the range of RM500,000 to RM1 million in the Klang Valley.
"Selling on strength, our current new launches are all linked to doorstep 'conveniences' as the main selling point," he said in an email interview with The Edge Financial Daily.
Goh explained this included Azure Residences — Paradigm Mall, Petaling Jaya; The Lead Residences — Aeon Mall, Bandar Bukit Tinggi, Klang; Medini Signature — 1Medini Hub, Iskandar Malaysia in Johor and Brio Residences — Paradigm Mall, Johor Baru.
He said to capture local buyers who were purchasing for their own use, the company had brought forward the launch of its affordable properties totalling 932 medium-cost apartments in Bandar Parklands, Klang, under the "Rumah Selangorku" programme.
"We will also leverage on our expertise in the high-end landed properties. Our prime gated-and-guarded Laman Greenville in Klang offers semi-detached homes from RM1.275 million and bungalows from RM2.24 million with resident clubhouse and nine acres of landscaping," he said.
Goh said in terms of land value enhancement, WCT would focus on future land banking exercises mainly in locations that add value to the company's existing land.
He cited the example of the 220.7 acres (89.31ha) of freehold land in Bandar Serendah, Selangor, it acquired for RM 115.4 million. The tract adjacent to its existing 461.7 acres of land was bought in 2011.
"The combined land size of 682.4 acres will enable us to embark on township development. In addition, the group is also working on a development plan which will translate into higher gross development value.
"The land enhancement measures will contribute to long-term financial benefits. Based on the management's estimation, the land purchase/enhancement has led to a valuation gain of approximately RM1.2 billion," he said.
Commenting on analysts' view that the property development market in Iskandar Malaysia (IM) would be slow this year, Goh said that being the pioneer developer in Medini IM, WCT enjoyed a first-mover advantage.
"We are now focused on the leasing of 1Medini Hub's commercial lots on the ground floor. The offices at Level 1 and 2 have already been fully tenanted. Admittedly, the take-up rate is slower over the last six months due to cooling off measures, tightening of bank borrowing as well as the wearing down of the 'Iskandar Buzz'," he said.
Goh stressed that, nevertheless, the outlook remained positive in view of the numerous "Medini Advantages" (Medini Incentive Scheme) that were only applicable to the Medini Zone in IM.
In view of the operating landscape, he said that WCT's immediate strategy was to see through the successful delivery of all its ongoing launches at 1Medini Condo and two towers of Medini Signature.
"WCT would continue to leverage on the strength of its brand and the capabilities of our property team to drive sales and provide excellent property management services so as to consolidate our presence in IM.
"WCT is optimistic about the prospects of IM as a special zone for economic growth that is fully supported by the government and the state. With regard to partnerships or joint-venture propositions for our undeveloped land bank, our doors are always open to discussion," he replied to a question if WCT was considering working together with some of the foreign players operating in IM.
On the company's overseas ventures, Goh said WCT's total outstanding order book in the Middle East stood at RM1.178 billion.
He said the order book included the RM338 million government administrative office project, which was expected to be completed by this year and the RM840 million Lusail development in Doha, Qatar (based on a 70:30 joint venture between WCT and Al-Ali Projects Co [W.L.L.]).
Goh said the scope of work for the Lusail development included the construction of the commercial boulevard, main and internal roads, utilities, five small-sized light rail transit stations and four two-level underground car parks.
He said WCT was positive about the outlook of the Middle-East market, especially in Qatar.
He said the opportunities at Lusail City, the 38 sq km modern master-planned urban community, were extensive as it would play host to the 2022 FIFA World Cup.
Meanwhile, he said the local construction sector outlook was positive as there were major projects in the pipeline, including the Klang Valley Mass Rapid Transit 2 and 3, Klang Valley Light Rail Transit 3, Penang Transport Master Plan, Petronas Rapid Pengerang and expressway/highway projects.
This article first appeared in The Edge Financial Daily, on May 11, 2015.