This article first appeared in City & Country, The Edge Malaysia Weekly, on October 4, 2021 - October 10, 2021.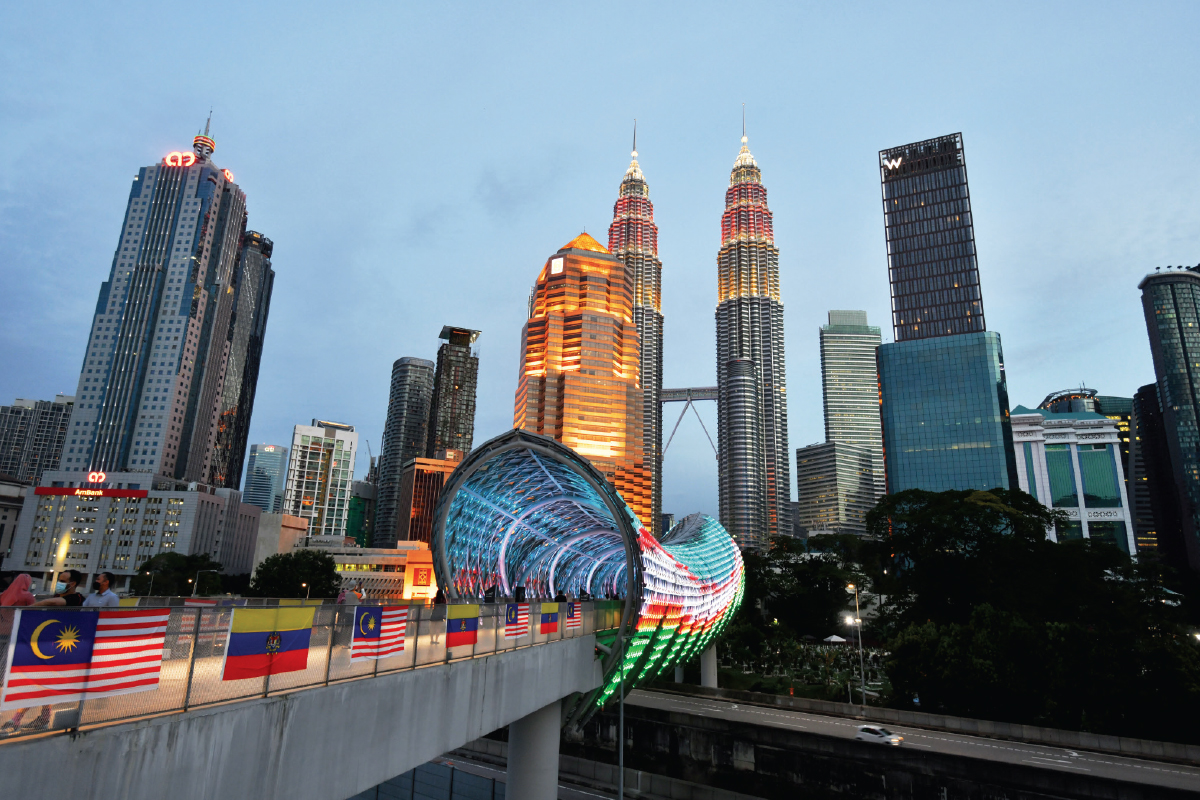 The 12th International Conference on World Class Sustainable Cities 2021 (WCSC 2021) was held virtually on Sept 27 and 28. According to WCSC 2021 chairman Lee Han Rick, the conference served as a platform to exchange ideas, dialogue, study and "network with world leading experts in their respective fields, so that Kuala Lumpur may learn the best practices from around the world". This year's theme was "Low Carbon Society: From Blueprint to Implementation".
The international conference, endorsed by Kuala Lumpur City Hall (DBKL), was jointly organised by the Real Estate and Housing Developers' Association Malaysia (Rehda), the Malaysian Institute of Planners (MIP) and the Malaysian Institute of Architects (PAM). Technical support was provided by strategic partner, the University of Malaya (UM).
The Ministry of Environment and Water (KASA) secretary-general Datuk Seri Dr Zaini Ujang said in his keynote speech, titled "National Low Carbon City Masterplan", that the ministry had already listed "key climate change tasks for 2021 and 2022". "Since 3Q2021, we have started to develop a carbon market mechanism, to establish a GreenHouse Gas Inventory Centre, to review the 2009 Climate Change Policy and to develop the climate change legal framework," he added.
Other future plans include preparing for Malaysia's fourth National Communication (NC-4) and the Biennial Update Report (BUR-4) for the United Nations Framework Convention on Climate Change (UNFCCC), as well as to prepare for Malaysia's Long-Term Low Emissions Development Strategy (LT-LEDS) towards 2050 and the National Adaptation Plan (NAP).
In the second keynote speech, titled "Carbon Neutral 2050", Kuala Lumpur Mayor Datuk Seri Mahadi Che Ngah shared City Hall's plans, which included the earmarking of Wangsa Maju as a future carbon neutral centre.
"This [Wangsa Maju] project spans 11 sq km. Located at the northeast end of Kuala Lumpur, this project will promote the use of public transport and electric vehicles," he said.
"In line with our goals, we will enhance feeder bus routes to ease mobility and convenience for the public. Additionally, a free electric bus service, Go KL City Bus, will be made available by the end of the year. With these steps in place, the project in Wangsa Maju will undoubtedly be a thriving, prosperous and liveable centre."
Mahadi also mentioned City Hall's plans for Kuala Lumpur's transition to a carbon neutral city, which included the New Development Plan for Kuala Lumpur 2040, Kuala Lumpur Smart City Master Plan 2021 to 2025, Kuala Lumpur Low Carbon Society Blueprint 2030, and Kuala Lumpur Pedestrian and Cycling Master Plan 2019 to 2028.
Tackling mobility
Mobility is an important component in a low carbon society. Speaking on the topic of "Sustainable Urban Mobility" was Gehl Architects director and team lead Esben Neander Kristensen. He said designing and sometimes redesigning inviting, life-first cities, districts, spaces and mobility systems requires an understanding of the place, context and how we move through the cities.
According to Kristensen, it is important for cities to have a strategic north star or an understanding that all the different projects lead in the same direction. "It's very easy to go down this tactical project-based approach, where you're looking at one project in isolation and not at how it fits into the bigger picture. A lot of that also has to do with engaging with stakeholders and the communities to define collective vision, challenges and opportunities," he said.
This mobility theme was also taken on by United Nations Environment Programme team leader for active mobility, digitalisation and mode integration Carly Gilbert-Patrick during her presentation on "Share the Road Programme — Why Does Sharing the Road Matter".
Walking and cycling as a near-zero emission mode of transport moves six to eight times more people per hour in the same space as a car and is looking at the least noise and air pollution, requiring no use of fossil fuels and has health benefits. "It's what we call a win-win of transport," she said.
According to her, car growth is at an all-time high and is forecast to continue growing, so there will be almost 2.5 billion light duty vehicles on our roads by 2050. Moreover, transport is one of the six largest emitting sectors, contributing 22% of global emissions, with 73% coming from cars and trucks.
During the panel discussion, Gilbert-Patrick said that although a lot of pushback on investing in walking and cycling infrastructure is due to a lack of budget, it is not really about whether the money is there but whether governments are prioritising spending on the people who need it the most.
The conference saw urban expert and author of Soft City: Building Density for Everyday Life David Sim speak on "Soft Connecting People to Planet, Place and Other People". "A soft city is defined as a place where people can connect to the planet, place and to other people. It's about connecting the private and public spaces for working, living and leisure," he said.
He added that there is value in "layering", where all the levels — top, middle, ground and lower ground floors — of a building are connected to the public realm surrounding the building. "It allows us to have good diversity in one place."
Sim suggested that more diversity could be added to all layers or floors, with examples such as backyards and rooftop gardens. "We find that the ground floors are always the most valuable. Whether it is for the [easy access] to shops, services and public places, we discovered that people would pay 25% more to live on the ground floor, because they feel connected to the public spaces," said the former creative director of Gehl Architects.
Representing UM was vice-chancellor Datuk Mohd Hamdi Abd Shukor, who shared the university's initiatives in becoming a green campus, as he presented on the topic of "Low Carbon and Green Campus Initiatives in Universiti Malaya".
Among the initiatives by the university are the UM Eco-Campus Blueprint, which guides the university in its sustainability goals, and the UM Living Lab Action Research, which serves as a knowledge or action research platform. "Through UM Living Lab projects, we managed to divert 17,630,000kg of COeq of greenhouse gases (GHG) from 2015 to 2020 to 291,515 tree seedlings grown for 10 years," said Mohd Hamdi.
Moving beyond green buildings
Hijjas Architects and Planners creative director Serina Hijjas spoke on the topic, "High Density Green Buildings — Is this the Solution for Urban Areas?". She pointed out that it is time for the nation to move beyond green buildings, a concept that has been talked about for about 10 years.
"The reason we haven't moved fast enough is that it's not mandated. It really should be made mandatory at this point, after 10 years. If it's not mandatory, it's almost like not recognising that you're going to run out of fuel for your cars," she said.
Hijjas also spoke about densification, which is related to rising temperatures. "We have already reached a 1.5°C change in temperature in urban areas … and we can map out the temperature difference of towers and buildings without greenery by at least 5°C. As we get denser, we also get warmer and we lack urban greenery in the ecology."
She also shared her views on the design of affordable housing. Based on a study, she found that it is important for affordable housing to be closer to the ground, with vertical neighbourhood pockets and community- and nature-based spaces such as markets integrated with parking bays for bikes, not cars.
Speaking on the topic of "Form Follows Systems" was Richard Hassell, founding director of Singapore-based architecture practice WOHA, who said, "It is important to think about buildings as components of big global systems — because only then, in the context of systems, can we think about what our buildings should be doing and how they contribute to the overall effect."
Useful tools to create a lower carbon society include the green plot ratio, which is the amount of landscape surfaces compared with a development's site area, and the community plot ratio, which measures the amount of community space allocated to a development's site area, said Hassell.
He provided examples of the use of these ratios. This included Oasia Hotel Downtown in Singapore, which managed to achieve an overall green plot ratio of 1,100%. "We dedicated a lot of the surfaces to greenery, both horizontal surfaces and vertical surfaces."
For the community plot ratio, Hassell pointed to Skyville @ Dawson, a public housing project in Singapore, which has 960 units spread across 47 storeys that allows community interaction through various layers of "different sociability" between neighbours, the development, surrounding towers, ground and even the roof, he said.
Designing well was also touched on by Andy Bow, senior partner at renowned architect firm Foster + Partners, who advocates sustainable master planning. He highlighted the importance of climate analysis in design during his talk, titled "Sustainable Master Planning".
"We adopt a global perspective on infrastructure, with a clear expression of structure made of stainless steel, timber and glass; no building is the same. We [consider ourselves] master planners and urban designers. When we design, we [tend to] think globally, and we use climate analysis," he said.
Some of the firm's latest works include the RCC headquarters in Russia, Apple Tower Theatre in Los Angeles, Narbo Via in France, Principal Place in London, Samba headquarters in Saudi Arabia, Shanghai Bund Riverside in Shanghai and Apple Marina Bay Sands in Singapore.
Bow emphasised the juxtaposition of infrastructure and climate analysis. "There are many facets to infrastructure — how we move around the planet, the new changes in mobility and also the changes in how we live and how we work."
The annual conference, which started in 2009, has seen scores of local and international speakers share their views. Study tours have also been organised for participants to visit the cities that showcase the best practices in sustainability. About 1,000 people participated in this year's conference via Zoom, with many more watching on YouTube.