This article first appeared in Forum, The Edge Financial Daily, on July 31, 2019.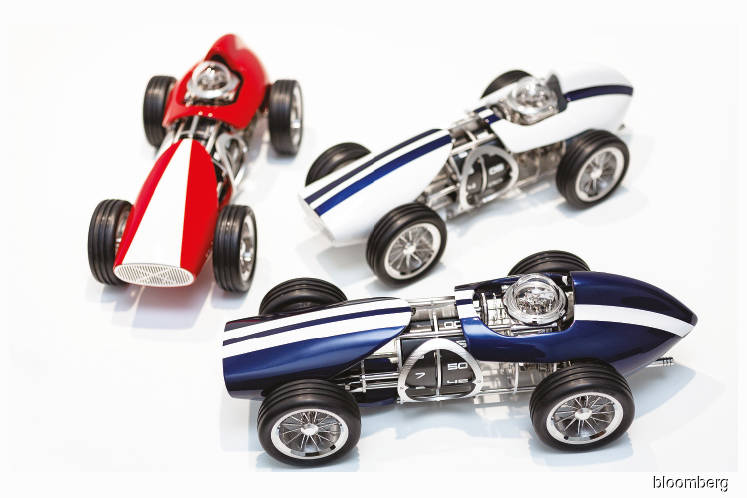 The Time Fast D8 is a 15-inch long table clock with rubber wheels. Photo by Bloomberg
DESPITE not making any watches at all, L'Epée has managed to make the top of my favourite list for both Salon International de la Haute Horlogerie (SIHH) and Baselworld this year. At SIHH, they showed the charming Medusa clock in collaboration with MB&F (with its jellyfish-inspired form) and at Baselworld they announced this, the new and entirely awesome Time Fast D8 clock.
Based on the form of vintage race cars and toys of the same era, the Time Fast D8 is a 15-inch (38.1cm) long table clock with rubber wheels, an open clock display and a "driver" formed by a helmeted enclosure for the clock's balance.
Over the years, I have covered many an interesting clock from L'Epée, but this is one I would very much aspire to own. Powered by an eight-day hand-wound movement, the Time Fast D8 is set by rotating the steering wheel and wound by pulling the car backwards like a wind-up toy.
The "chassis" is a mix of nickel and palladium-plated brass along with stainless steel, and the body panels are made from aluminium and painted with the correct paint to match a variety of national racing liveries. In total, there are six versions: Red, grey, blue, green, white with blue stripes, and blue with white stripes, and each colour has a production run of 100 units (I have no idea how one could choose from the lot).
The Cunningham-esque white with blue stripes is so good and the German-liveried grey version is really fun with the meatball on its hood. With a shape that pulls from the streamlined and futurist forms of early post-war race cars from Ferrari, Talbot-Lago and Maserati, the Time Fast D8 has a crested front grill, dual exhaust pipes, and rubber tyres that are filled with foam so that they compress in a manner similar to that caused by the weight of a full-size race car (too good).
For me, this hits right in the overlap of watchmaking and automotive fascination in a way that I find more emotional than braggy. Not only does the design hit a sweet spot from the golden era of motorsports, the horology on display really elevates the sculpture of the form into something I would love to have on my shelf or desk.
A fun fact: In shooting the above image, four of the five clocks were running and as the L'Epée 1855 MHD movement runs at 2.5Hz, the sound of four of the clocks ticking is not unlike a cammy race engine sitting at idle. It brought a huge smile to my face and really sealed the charm of the Time Fast D8.
Priced from US$30,000 (RM123,600), it is not a watch, it is not a car, but it is somewhere in between. Beautiful, fascinating and full of childlike fun, the Time Fast D8 is my favourite L'Epée creation to date.
For more information, visit L'Epée online. — Bloomberg
---
This article was originally published on Hodinkee.