This article first appeared in The Edge Financial Daily, on September 4, 2018.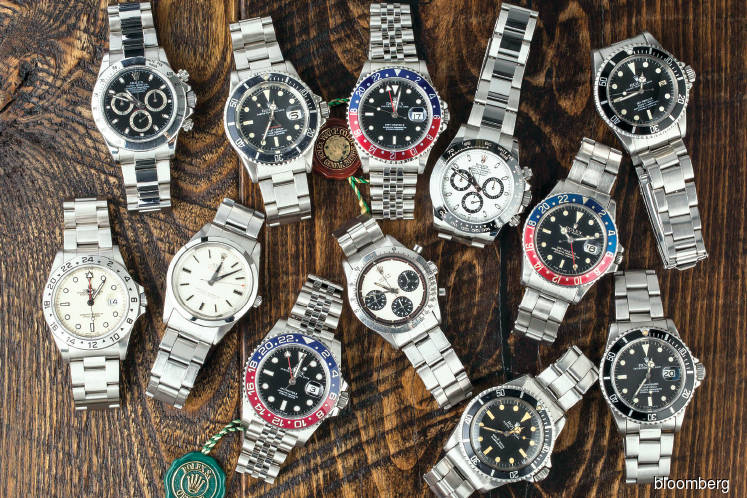 While the vintage watch auction scene has been on fire in recent years, it remains closely guarded by a small selection of major players. Phillips and Christie's continue to set sales records, including the first Rolex Submariner to achieve north of US$1 million (RM4.13 million) and the success of Phillips's "Winning Icons — Legendary Watches of the 20th Century", which sold US$28.8 million worth of timepieces in a single evening last October. In spring alone, the watch auctions of Phillips netted a remarkable US$61 million — a 17% increase from a year earlier.
Alongside this powerhouse duo, Sotheby's, Antiquorum, and Heritage Auctions (among others) pick up the balance of watch auction sales around the globe.
Now Bob's Watches, one of the larger pre-owned Rolex dealers in the digital space, and Eric Wind, a former Christie's watch specialist and founder of Wind Vintage, are aiming to disrupt the scene. They have set out to challenge the traditional format with their first online auction, a 12-lot sale running from tomorrow until Sept 12.
All the watches will be sold as complete sets with box and papers, which is not common — as few as one in 40 vintage watches that head to market come complete. But the biggest change is that no buyer's premium will be charged on any sale. At traditional auction houses, that premium usually reaches about 25% on top of the hammer price, and then somewhere above US$175,000 the percentage drops to 20%, which is not exactly chump change. (When Paul Newman's Rolex Daytona shattered records by gavelling at US$15.5 million in October, the premium bumped up the final price to US$17.8 million. You could buy a lot more watches for that additional US$2.3 million.)
"Not being a traditional auction house, we simply don't have the same expensive overhead to manage," said Paul Altieri, owner of Bob's Watches. "Thanks to this, we're happy to be able to offer this auction format at no cost to our fellow buyers and collectors." Instead, Bob's will generate revenue off the margins from the acquisition and sale of the 12 watches heading to the auction block.
Known for being an avid collector of vintage Rolexes, Altieri is no stranger to the auction world. In fact, the majority of the 12 watches for sale are from his personal collection, which no doubt further facilitates the no-premium arrangement. Along with the deletion of the buyer's premium, Bob's is also offering a one-year warranty on every watch sold, as well as free shipping within the US.
"For a conventional auction house, not charging a buyer's premium is a losing proposition," said William Massena, former chief operating officer at Antiquorum and managing director of the watch forum TimeZone. "Approaching this as a digital sales platform that already has the required infrastructure in-house, on the other hand, definitely shows potential for success."
Of the dozen watches for sale, a Rolex 6239 Paul Newman Daytona in impeccable condition is the highlight of the bunch. It is listed with a starting bid of US$190,000, though Altieri expects it to sell for roughly US$250,000. Aside from some light polishing, the watch appears in honest original condition, replete with light scratching on the case consistent with the piece's origin story. Owned from new by a physician (who then sold the watch at age 87), the piece was worn daily for the majority of his life. Unlike many Newman Daytonas to cross the block, this is one of very few with a pristine cream-coloured panda dial (its light dial contrasted with dark subdials resembles the face of a panda). It is also one of even fewer to retain its original documentation, right down to its first sales-window hang tag.
From a condition and completeness standpoint, this 6239 is in more prime condition than Newman's personal 6239 Daytona that claimed an astronomical US$17.8 million; considering five of the 32 lots of the recent Phillips Daytona Ultimatum sold for more than US$1 million, it is not out of the cards that this lot could do quite well.
Alongside the Newman, four other Rolex Submariners are also on offer (including a one-owner 1680 "Red Sub"), plus a well-kept early Milgauss from 1967.
Outside of the vintage offerings, Bob's is also offering a pair of brand-new Rolex models that have proved quite challenging to acquire through an authorised retailer without an inside track of sorts. Both the ceramic bezel Daytona 116500 and the newly launched GMT-Master II Pepsi bezel 126710 — the latter of which premiered at Baselworld earlier this year — are consistently trading hands above their retail list prices by a fair margin.
These days, examples of GMT-Master II are commanding more than US$20,000, though its set retail price from Rolex is a much more modest US$9,250. If nothing else, the sale of these two watches will be a true litmus test of demand for the brand's latest and greatest. — Bloomberg