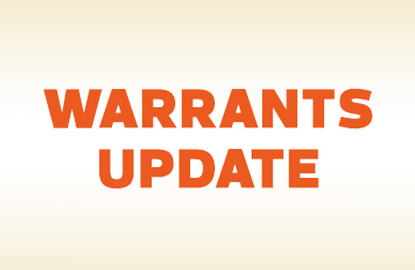 This article first appeared in
Capital, The Edge Malaysia Weekly
, on January 9 - 15, 2017.
MOST local plantation companies, including Genting Plantations Bhd (GenP), are seen as beneficiaries of the stronger US dollar. This is because a stronger greenback should increase demand for crude palm oil (CPO) as it would be cheaper than soybean oil, which is priced in US dollars.
GenP's company-issued warrant, GenP-WA, appears to be a cheaper proxy for investors who wish to ride the prospects of the plantation giant. The derivative carries a strike price of RM7.75, has a one-to-one conversion ratio and will expire on June 17, 2019.
Closing at RM2.91 last Wednesday, GenP-WA was trading at a slight discount of 2% to the mother shares, which closed at RM10.88 on the same day. Assuming a zero premium to the underlying stock, the warrant should theoretically be worth 7.56% more at RM3.13.
A quick check on Bloomberg shows that analysts are divided on just how much upside there is for GenP, with six houses calling a "buy" versus 12 with "hold" and four with "sell". Their target prices range from RM8.30 to RM12.40, averaging at RM10.62 apiece — slightly below what the stock fetched at the time of writing. Nine of the analysts have target prices above last Wednesday's close, with the lowest being RM11, while two of them value GenP at RM12 apiece.
Among the more bullish of analysts is MIDF Research, which increased its earnings forecast for GenP as well as its target price from RM9.72 to RM11.50 in a note dated Dec 7, 2016.
This means that at zero premium, GenP-WA would theoretically be worth RM3.75, or 29% more than the current level, if the mother shares reach the target price.
MIDF Research's higher target price and earnings forecast are based on its higher CPO price assumption — the research house expects CPO prices to be 11% higher on average this year at RM2,725 per tonne, up from RM2,450 per tonne.
For the nine months ended Sept 30, 2016 (9MFY2016), GenP's net profit grew 27% to RM165.6 million, as revenue increased 1.7% to RM966.6 million. The higher earnings were mainly due to higher CPO prices, which more than offset the lower fresh fruit bunch (FFB) production (down 12% year on year in 9MFY2016 due to the adverse impact of dry weather).
In an earlier note dated Nov 24, 2016, MIDF Research highlighted that GenP's Indonesian operations returned to the black mainly due to normalising manuring cost and higher FFB production. "[GenP's] downside is supported by its good fundamentals, with a young oil palm profile (with 30% immature oil palm trees), which suggests good long-term FFB production growth prospects," it says.