This article first appeared in The Edge Financial Daily, on June 8, 2018.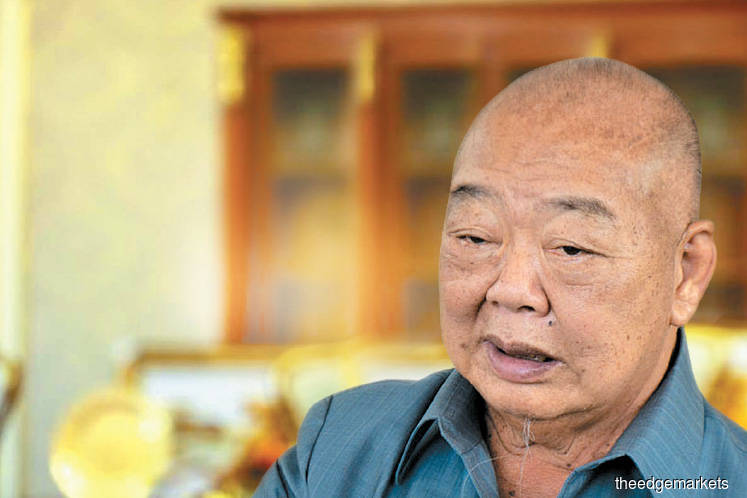 KUALA LUMPUR: An arrest warrant has been issued by the Kuala Lumpur High Court on bankrupt businessman Tan Sri Ting Pek Khiing, who had last week surprised the nation with news that he will be undertaking a RM30 billion project in Langkawi, for failing to appear in court yesterday for his public enquiry hearing. The warrant of arrest is to secure his future attendance in court.
The arrest warrant was issued under Section 28 of the Insolvency Act 1967. A warrant of arrest has already been issued against Ting's wife Puan Sri Wong Sui Chuo on May 18, 2018 for her failure to appear in court on that day. Both Ting and his wife were expected in court to be questioned by creditors on Ting, his dealings and his ability to pay pursuant to Sections 17 & 31 of the Bankruptcy Act 1967.
Ting was a no-show in court yesterday and his lawyer conveyed that he was busy preparing for the planned multibillion-ringgit development.
"When the creditors discovered last week (last Thursday) through the media that he (Ting) had this RM30 billion project that he wanted to launch, they were in all honesty very happy for him. All they request is that "if he has the money, if he can afford it, please pay off the creditors first", a source told The Edge Financial Daily.
The creditors then obtained an order last Friday from the Kuala Lumpur High Court ordering that Ting attend his continued public examination yesterday to be examined by the creditors, the director-general of insolvency (DGI) and the court registrar on his planned project in Langkawi.
"Ting did not turn up in court today (yesterday) and the court has issued an arrest warrant to secure his attendance in court on June 29," the source added. The arrest warrant directs the police officer to arrest Ting and bring him to court on June 29.
Last Thursday, Ting said that he would be embarking on the Langkawi New City project that will cost RM30 billion spanning over 2,000 acres (809ha) of reclaimed land off the west coast of the island. Components of the project included 30,000 high-end condominium units, commercial centres, berthing facilities for ocean liners and yachts, and other facilities.
Ting's creditors include Alliance Bank Malaysia Bhd, Alliance Investment Bank Bhd, Alliance Merchant Bank Bhd, Insas Credit & Leasing Sdn Bhd, Datuk Hu Chang [email protected] Chang Pee, Southeast Asia Special Asset Management Bhd, Multi Purpose Bank Bhd and Interhill Enterprise Sdn Bhd.
A bankruptcy search with the Malaysian Department of Insolvency revealed four cases against Ting. The search results showed that he has been bankrupt since 1991. Two other search documents showed creditors had obtained bankruptcy orders against Ting in October 2010 and November 2010. However, a fourth document stated that Ting is "not bankrupt".
It is worth noting that despite this one document suggesting that he has been discharged, he is still considered a bankrupt as he has not been released as a bankrupt since he yet to settle monies owed. Moreover, the source said that the DGI had yesterday confirmed that Ting has not been discharged and remains a bankrupt.
In explaining the bankruptcy proceedings, the source said that once a bankruptcy order has been made, all the pending suits against the bankrupt in court are stayed and every creditor files a proof of debt. This is a cheaper way of resolving the issue and ensuring that assets of the debtor are still intact to satisfy his debt.
"As a result of his (Ting) bankruptcy, the DGI convened a public enquiry under the Bankruptcy Act for the creditors and the DGI to question Ting on his assets and what has happened to them, and his ability to pay his creditors," the source added.
"The total proof of debt that had been filed by the creditors and admitted by the DGI exceeds RM390 million," the source said of the sum the creditors can recover from Ting. "RM390 million is just over 1% of Ting's RM30 billion project," the source said.
The public enquiry on Ting commenced some years back, but not many assets have been identified as his. "As a result, an application was taken out to summon his wives, his son Bobby Ting, a few of his ex-employees and directors from some of his companies. There are 19 persons in all for the creditors to question on Ting's assets," the source added, saying that their examination has been ongoing.
Ting, 73, who was involved in the initial development of the Bakun Dam project via Ekran Bhd, had already been called in and questioned at the public examination previously but the examination had been adjourned.
Meanwhile, last Friday, following Ting's announcement on Langkawi, Prime Minister Tun Dr Mahathir Mohamad said that it was Ting's dream to build a city in Langkawi and that no one can stop people from dreaming.
According to Kedah Menteri Besar Datuk Seri Mukhriz Mahathir, the local government has yet to receive Ting's proposal for the project. He added that Ting had submitted a proposal in 2013 to reclaim and sell the land to locals and foreigners, but the proposal was not followed through with a deposit which is in accordance to Kedah's law for megaprojects.
Ting has since said that he will be submitting a fresh proposal to the state. Ting is expected to use several companies within his group to develop the project, which could take up to 10 years to complete.