This article first appeared in The Edge Malaysia Weekly, on July 2, 2018 - July 08, 2018.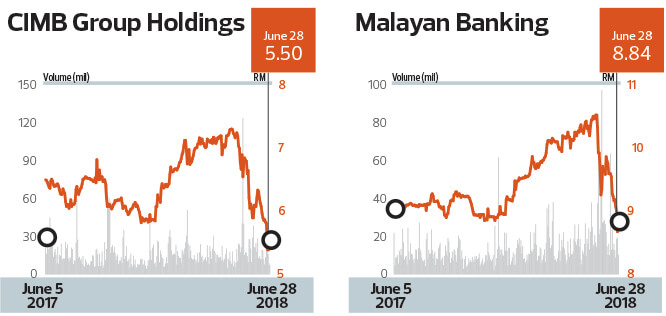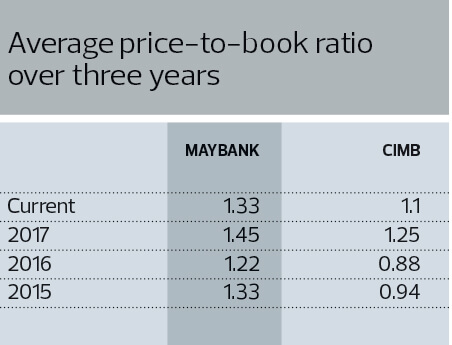 IN May, Malayan Banking Bhd, the country's largest financial services group, reached a new milestone, hitting RM100 billion in market capitalisation. It was an impressive, albeit brief, achievement as its market cap is now at RM97.83 billion, owing to skittish investor sentiment. Is it a good time to buy its shares, or those of CIMB, since both government-linked banks have taken a beating of late?
Maybank has fallen 17.58% since hitting its peak on May 22, while CIMB Group Holdings Bhd has seen its shares drop 26.03% since reaching its peak in April.
In truth, stocks on the broader market have taken a beating due to the trade war tensions between the US and China, which have made investors the world over jittery.
Last Thursday, Maybank closed at RM8.84 and CIMB, at RM5.50 — or at 1.3 times and 1.1 times price-to-book respectively.
Analysts believe investor wariness over potential resignations at the top level of government-linked companies, following a historic change in government, has been a key factor in the recent selldown in the two banking counters.
"We believe that the selldown in Maybank and CIMB in recent weeks has been more sentiment-driven than anything else. We opine that this selldown is unwarranted given that their fundamentals remain unchanged. They are the top two banks in the country by asset size, and both have good earnings prospects. Also, we like their regional presence," says MIDF Research analyst Imran Yassin Yusof.
Another analyst, who declined to be named, stresses that investors should not be concerned over potential changes at the top. "Even if the CEO of a bank changes, the processes and structures of the bank will still be in place. Take Alliance Bank [Malaysia Bhd], for example. It has had several CEOs in recent years. Sure, there might be a knee-jerk reaction to the change but it should not have any long-lasting impact."
Imran points out that banks such as CIMB and Maybank are considered institutionalised and have good and capable deputies to take over should there be any change at the top.
That said, the banking sector does face some risks, according to analysts.
For one, if Malaysia is unable to maintain its sovereign credit rating, the cost of capital will likely rise, hurting consumers, companies and the banking sector as well.
Moreover, as the new government's policies and directions have yet to be clearly spelt out, businesses, while generally more positive about the new administration, are waiting for greater clarity, says Imran.
"This will, in turn, have an effect on loan demand. We understand that businesses are more cautious following the 14th general election and have delayed their financing plans until there is a clearer direction from the new government."
In a report, AmResearch says it is projecting a loan expansion of 5% this year — supported by a gross domestic product growth of 5.5% — with the pace picking up in the second half of the year on the back of stronger consumer loans.
"Stronger consumer spending is anticipated in the short term between the implementation of the zero-rated Goods and Services Tax and reintroduction of the Sales and Services Tax. We expect business loan growth to also improve, supported by the absence of large corporate loan repayments and a non-repeat of the foreign currency translation impact seen in 1Q2018," it adds.
Analysts indicate that it could be time for investors to accumulate shares of banks.
Recently, CGS CIMB Research upgraded Maybank to "add" from "hold" with a target price of RM10, highlighting several reasons, including its attractive valuations and FY2019F dividend yield of 6.4%.
It also estimates that the potential listing of Etiqa, Maybank's Islamic insurer, could benefit Maybank's shareholders as they would receive 9 to 17 sen worth of Etiqa shares.
On the flip side, the research house highlights that the banking group's exposure to Singapore water treatment operator Hyflux Ltd could hit its earnings this year.
Maybank Singapore and Maybank Kim Eng are the lead managers, sole underwriters and bookrunners for an 18-year S$720 million (RM2.1 billion) term-loan facility granted to Hyflux's subsidiary, Tuaspring, to fund its desalination and power plants. But Hyflux recently applied to the Singapore High Court for a six-month moratorium on creditors' claims so that it can reorganise its business.
"At this juncture, we do not have any knowledge of Maybank's current exposure (if any) to Hyflux. However, we estimate that this could lower Maybank's FY2018F net profit by about 10%, based on the assumptions of an exposure to Hyflux of S$720 million, and a 50% provisioning of the exposure. Any provisioning for Hyflux would be booked by Maybank in its 2Q2018F results, in our view," says CIMB Research.
As for CIMB, there are currently 16 "buy" calls as well as seven "hold" and one "sell" recommendations on the banking group.
Following CIMB's 1Q2018 results at the end of May, Public Bank Investment Research highlighted in a client note that the constant reduction in the bank's operating expenses and improvements in asset quality will provide scope for further earnings upside, particularly if the group's regional operations make quicker-than-expected turnarounds.
The improvement in its cost-to-income ratio comes after a deconsolidation with CIMB Securities International, which led to a corresponding 6.7% year-on-year decline in operating expenditure, says UOB Kay Hian Research.
Meanwhile, the asset quality improvement stemmed from improved gross impaired loans from Indonesia while those from Malaysia remained broadly stable.
UOB Kay Hian Research has lowered its earnings forecast for CIMB to factor in more conservative fee income growth assumptions owing to heightened capital market risk aversion and lower net interest margins as Bank Indonesia's recent rate hike could put some pressure on CIMB Niaga's NIMs. However, the research house believes the group has been oversold.
"We believe that the selldown has been excessive with current valuations trading at -1SD (standard deviation) on a price-to-book value and price-earnings basis," it says in a report.
MIDF's Imran has observed that banks under his coverage are trading at a discount to their five-year historical average. "With better clarity on the direction of the economy, banking stocks may stage a rebound."
Save by subscribing to us for your print and/or digital copy.
P/S: The Edge is also available on Apple's AppStore and Androids' Google Play.