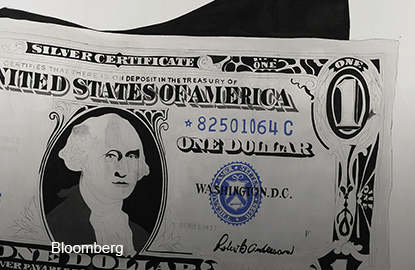 PAINTINGS of US dollar bills that decorated the walls of Sotheby's salesroom helped the auctioneer rake in £130.4 million (RM769.2 million) during its biggest contemporary art sale in London.
Although last Wednesday's uneven auction didn't reach its target, the result was a 40% increase from the equivalent evening event a year ago. The 58-lot sale was led by Andy Warhol's painting of a dollar bill that fetched £20.9 million. But two Warhol silk screens were among the nine unsold lots along with such market stalwarts as Francis Bacon and Gerhard Richter.
"There's a little bit of cooling," said Betsy Bickar, an adviser in post-war and contemporary art at Citi Private Bank Art Advisory & Finance. "It felt like people were being selective and careful."
Sotheby's auction was the last major event of an art season marked by record consumption. Chinese and Russian billionaires competed with wealthy Americans for art trophies seen increasingly as a good store of excess cash. In May, US$2.7 billion (RM10.23 billion) of art changed hands during auctions in New York. The shopping spree continued in June at Art Basel, the modern and contemporary art fair in Switzerland where US$3.4 billion worth of goods were for sale.
As clients arrived last Wednesday, they were greeted by a group of protesters outside Sotheby's on New Bond Street. Some carried signs that say "Angry Artist."
Warhol's hand-painted 1962 One Dollar Bill (Silver Certificate) surpassed its high estimate of £18 million and went to a telephone client of Alex Branczik, head of contemporary art in London for Sotheby's.
The 6-foot-wide work was part of a 10-lot group with a US currency theme. Eight sold, totaling £34.3 million. The two unsold Warhols were jointly estimated at as much as £25 million.
The biggest casualty was Bacon's painting of a crimson-robed pope estimated at £25 million to £35 million. It didn't draw a single bid.
Study for a Pope I is part of a group of six pope paintings Bacon made in 1961 ahead of his retrospective at the Tate museum in London, according to Sotheby's.
Two self-portraits by Bacon that have been off the market for decades fared better. A 1975 self-portrait sold for £15.3 million, slightly above its £15 million high estimate. A 1980 Three Studies for a Self-Portrait fetched £14.7 million.
Prices include buyer's commission charged by the auction house; estimates' don't.
A tiny painting by Lucian Freud, depicting four eggs on a plate, fetched £989,000, after a rush of bids pushed the price above the high estimate of £150,000.
"Everyone wants the eggs," said Oliver Barker, the auctioneer who almost ran out of breath catching all the bids.
The 2002 painting — just 4-inches-tall and 6-inches-wide — was a gift by the late British artist to his lifelong friend Deborah, the Dowager Duchess of Devonshire, whose estate consigned the work.
"Bidding was crazy," said Michaela de Pury, a private art dealer who attended the auction. "It was so loud we all turned around. I thought the demonstrators came up."
Another highlight was Frank Auerbach's charcoal drawing of his cousin Gerda that soared to £2.2 million, six times its high estimate and the highest auction price for a work on paper by the British artist.
After several seasons of insatiable demand, Richter's market has reached the saturation point, dealers and advisers said.
At Christie's on June 30, four of five Richter paintings didn't sell. Sotheby's had the best Richter of the week, according to dealers: a classic 1988 abstract canvas, A B, Brick Tower. It sold for £14.1 million, within the estimate. A 1964 portrait of art dealer Alfred Schmela sold within estimate for £3.3 million. But a 1968 cityscape, estimated at as much as £4 million, flopped.
"Everyone who wanted a Richter bought a Richter," de Pury said. "For the moment, people are digesting. A bad Richter doesn't work anymore."
De Pury said she bought a red 1964 canvas by Lucio Fontana, featuring the Italian artist's 10 vertical slashes, for a friend. The final price was £4.4 million.
"I had a much larger budget," she said. "After Basel, everyone finally has had enough. People are packing to go on holidays. It's a moment when there are opportunities." — Bloomberg
This article first appeared in The Edge Financial Daily, on July 6, 2015.