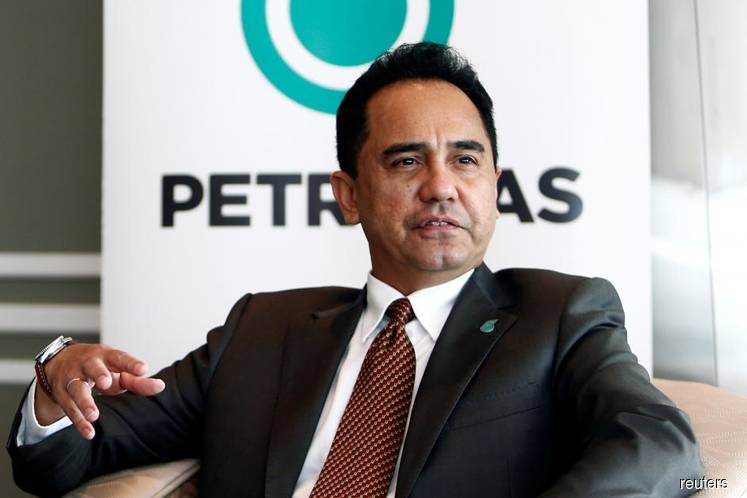 KUALA LUMPUR (Jan 25): Amid the challenging operating environment surrounding the oil and gas (O&G) industry, Petroliam Nasional Bhd (Petronas) said it is putting forward a three-pronged strategy for sustainability, including diversification.
Petronas president and group chief executive officer Tan Sri Wan Zulkiflee Wan Ariffin said the national O&G outfit intends to expand its core business. However, this depends on how much it can afford to spend for growth.
"One, we are still looking at our cash. Secondly, we want to expand our core business. We are a fully integrated company and I believe in this business model. We are looking at ways to extend the value chain of our business," a Petronas statement quoted Wan Zulkiflee as saying in an interview at the World Economic Forum in Davos.
"Thirdly, we are looking into things that are new to Petronas. For example, we are looking at the potential of being involved in renewables such as solar and other new energies," he added.
Over the past few years, Petronas has undertaken many strategic initiatives following the crashing oil prices earlier, Wan Zulkiflee said.
This, he said, involved "a lot of housekeeping" which included looking at its cash, how projects were delivered, simplification of processes, as well as revising its talent development, technology and the culture of the organisation.
At the same time, Petronas successfully commissioned several projects including its Sabah Ammonia Urea plant (SAMUR) in Sipitang, Sabah, and the Floating LNG Satu in offshore Sarawak, the world's first floating LNG facility.
Looking forward, Wan Zulkiflee said he anticipates three major challenges that could impact the group — finding the right talent to drive the company forward, fluctuating oil prices and the development of renewables against fossil fuels.
As for Petronas' outlook on oil prices, Wan Zulkiflee highlighted three dimensions, which are supply, demand and speculation.
"What we see today is a congruence of many events, essentially the OPEC and non-OPEC voluntary production cuts that is helping to boost up the oil price; we also see some supply disruption in Libya. The demand side is looking good globally and we expect this to continue in the next few years," he said.
Wan Zulkiflee also stressed that the increase in US shale production would impact prices.
Further, he said Petronas will closely monitor events in the Middle East, North Korea and other parts of the world that could impact crude oil prices.
"In Petronas, we continue to take a conservative view and our budgets are lower than what oil prices are today," he said.
Nevertheless, Wan Zulkiflee said Petronas is accustomed to the cycles in oil prices and "is confident that the company is now in a stronger position to withstand these cycles".