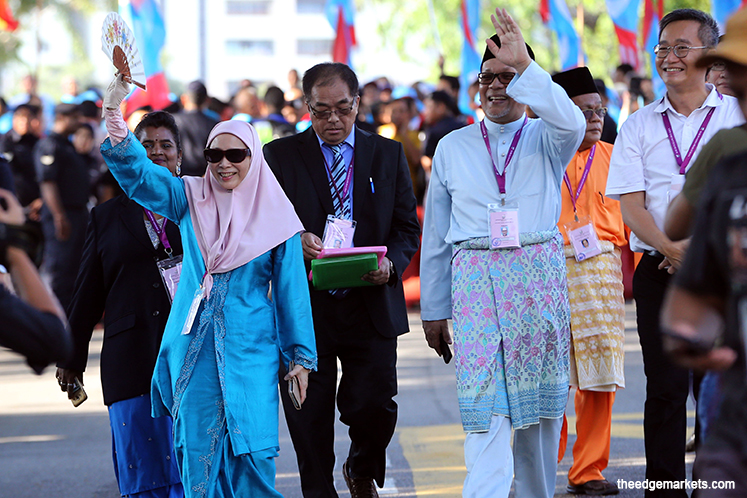 KUALA LUMPUR (April 28): PKR president Datuk Seri Dr Wan Azizah is facing a five-cornered fight in the Pandan parliamentary seat, which the incumbent MP Rafizi Ramli has said that PKR can retain even if it fields a cat.
Decked out in her hallmark pink tudung and turquoise baju kebaya with a fan in hand, Wan Azizah was a picture of serene confidence.
"Now that Pas is seen as friendly to BN, I think the people can judge for themselves," she said when asked whether she would be able to capture votes from Pas supporters who went to Rafizi in the last election.
The four others who are fighting for the seat are: BN's (MCA) Datuk Leong Kok Wee, Pas' Mohamed Sukri Omar, Parti Rakyat Malaysia's (PRM) Jenice Lee, who is also contesting the Teratai state seat, and independent Mohd Khairul Azam Abdul Aziz, a lawyer who came all decked out in a  traditional Baju Melayu ensemble, complete with a headgear.
Mohd Khairul is also known for representing the companion of a man charged with stealing a mobile phone at the Low Yat Mall in 2015.
Returning officer Hasrolnizam Shaari announced their successful nominations at 11am.
Also announced were the nominees for the two state seats in Pandan, which are Pandan Indah (formerly Cempaka) and Teratai.
Those vying for the Teratai seat are: PRM's Lee, BN's Ben Liew, Pas'  Mohd Irman Abdul Wahab and Pakatan Harapan's (DAP) Brian Lai Wai Chong, who is replacing incumbent Tiew Way Keng,
Lee, who won the Teratai seat in 2008 under the DAP ticket, failed to retain the seat when she contested as an independent in 2013 after having a falling out with the DAP party leadership.
On arriving at the nomination centre this morning under the PRM's red bull banner, her small team of supporters were booed and told to "go home lah" as the team had to pass through a group of PKR supporters.
She also had a near miss this morning when she was denied entry into the nomination centre when nomination opened at 9am for not having an EC pass.
But the matter was quickly resolved when the EC officer in charge was informed and an EC personnel was then sent to escort her in.
Meanwhile, the nominees for Pandan Indah are: incumbent Iskandar Abdul Samad from Pas, Pakatan Harapan's (Amanah) Izham Hashim, and BN's Datuk Mohsin Haniff Roslan (Umno).