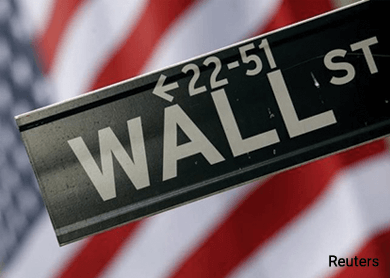 (July 14): U.S. stocks finished sharply higher on Monday, with the Dow Jones industrial average re-emerging in positive territory for the year, after euro zone leaders reached a tentative deal to bail out Greece.
The improved European picture led to best three-day run this year for the S&P 500 and Nasdaq Composite.
Facebook, Netflix and Amazon all hit record highs, while Apple's 1.93 percent rise gave the biggest boost to the Nasdaq.
Greece won conditional agreement to receive a possible $95 billion over three years, along with an assurance of talks to bridge a funding gap until a bailout is ready. The deal is contingent on Greece meeting a tight timetable to enact strict reforms.
"Headlines out of Greece are going to dissipate a bit and with that the U.S. earnings picture is going to start to emerge as the important factor," said Mike Binger, a portfolio manager at Gradient Investments in Shoreview, Minnesota, with $850 million under management.
Also making Wall Street more confident, Chinese stocks rose for a third straight day as data showed exports rose while imports slipped in June, a tentative sign global demand might be on the mend.
Historically high stock valuations may attract fresh attention when U.S. companies post second-quarter results over the next several weeks. Wall Street expects a 2.9 percent dip in quarterly earnings, according to Thomson Reuters I/B/E/S.
Pointing to expectations of calmer trading, the CBOE Volatility index fell 16 percent on Monday. Its 29 percent decline in the past two sessions is the largest two-day drop since Jan. 2, 2013.
The Dow Jones industrial average rose 217.27 points, or 1.22 percent, to end at 17,977.68. The S&P 500 gained 22.98 points, or 1.11 percent, to 2,099.6 and the Nasdaq Composite added 73.82 points, or 1.48 percent, to 5,071.51.
All of 10 major S&P 500 sectors were higher, led by the technology index, up 1.62 percent. The financial index rose 1.09 percent. Upcoming quarterly earnings reports from banks are expected to benefit from a recent rise in long-term yields relative to short term yields.
Crude tumbled on progress toward a nuclear deal that would end sanctions on Iran, allowing more oil onto the market. The energy index stayed positive but has been the worst-performing S&P sector over the last month, falling over 5 percent.
The oil slide boosted U.S. airline stocks. American Airlines, United Continental, JetBlue and Alaska Air were all up between 1 and 3 percent.
Apple was up 4.66 percent in the past two days for its best back-to-back run since January.
Markwest Energy Partners rose 13.96 percent. MPLX , Marathon Petroleum's master limited partnership, said it will buy the natural gas processor for about $15.63 billion. MPLX fell 14.51 while Marathon rose 7.88 percent.
Advancing issues outnumbered decliners on the NYSE by 2,242 to 830. On the Nasdaq, 2,002 issues rose and 808 fell.
The S&P 500 posted 43 new 52-week highs and 10 new lows; the Nasdaq recorded 149 new highs and 42 new lows.
About 5.9 billion shares traded on all U.S. platforms, according to BATS exchange data, below the month-to-date average of 6.9 billion.