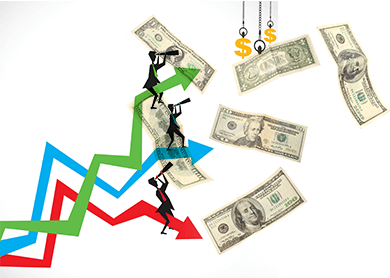 (June 2): U.S. stocks were lower in late morning trading, paring some of their losses earlier in the session, as weak factory orders data and bearish comments from a Federal Reserve board member allayed fears of a rate hike coming sooner rather than later.
New orders for U.S. factory goods unexpectedly fell in April as demand for transportation equipment and other goods weakened, suggesting that manufacturing remained constrained by a strong dollar and spending cuts in the energy sector.
The data is the latest that shows the economy might not be rebounding strongly enough in the second quarter, after a first-quarter slump, to permit a rate hike earlier rather than later in the year.
The economy's recent poor performance may be more than transitory, as the full impact of weak consumer spending, low investment and the high value of the dollar become apparent, Fed board member Lael Brainard said.
"Interest rates are not going to matter if they're rising because of the strong economy and earnings growth, and we're not seeing evidence of either," said Warren West, head trader at Greentree Brokerage Services in Philadelphia.
"So, we're stuck in the lateral type of pattern until we get some clarity on the broader economy."
The U.S. auto industry remained on track for the best sales year in a decade as consumers bought cars and trucks in May at the fastest pace in almost a decade.
Investors are also keeping a wary eye on Greece, which must repay four loans totaling 1.6 billion euros ($1.8 billion) to the International Monetary Fund this month, starting with a 300 million euro payment on June 5.
At 11:20 a.m. EDT (1520 GMT) the Dow Jones industrial average was down 36.9 points, or 0.2 percent, at 18,003.47, the S&P 500 was down 4.8 points, or 0.23 percent, at 2,106.93 and the Nasdaq Composite was down 10.78 points, or 0.21 percent, at 5,072.15.
Five of the 10 major S&P 500 indexes were lower, with the utilities index 1.65 percent drop the steepest.
Airline stocks were down 1.38 percent after reports of a multiple bomb threats against U.S. aircraft and Delta's weak forecast. Delta was down 2.8 percent at $43.13.
Juno Therapeutics jumped 13 percent to $59.90 after Bloomberg reported that AstraZeneca would consider buying a company such as Juno.
PVH Corp rose 8.4 percent to $113.47 and was the top gainer on the S&P 500 index after the apparel maker reported better-than-expected quarterly results and raised its full-year profit forecast.
Declining issues outnumbered advancers on the NYSE by 1,479 to 1,423, for a 1.04-to-1 ratio on the downside. On the Nasdaq, 1,451 issues rose and 1,135 fell for a 1.28-to-1 ratio favoring advancers.
The S&P 500 index showed two new 52-week highs and one new low, while the Nasdaq recorded 46 new highs and 31 new lows.