This article first appeared in Personal Wealth, The Edge Malaysia Weekly, on March 30, 2020 - April 05, 2020.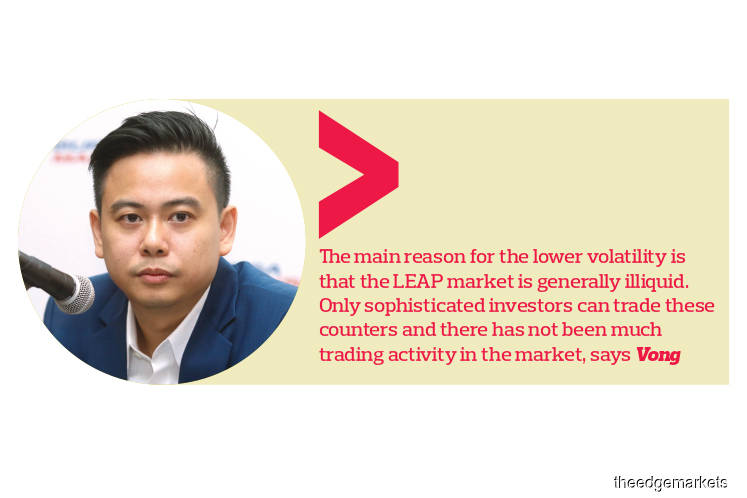 Photo by Sam Fong/The Edge
Click / Tap image to enlarge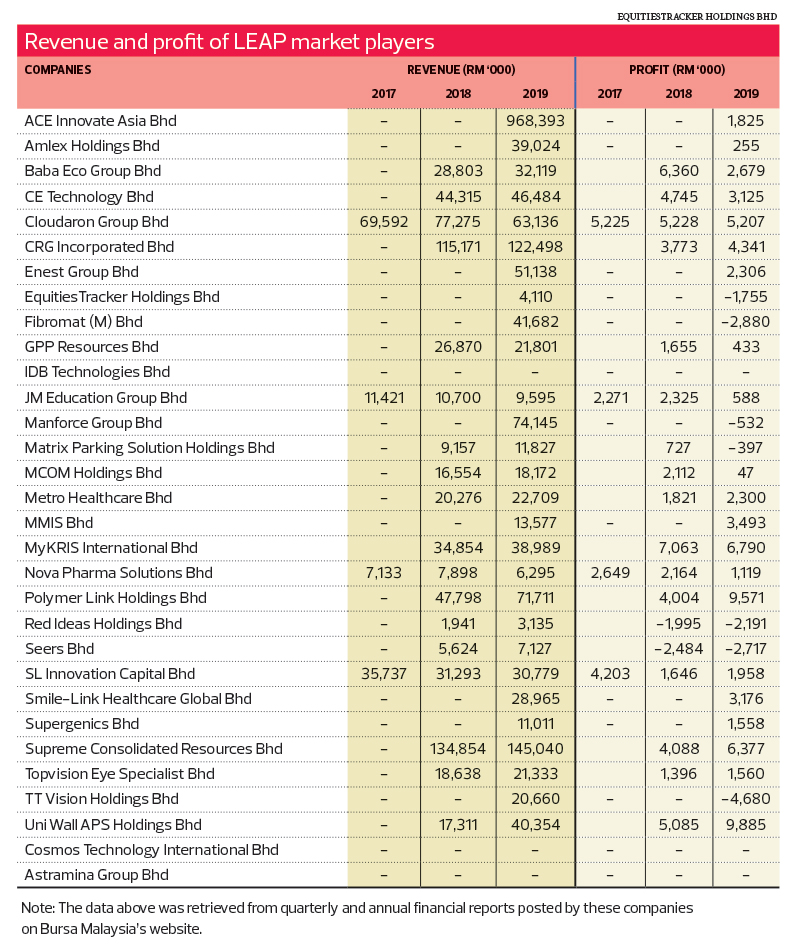 Stocks listed on Bursa Malaysia's Leading Entrepreneur Accelerator Platform (LEAP market) have experienced less share price volatility than many of their Main Market-listed counterparts in the past three months. 
As at March 19, 20 out of 31 counters listed on the LEAP market had not experienced any share price movements at all year to date. Six counters gained while five declined during the period. 
In contrast, the benchmark FBM KLCI and FBM EMAS Index (which represents the overall market performance of companies with a market capitalisation of RM200 million to RM2 billion) fell 23% and 27% respectively during the period. 
Alvin Vong, CEO of EquitiesTracker Holdings Bhd, a financial data and investment education service provider, says the main reason for the lower volatility is that the LEAP market is generally illiquid. Only sophisticated investors can trade these counters and there has not been much trading activity in the market. EquitiesTracker tracks the performance of LEAP market players.  
"These investors tend to be long-term players who believe in the founders and business models of the companies. They rely less on hard financial data in making their investment decisions on these companies. They also tend to hold on to these stocks in more challenging market conditions," says Vong. 
The  share price of EquitiesTracker, which is also listed on the LEAP market, was unchanged at 19 sen on March 19. 
Although the LEAP market is currently illiquid, Vong sees the situation as a "blessing in disguise" for the CEOs and shareholders of these companies as the share prices have remained steady so far. However, this situation is not expected to last long as it is only a matter of time before volatility emerges in the LEAP market due to the ongoing Covid-19 crisis, he says. 
"No matter which market a company is listed on and which country it is operating in, Covid-19 will surely impact the global economy and financial markets. Malaysia and the LEAP market are no exceptions," says Vong. 
A few of the LEAP market-listed companies have seen their share prices move. According to Bursa's website, the biggest gainers are Matrix Parking Solution Bhd, which manages parking facilities, and MyKRIS International Bhd, a wireless internet, broadband, web-based application and metro ethernet service provider. The share prices of these companies had appreciated 28% year to date (as at March 19).
Meanwhile, the biggest losers are Cloudaron Group Bhd, a cloud-based software and solutions provider, and CRG Incorporated Bhd, which is engaged in the design, marketing and retailing of women's footwear, handbags and accessories. The share prices of these companies had fallen 42% and 43% respectively year to date (as at March 19). 
The market has grown steadily  
Over the past two years, the LEAP market has been expanding in terms of the number of companies listed and the amount of funds raised, says Vong.
According to data provided by EquitiesTracker, there were 15 companies listed on the LEAP market last year, and 11 in 2018. The market was launched in July 2017. There were only two companies listed that year — Cloudaron Group Bhd and Red Ideas Holdings Bhd.
From January to March 19, three companies listed on the LEAP market — Supergenics Bhd, ACE Innovate Asia Bhd  and Cosmos Technology International Bhd. Supergenics is an electrical engineering service provider while ACE Innovate is  involved in gold bullion trading. Cosmos Technology is a provider of integrated water technology. 
Some RM93.88 million was raised last year, up 63.47% from RM57.43 million in 2018. Only RM12.5 million was raised in 2017. As at March 19, the LEAP market had raised RM20.53 million this year.
"The total market capitalisation based on the listing price of each company is RM1.52 billion. Based on Bursa's data, the figure is higher at RM2.66 billion based on the market price as at March 11. This shows that the share prices of LEAP market companies in general have appreciated 75%," says Vong.
From a sectoral perspective, 10 companies are in the consumer sector, nine in industrial and seven in technology. These three sectors make up 83.87% of the LEAP market. There are also three companies involved in healthcare, one in telecommunications and one in construction, says Vong. 
Revenue and profit
Data provided by EquitiesTracker shows that 13 LEAP market companies saw revenue growth from 2018 to 2019. The companies that reported the highest year-on-year revenue growth in percentage were Uni Wall APS Holdings Bhd (133%), Red Ideas  (62%) and Polymer Link Holdings Bhd (50%). 
Uni Wall provides building façade services. It also offers glass windows, brackets, roof clapping and cladding system fabrication and installation for residential and commercial developments.
Red Ideas provides neighbourhoods and communities with software solutions to enhance security and communication. Polymer Link is a provider of polymer, plastic and rotational moulding powder. 
Companies with the highest decline in revenue were Nova Pharma Solutions Bhd (20%), GPP Resources Bhd (19%) and Cloudaron (18%). Nova Pharma is a provider of engineering and consultancy services while GPP is a renewable energy solutions provider.
Companies with the highest growth in profit after tax were Polymer Link (139%), Uni Wall (94%) and Supreme Consolidated Resources Bhd (56%). Supreme Consolidated distributes food products and engages in the import, trading and distribution of beef, buffalo, lamb, mutton, poultry, seafood, vegetables, juices and dairy products. 
Companies that experienced the biggest slump in profit after tax were Matrix Parking (155%), MCOM Holdings Bhd (98%) and JM Education Group Bhd (75%). MCOM is a provider of digital marketing, campaigning, mobile advertising and payment platform development solutions while JM Education provides education counselling and student placement services.  
Vong says those who are looking to invest in LEAP market counters should focus more on their business model and revenue growth than their profitability. "LEAP market companies are in their growth stage and they raise funds to spend it and expand their businesses. Profits will not come in immediately.
"Investors should see themselves more as venture capitalists or private equity investors. They should understand the companies' business models and measure these companies more from a revenue perspective instead." 
Listing fee still on the high side 
Vong says the launch of the LEAP market has benefited companies as they have an additional channel to raise funds from the public. It also helps to enhance the profile of these companies, which enable them to solicit business from more prominent players in the market.
However, the listing fee for LEAP market companies, in terms of percentage, is still quite high compared with the fee imposed on companies that want to list on the Main Market. The listing fee is about 17% of the total funds raised, according to data provided by EquitiesTracker. "By comparison, the listing fee for some big players looking to raise funds in the Main Market could be as low as 2% to 3%," says Vong.
He adds that of the 31 companies listed on the LEAP market, CRG did not raise any money during the listing process. "The company did it for profiling purposes. It was an exceptional case." 
Vong says the LEAP Market has provided investors with  access to growth-stage companies that were previously only available to venture capitalists and private equity investors. However, he hopes that the market can be opened to retail investors in the near future. 
"I have friends and contacts who want to invest in us. Unfortunately, I have to tell them that it is only for sophisticated investors. I hope they will have a chance to participate in our growth story [in the future]," says Vong.