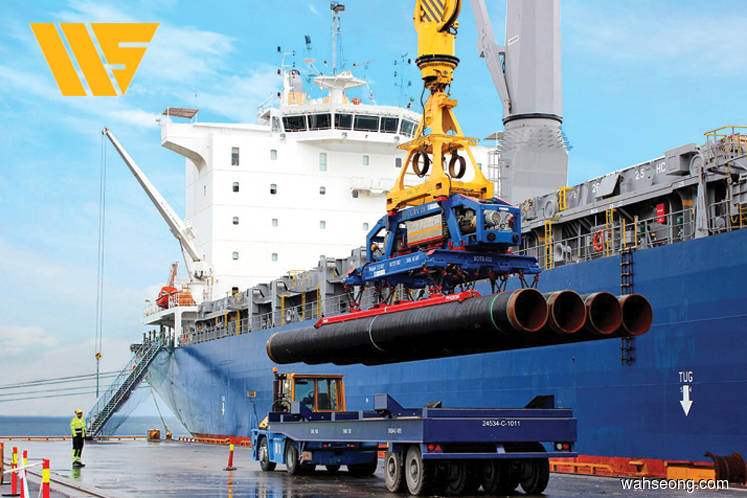 KUALA LUMPUR (Aug 30): Wah Seong Corp Bhd has registered a more than three-fold increase in net profit to RM21.04 million or 2.72 sen per share in its second quarter ended June 30, 2018 (2QFY18), from RM6.94 million or 0.9 sen per share in the year-ago quarter, on the back of an improved performance across its business segments.
Quarterly revenue surged 70.4% to RM760.01 million, from RM446.07 million in 2QFY17.
The integrated energy infrastructure group attributed its better earnings to the continuing execution of Nord Stream 2, amongst other projects, and higher profit margins registered by its boiler business over at its renewable energy segment.
The company also saw an improved performance in its construction equipment and high-density polyethylene (HDPE) pipe manufacturing businesses — loss making in the same period last year — in addition to booking a gain on disposal of an investment property.
This helped lift Wah Seong's net profit for the first half of the year (1HFY18) to RM50.29 million, some 206% more than the RM16.41 million registered in the same period last year.
Cumulative revenue, meanwhile, doubled to RM1.55 billion from RM762.82 million in 1HFY17.
On prospects, Wah Seong said it expects its good execution of orders to continue to contribute positively to its results this year.
"The group's current order book amounted to RM1.9 billion, comprising RM1.6 billion for Oil & Gas, RM284.5 million for Renewable Energy, and RM69.3 million for Industrial Trading & Services.
"The order book remains healthy," it added.
Wah Seong closed one sen or 0.81% down to RM1.22, valuing the company at RM942.02 million. The stock has risen some 19% from its closing of RM1.022 a year ago.