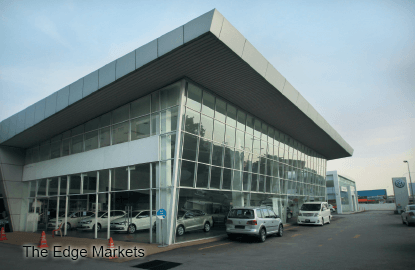 THE Volkswagen showroom in Sungei Besi, Kuala Lumpur, will make way for a mixed-use development project with an estimated gross development value (GDV) of RM1 billion following the sale of the land on which it sits to Binastra Group. The parcel was previously part-owned by Eastern & Oriental Bhd (E&O) and is a stone's throw from the old Sungei Besi Royal Malaysian Air Force Base, which will be developed into the Bandar Malaysia project.
Renown Heritage Sdn Bhd, a company equally owned by E&O and Singapore's Wearne Brothers Properties (Private) Ltd, sold the land to Binastra Land Sdn Bhd for RM96 million on June 12, 2015. E&O (fundamental: 1.3; valuation: 1.4), which holds its stake in Renown through its subsidiary Teratak Warisan (M) Sdn Bhd, will reap RM31 million from the transaction.
"The freehold land was acquired by the joint venture company in 1995 and has a book value of approximately RM12.2 million. E&O (50% share) made an after-tax gain of approximately RM31 million from the recent disposal," E&O deputy managing director Eric Chan Kok Leong tells The Edge. At RM96 million, the parcel measuring 177,498 sq ft translates into RM541 psf.
E&O plans to use the RM31 million for working capital to fund its projects. The one-time profit is sizeable relative to the net profit of RM152.35 million it made in the year ended March 31, 2015 (FY2015) and the RM113.24 million booked in FY2014. Closing at RM1.68 last Friday, E&O shares were trading at 1.28 times their net asset per share of RM1.31 as at end-March 2015.
According to Chan, the land was sold to unlock its value. "For the partners of this long-standing partnership of 20 years, the disposal enabled them to unlock the immediate value of the land, and thereafter bring the partnership to a fruitful conclusion."
The JV company had rented out the premises to the VW dealer, Wearnes Automotive, in 2009. However, Wearnes Automotive need not rush to vacate the premises as the tenancy was recently renewed for another year. This tenancy has been novated to the new owner, Binastra Land.
Binastra Land general manager Steven Ooi tells The Edge that the company plans to launch a mixed-use development project comprising a retail space, serviced apartments and a hotel in mid-2016 or end-2016.
Binastra Group, which has both a construction and property development arm, started out as a construction company in 1979. The company, founded by Tan Nge, ventured into property development just a decade ago in 2005.
Binastra Land's website shows that some of the company's previous projects include 32 Avenue Phase 2 @ Bukit Serdang and The Park @ Bukit Serdang. Two of its ongoing projects are Green Residence @ Cheras 9th Mile and Cybersquare @ Cyberjaya.
The group also has two upcoming projects in Kuala Lumpur — CitiZen and City Wholesale or Pusat Perniagaan City. Located along Jalan Klang Lama, CitiZen will offer three blocks with 711 serviced apartments. City Wholesale is located near Chow Kit and fronts Jalan Raja Laut and Lorong Haji Taib 3. Binastra plans to build two 10-storey blocks that comprise eight levels of retail lots and two levels of small office/flexible offices.
A search with the Companies Commission of Malaysia shows that Binastra Land's directors are Tan Nge, Datuk Sri Tan How Yap, Tan Kak Seng and Lee Thian Yew. The shareholders are Tan Nge (5%), Rakan Destar (M) Sdn Bhd (30%), Kak Seng (5%), Everise Bond (M) Sdn Bhd (30%), Lee (25%) and How Yap (5%).
Based on the last available financial data submitted to CCM, Binastra Land posted a profit after tax of RM5.29 million on the back of RM119. 85 million in revenue in the financial year ended Dec 31, 2013.
Property experts say there has been growing interest in assets in the vicinity of Bandar Malaysia. With a GDV of RM150 billion, Bandar Malaysia will take up 486 acres of the ex-Royal Malaysian Air Force base. The master developer, 1MDB Real Estate, expects to commence the project in 2017. The project is expected to transform the entire area.
For example, in March, Ibraco Bhd purchased a 1.44-acre freehold vacant parcel fronting Jalan Tun Razak and Jalan Yew, just 5km from the air base, for RM55 million. This parcel already has a development order for a mixed-use development project comprising office suites and commercial space but Ibraco plans to submit a new proposal for the site.
When asked if Binastra Land had considered Sungei Besi due to the Bandar Malaysia project, Ooi says, "In a way, yes. Because of the Bandar Malaysia project replacing the air force base, there is no longer a height restriction (on buildings) in the area. Recently, approvals have been given for (the building of) 35 to 40-storey buildings."
Also, there has been active buying and selling of vacant land and industrial/ commercial parcels in the Jalan Chan Sow Lin area over the past two years.
For the financial year ended March 31, 2015, E&O posted revenue of RM449.49 million, which was down 9.58% from the RM497.14 million recorded in the previous corresponding period due to the poorer performance in the property and hospitality segments.
The combined GDV of E&O's projects stands at RM2.76 billion, of which RM1.36 billion is from projects in Penang, RM950 million from Kuala Lumpur, RM334.1 million from Medini Iskandar Malaysia and RM115.5 million from London.
It has a total of 1,800 acres in Kuala Lumpur, Medini Iskandar and Penang.
This article first appeared in The Edge Malaysia Weekly, on June 29 - July 5, 2015.