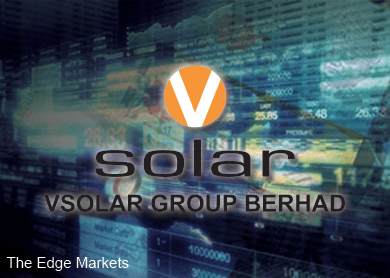 Vsolar Group Bhd may have completed 1mw of feed-in tariff (FiT) solar power plant and has another 1mw in the pipeline, but whether the former infomation technology company will be able to return to the black will hinge on the success of its RM115.31 million rights issue and its ability to secure new solar quotas.
The first hurdle the loss-making group will have to overcome is Bursa Malaysia's approval.
"Bursa wants to understand our business model — FiT generation for solar. They are just asking us the routine questions. It isn't unusual to take 9 to 12 months to get approval. We have submitted the rights issue [application] about six months ago and expect it to be approved by September. The exercise should be completed by October," says executive director Ameezan Jamal.
"Although the FiT programme has been around for a while, I don't think there has been any fundraising for this purpose. So, Bursa has to get acquainted with the business model."
The FiT business model is relatively lucrative, giving an internal rate of return in the low to mid-teens, enough for the project to pay for itself in seven years. Furthermore, payment is guaranteed for 21 years under the Renewable Energy Payment Agreement.
However, there could be other considerations like the size of the rights issue being too big. Formerly known as Fast Track Solution Holdings Bhd, Vsolar (fundamental: 1.20; valuation: 0) is now trying to raise up to RM115.3 million in the three-for-one rights issue at an issue price of 10 sen apiece. This will include one warrant for every two rights shares subscribed.
In comparison, the company's market capitalisation is only RM44 million, based on its closing price of 14.5 sen per share last Thursday.
To raise such a large amount, Vsolar must be able to show that it can reliably use it to expand its business. However, there is fierce competition for the FiT solar quotas, which are managed and awarded by the Sustainable Energy Development Authority (SEDA) through a balloting process.
In fact, there is no more solar quota to be awarded this year.
Nonetheless, Ameezan is confident that Vsolar will be able to put the funds to good use.
"While there isn't any more quota from SEDA this year, we can partner parties that have won the quotas but are unable to get financing," he says.
Once an individual or company is awarded the solar FiT project, they have only six months to secure financing or the project is revoked.
Since the solar FiT quota was introduced in 2011, almost 20mw worth of projects has been revoked by SEDA.
"It is very difficult to get financing from banks for solar FiT. They don't really understand the business. For every 1mw of solar capacity, you need about RM10 million to develop the project. Most people who win such projects do not have that kind of money."
If the rights issue is successful, Vsolar plans to aggressively court quota holders looking for financing and partner them either through equity or project financing.
"We have a few targets in minds. Once we have the money, we will talk to them," Ameezan says.
Note that Vsolar itself cannot be the ultimate shareholder of more than 10mw of capacity, a ruling imposed by SEDA to prevent a concentration of solar capacity.
However, Ameezan says it is possible to structure project financing around another party's solar project without taking control of the project, to circumvent the ruling.
Another question is, whether Vsolar's shareholders will subscribe for the rights shares. Except for executive chairman Datuk Manan Md Said, who has committed to subscribe for RM9 million worth of rights shares, there is no undertaking from the group's major shareholders to do so.
However, Ameezan says the largest shareholder — Asia Bioenergy Technologies Bhd, which has a 19.51% stake — has shown interest in subscribing for the rights shares.
Based on its stake, Asia Bioenergy would need to fork out RM16.5 million to fully subscribe for the rights issue, but it has only RM2.83 million in net cash.
Looking ahead, Vsolar should see a boost in its revenue — once its 1mw solar plant in Simpang Pulai, Perak, meets its commercial operation date (COD) — to about RM1 million per annum, says Ameezan.
"We have already passed the initial operation date, which means the plant is fully operational. We are waiting for SEDA and Tenaga [Nasional Bhd] to sort out some issues between them before we have our COD. Once we do, we can start collecting money for generating," he says.
Meanwhile, the group is looking to develop another 1mw project in Rawang, Selangor. It has already completed a power systems study (PSS) on the site for 2mw and secured 1mw of capacity from SEDA.
Note that a PSS must be conducted on a site before an application for FiT quota can be made to SEDA.
"We have some technical issues to be resolved with SEDA [for the 1mw quota in Rawang]. It should be settled in the next three to four weeks and construction should take six months," says Ameezan.
Vsolar uses an asset light model, leasing the land that it uses for its solar plants.
With both plants up and running, that could increase the group's revenue by about RM2 million or 130%.
However, it will not be enough to get Vsolar out of the red. The group posted a net loss of RM3.75 million for the financial year ended Dec 31, 2014, mainly due to higher administrative expenses. In contrast, it posted a net loss of RM2.3 million the previous year.
Furthermore, the group has been making losses for the past nine financial years. However, it has virtually no borrowings on its balance sheet.
Ameezan attributes the losses to the group's transition from its former core business — IT — to solar generation.
Nonetheless, Vsolar's shares have attracted plenty of interest in the past one month, rising 216% to a high of 38 sen before falling to 14 sen last Thursday.
Ameezan pointedly denies reports earlier this month that Vsolar was in talks to build a 20mw waste-to-energy plant. "Datuk Manan was misquoted in that story. We have no plans to undertake that waste plant," he says, referring to the group's executive chairman.
---
Note: The Edge Research's fundamental score reflects a company's profitability and balance sheet strength, calculated based on historical numbers. The valuation score determines if a stock is attractively valued or not, also based on historical numbers. A score of 3 suggests strong fundamentals and attractive valuations. Visit www.theedgemarkets.com for more details on a company's financial dashboard.
This article first appeared in The Edge Malaysia Weekly, on May 25 - 31, 2015.