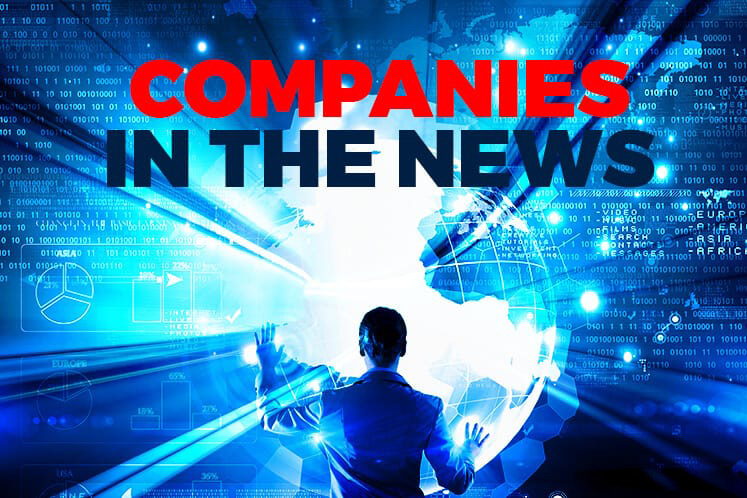 KUALA LUMPUR (Jan 25): Based on corporate announcements and news flow today, stocks in focus on Friday (Jan 26) may include: VS Industry Bhd, Brahim's Holdings Bhd, Pavilion Real Estate Investment Trust, Guocoland (M) Bhd, KIP Real Estate Investment Trust, Aeon Co (M) Bhd and Syarikat Takaful Malaysia Bhd.
VS Industry Bhd has proposed to undertake a bonus issue of up to 397.58 million bonus shares on the basis of one bonus share for every four existing VS Industry shares held. The group will determine the entitlement date later.
It said the proposed bonus issue will be wholly capitalised from the share premium account of the group at 20 sen per bonus share, totalling RM79.5 million under the maximum scenario, or RM65.3 million under the minimum scenario.
Brahim's Holdings Bhd has made its catering services available on board all electric train services (ETS) operated by Keretapi Tanah Melayu Bhd (KTMB), as well as at rail cafes at KTMB's stations and terminals.
Its subsidiary Brahim's SATS Food Services Sdn Bhd (BSFS) had signed a catering services agreement with KTMB for the provision of total food and beverage solutions. The agreement is effective May 1, 2017 and will continue for a fixed initial term of five years until April 30, 2022 with an option to extend or renew for another five years.
Brahim will provide manpower for its onboard catering services as well as operate rail cafes, develop IT software to integrate with KTMB's software for the purpose of capturing sales of pre-booked meals, besides renovating the new catering kitchen hub at Butterworth and Kuala Lumpur stations.
Pavilion Real Estate Investment Trust's (Pavilion REIT) net property income (NPI) rose 16% year-on-year to RM89.06 million in its fourth quarter ended Dec 31, 2017 (4QFY17), from RM76.99 million. It declared a final distribution per unit (DPU) of 4.28 sen.
Pavilion REIT said total gross revenue was 10.2% higher at RM129.45 million, from RM117.46 million in the previous corresponding quarter, mainly contributed by rental income from Pavilion Kuala Lumpur Mall's tenants after the repositioning exercise.
For the full financial year ended Dec 31, 2017 (FY17), the group's revenue came in at RM490 million, 6.6% higher than the RM459.70 million recorded in FY16, while annual NPI improved to RM322.91 million, against RM314.77 million in FY16. However, DPU for FY17 was lower at 8.24 sen against 10.33 sen last year.
Guocoland (M) Bhd's net profit for the second quarter ended Dec 31, 2017 (2QFY18) contracted to RM965,000 from RM110.81 million a year ago — despite a tripling in revenue — as the previous year had recorded a higher share of profits from an associate following a land sale.
Its associate Vintage Heights Sdn Bhd completed the sale of a piece of land in Sepang, Selangor, in 2QFY17 for RM474.99 million, with reportedly RM116 million attributable to Guocoland.
Guocoland's revenue surged 253% year-on-year to RM108.61 million from RM30.73 million, thanks to higher topline contribution from residential projects in Damansara City and Oval.
As for the six-month period of FY18 (1HFY18), Guocoland's net profit fell to RM2.03 million from RM111.08 million a year earlier, though revenue swelled 256% to RM253.17 million from RM71.14 million.
KIP Real Estate Investment Trust (KIP REIT) recorded an NPI of RM10.82 million in the second financial quarter ended Dec 31, 2017 (2QFY18) amid higher occupancy rate during the festive season and lower expenses.
Net profit for 2QFY18 stood at RM8.75 million, while revenue was at RM15.68 million. KIP REIT also declared a second interim distribution per unit of 1.75 sen totalling RM8.75 million, for the financial year ending June 30, 2018 (FY18), payable on Feb 28.
For the cumulative six months (1HFY18), KIP REIT's NPI stood at RM20.44 million, while net profit came in at RM16.36 million and revenue at RM30.98 million.
Aeon Co (M) Bhd (Aeon Malaysia) and honestbee inked a Memorandum of Understanding to establish a business alliance to tap consumers' demand for home grocery delivery service.
The retailer said the alliance with online concierge and delivery specialist honestbee will allow both parties to develop new services that match rapidly-changing customer demand.
The new service will be launched at Aeon Malaysia's flagship store in Mid Valley mall.
Syarikat Takaful Malaysia Bhd saw its net profit for the fourth quarter ended Dec 31, 2017 (4QFY17) grow 43% to RM56.3 million from RM39.26 million a year ago, on improved net wakalah fee income and lower management expenses.
Quarterly revenue climbed 5.48% y-o-y from RM490.82 million to RM517.74 million.
For the full FY17, Syarikat Takaful's net profit grew 17.25% to RM206.7 million, from RM176.28 million in the previous year, while revenue inched 6.25% higher to RM2.14 billion from RM2.01 billion in FY16.