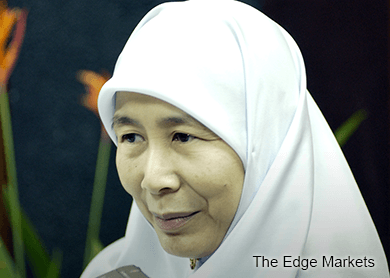 (Dec 2): The opposition did not call for a bloc vote to stop the passing of Budget 2016 last night as it knew it would not work, Datuk Seri Dr Wan Azizah Wan Ismail said today.
The opposition leader also said that since not many turned up from the opposition bloc for the final vote on Budget 2016, it would have been a futile exercise anyway.
"We knew it was not going to work. And with the abstention of some people, we didn't have the numbers," Dr Wan Azizah told reporters briefly at the Parliament lobby when asked why Pakatan Harapan lawmakers had not insisted on a bloc vote.
It had earlier called for the budget to be voted down in denouncing support for Datuk Seri Najib Razak over recent controversies surrounding 1Malaysia Development Berhad (1MDB) and the RM2.6 billion "donation" in his personal accounts.
Pakatan had attempted to vote against the budget when it was first put to vote at the policy stage but were outnumbered as only 74 MPs voted against moving the budget to committee stage.
The likelihood of the opposition voting down the budget as a symbolic vote of no-confidence against Najib had always been slim due to its lack of numbers.
The newly set-up Pakatan Harapan informal coalition only has 72 MPs. PAS, which is not part of the pact, has 14 MPs.
Though three of its MPs had joined the Pakatan Harapan and voted against the Budget, the  Islamist party had said from the outset its MPs would abstain. The federal budget is worth RM267 billion.
The opposition had hoped to defeat the budget tabled by Najib in October to secure his resignation over alleged scandals involving his brainchild, state-owned investment vehicle 1Malaysia Development Berhad (1MDB), as well as the RM2.6 billion "donation" from an Arab benefactor into his personal accounts.
A large portion of the funds were transferred ahead of the general election in 2013, leading to accusations of election fraud. – The Malaysian Insider