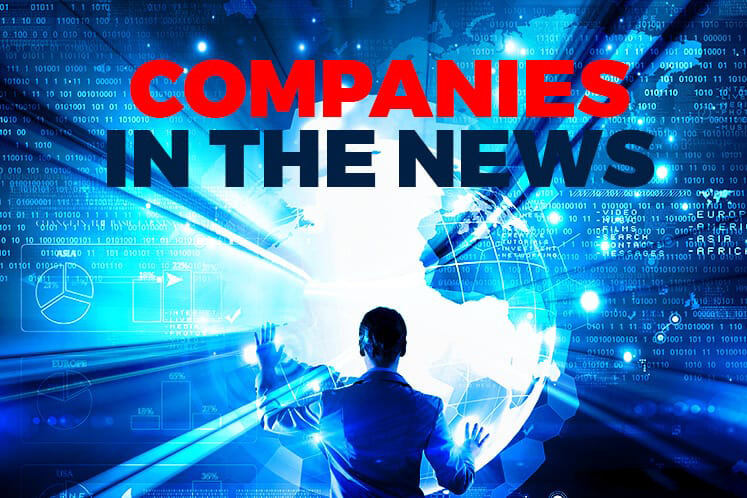 KUALA LUMPUR (Oct 24): Based on corporate announcements and news flow today, companies in focus on Friday (Oct 25) may include ViTrox Corp Bhd, Malaysia Marine And Heavy Engineering Holdings Bhd, MNC Wireless Bhd, Hextar Global Bhd, Capitaland Malaysia Mall Trust, Pavilion Real Estate Investment Trust, Syarikat Takaful Malaysia Keluarga Bhd, Luxchem Corp Bhd, Kejuruteraan Asastera Bhd and MSM Malaysia Holdings Bhd.
ViTrox Corp Bhd's net profit halved to RM13.86 million or 2.94 sen per share in its third quarter ended Sept 30, 2019 (3QFY19), from RM28.02 million or 5.96 sen per share in the year-ago quarter, due to sales volume decline, product mix, and continuous research and development (R&D) investment.
Quarterly revenue contracted 34.6% to RM66.51 million from RM101.77 million before, on lower customer demand for its automated board inspection (ABI) and machine vision system (MVS).
This brings ViTrox's nine-month (9MFY19) net profit to RM61.86 million, down 18.6% against RM76.04 million in the corresponding period last year. Cumulative revenue came in 14% lower at RM244.5 million compared with RM284.1 million in 9MFY18.
ViTrox said it will continue to focus on market expansion activities, customer relationship building and product innovation to grow its business further in its new financial year.
Malaysia Marine And Heavy Engineering Holdings Bhd (MHB) has narrowed its loss to RM4.66 million for the third quarter ended Sept 30, 2019 (3QFY19) from RM22.72 million a year earlier, helped by positive contribution from its marine segment.
The group's overall revenue for the quarter, however, fell 12% to RM254.35 million from RM289.8 million a year earlier as contributions from its marine and heavy engineering segments declined.
For the nine months ended Sept 30, 2019 (9MFY19), MHB's net loss shrank to RM43.5 million from RM97.5 million in the previous year's corresponding period, while cumulative revenue grew 5% to RM733.9 million from RM701.12 million.
MHB said the short-term outlook remains uncertain amid geopolitical tensions, slowing global economic growth, sluggish oil demand and ongoing unresolved trade conflict between the US and China.
MNC Wireless Bhd said the Memorandum of Understanding (MoU) it signed with Urban Setup Sdn Bhd to provide a mobile physical gold retail platform in Malaysia has been terminated.
MNC Wireless told the stock exchange today that Urban terminated the MoU both parties signed some three months ago with mutual agreement from both parties, although no reason was stated for the termination.
Urban is the licensee of the rights to the physical gold retail platform of SGPMX (M) Sdn Bhd.
MNC Wireless was expecting to launch the gold e-commerce retail platform by end-2019 to allow consumers to buy physical gold via the mobile application with a minimum fraction value of one sen.
Hextar Global Bhd has inked a distributor agreement with Sumitomo Chemical Vietnam Co Ltd (SCV) for the latter to exclusively distribute Hextar's Hallmark 150 SL herbicide in Vietnam.
The company said that the product is a herbicide that is used in the controlling of weeds in rubber plantations.
It said the contract is for five years effective Oct 24, 2019, with an optional extension for another one year, with an estimated value of RM15 million over the period.
CapitaLand Malaysia Mall Trust's (CMMT) net property income fell 4.9% year-on-year (y-o-y) in the third quarter ended Sept 30, 2019 (3QFY19) to RM49.2 million from RM51.74 million in 3QFY18, as revenue fell with lower rental and car park incomes while expenses climbed.
Revenue came in 2.8% lower at RM83.72 million versus RM86.15million a year ago as gross rental income slipped 0.8% to RM65.74 million and car park income fell 15.4% to RM5.4 million.
The trust  declared an income distribution per unit (DPU) of 1.51 sen for the quarter under review, about 20.52% less than the 1.9 sen it paid in 3QFY18.
For the cumulative nine months ended Sept 30, 2019, the REIT's NPI shrank 6.1% to RM152.28 million from RM161.14 million in the same period last year while revenue retreated 2.57% to RM256.47 million from RM263.24 million.
Pavilion Real Estate Investment Trust's net property income fell 3.3% to RM91.08 million in its third quarter ended Sept 30, 2019 (3QFY19), from RM94.18 million a year ago on higher expenses.
This was in spite of a 2.1% higher quarterly revenue of RM144.35 million compared with RM141.35 million in 3QFY18, contributed by higher revenue rent and electricity income from Pavilion Kuala Lumpur Mall for supplying electricity to Pavilion Hotel and Pavilion Suites.
It proposed a distribution per unit of 2.04 sen, compared with 2.14 sen in 3QFY18, bringing its annualised distribution yield to 4.76%.
Cumulative NPI for the nine-month period (9MFY19) came in at RM283.94 million compared with RM273.8 million in 9MFY18, as revenue grew 7.7% to RM439.39 million from RM407.92 million.
Syarikat Takaful Malaysia Keluarga Bhd announced a 33.8% jump in its net profit to RM112.34 million in its third quarter ended Sept 30, 2019 (3QFY19), from RM83.96 million in the same quarter a year ago, on higher net wakalah fee income.
Quarterly revenue rose 16.1% on year to RM753.51 million, from RM648.95 million before, the company said in its exchange filing today.
Syarikat Takaful's 3Q earnings growth bring its nine-month net profit to RM289.73 million, up 41.8% compared with RM204.35 million in the same period a year ago, while revenue increased 21% to RM2.34 billion, from RM1.94 billion earlier.
The company said despite cautious business sentiments in 2019, the takaful industry is expected to outperform the conventional insurers in view of the strong demand for Takaful products.
Luxchem Corp Bhd's net profit for the third quarter ended Sept 30, 2019 (3QFY19) fell 12.8% to RM8.58 million from RM9.84 million in the year-ago quarter, as it recorded lower sales in its trading segment.
Revenue contracted 11.7% to RM187.49 million, from RM212.28 million in 3QFY18.
For the cumulative nine-month period, Luxchem's net profit came in 3.9% lower at RM28.08 million against RM29.21 million in the same period in the preceding year. Cumulative revenue fell 4.9% to RM578.33 million from RM607.84 million in 9MFY18.
The group said it will continue to improve its own productivity and efficiency to face uncontrollable external factors, such as the fluctuations in the US dollar to ringgit exchange rates, competition, as well as raw material prices and their demand and supply situations.
Kejuruteraan Asastera Bhd (KAB), a mechanical and electrical (M&E) engineering company, seeks to accelerate its market presence in Asean via the acquisition of Thai firm Energy Optimization (Thailand) Co Ltd (EOT).
The group entered into a shares purchase and sale agreement with Chanchai Kitprotpisuth to acquire 24,000 shares or an 80% stake in EOT for 4.64 million baht (RM642,176). EOT is principally engaged in the design and implementation of energy saving equipment.
This acquisition will enable KAB to expand its operations in Thailand. KAB is also exploring other Asean markets for regional expansion.
MSM Malaysia Holdings Bhd, which reported a net loss of RM74.34 million in the first half of 2019, expects a better year ahead on the back of a global sugar deficit.
The group will reinforce its growth for exports, uplift its utilisation rate, and ensures continuous cost optimisation and overall efficiency and productivity of its new refinery, MSM Sugar Refinery (Johor) Sdn Bhd.
MSM also intends to penetrate into the corn syrup market mainly in Asia with an estimated demand of four million tonnes a year, besides actively exploring the Singapore market to directly supply more sugar to the city state.