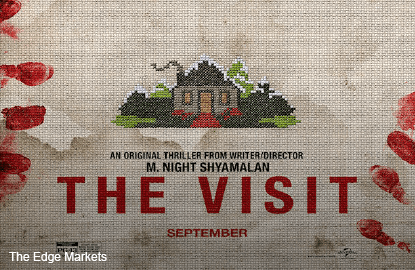 AS cinemas prepare to show M Night Shyamalan's latest film, remote family horror The Visit, everyone wants to know if this is the mercurial director's return to form following After Earth and The Last Airbender. Here are four things to think about when weighing up the possibilities.
1. Shyamalan restored?
Shyamalan is a man of contrasting reputations. He burst into the mainstream with The Sixth Sense, where Bruce Willis's character interacted with the spirit of a child genius, reuniting again with Willis in original superhero origin story Unbreakable.
Two films with Joaquin Phoenix followed, Signs and The Village, but his next four were nowhere near as well received (even if they made decent numbers at the box office); The Last Airbender and After Earth in particular plumbed the depths of review aggregators.
2. Small cast, hidden talent
Though the film's principals may not have had name recognition before The Visit, there's a good chance their faces will be familiar.
Kathryn Hahn plays Paula, a mother who hasn't seen her folks in over a decade, but takes the opportunity to rekindle family bonds by sending her two kids to holiday with the grandparents. But those grandparents' tics and foibles turn into something altogether more terrifying as the vacation wears on.
Hahn's had parts in everything from Step Brothers to Tomorrowland; young leads Olivia DeJonge and Ed Oxenbould have built themselves up in Australian TV; while the elders Deanna Dunagan and Peter McRobbie have accrued considerable experience on stage and screen respectively.
3. Hottest producer, smallest budget
It's the first time that Shyamalan has teamed up with Jason Blum, an iconic producer almost synonymous with low-budget, break-out horror films, including the Paranormal Activity, Insidious and Sinister franchises.
The $5 million allocated to The Visit is the smallest Shyamalan budget since his very first movie, 1992 drama Praying with Anger. But evidently Blum was pleased enough with the results of this initial collaboration; the pair are said to be on track for a second film together.
4. Free to tell the tale
That low budget also came with a relatively hands-off approach that may end up favouring The Visit and its director.
Shyamalan has been allowed to get on with it, working with a small cast and crew (teenager Oxenbould even doubled as a cameraman for one tight-fit sequence), and crafting another unusual take on the horror template.
Pre-release talk surrounding the film indicates that Shyamalan has interjected not only a dash of light humor among all the terror, but also a wry perspective on his own filmmaking obsessions. — AFP
---
The Visit opens in cinemas nationwide in Malaysia next week (Sept 17).
This article first appeared in digitaledge Daily, on September 11, 2015.