This article first appeared in The Edge Malaysia Weekly, on December 30, 2019 - January 05, 2020.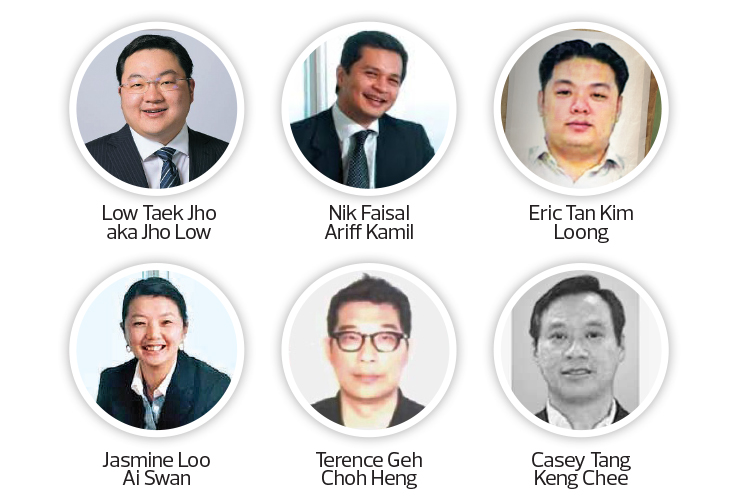 SEVERAL people who played important roles in the 1Malaysia Development Bhd (1MDB)-Tanore, SRC International Sdn Bhd and International Petroleum Investment Co (IPIC) cases, who are wanted by the Malaysian authorities, are missing from the country. Some of them have been placed on Interpol's red-flag list, with police all over the world looking for them. Below is the list of the seven key persons still missing in the ongoing 1MDB trial involving former prime minister Datuk Seri Najib Razak.
Low Taek Jho aka Jho Low
The 38-year-old Jho Low is said to be the architect behind the 1MDB scandal, and described by senior deputy public prosecutor and former Federal Court judge Datuk Seri Gopal Sri Ram as the mirror image of the former PM.
A graduate from the Wharton School at the University of Pennsylvania, Low was described as having close ties with several Middle Eastern kingdoms, including Saudi Arabia, in Najib's defence testimony during the SRC trial.
He was the adviser to Terengganu Investment Authority (TIA), the predecessor to 1MDB, and had wanted to model it after Abu Dhabi's Mubadala Investment Company.
Low is accused of using 1MDB funds to purchase a luxury yacht, Equanimity, which was seized by the Indonesian authorities and handed over to Malaysia last year. The vessel was sold to Genting Malaysia Bhd and renamed Tranquility. Genting subsequently put the yacht up for sale in October.
Low, who was born in Penang in 1981, is said to have left Malaysia via the Sultan Abdul Aziz Shah Airport on May 29, 2015. The Malaysian Anti-Corruption Commission managed to record his statement in Abu Dhabi on Nov 27, 2015.
He was one of the first of the group of seven to leave the country and has not returned to Malaysia since. He is reportedly in China.
Nik Faisal Ariff Kamil
Nik Faisal, who was managing director and CEO of SRC, also played a role as the mandate holder for Najib's AmBank Islamic accounts.
He is said to have been recommended by Najib's principal private secretary, the late Datuk Azlin Alias, to manage the former premier's accounts. Before he was SRC managing director, he was chief financial officer at 1MDB.
Nik Faisal had his statement recorded by the MACC in Jakarta on Oct 17, 2015, and is said to have left Malaysia two days before the 14th general election. He has not been seen since.
Eric Tan Kim Loong
Tan is described by Sri Ram as another fugitive from justice, like Jho Low. He is known to be instrumental in Jho Low's banking transactions and owns companies in Malaysia and Singapore.
The 41-year-old Tan represented Low at Affinity International Equity Partners and Tanore Finance Corp, both British Virgin Islands-registered companies.
"He was not just an ordinary runner and trusted aide to Low. Apart from taking instructions, he also provided legal opinions and advice to Jho Low," a report in The Star Online says.
Sri Ram stated that on May 22, 2012, US$295 million was paid by Aabar to Blackstone Asia, a company controlled by Low, through his associate Tan.
Tan and Low have been charged in absentia for laundering US$125.97 million. He is said to have left Malaysia before Low in 2015, and is still at large.
Jasmine Loo Ai Swan
Loo was 1MDB's legal officer at the time in question. Prior to her move to 1MDB, she had worked with Low at the Utama Banking Group as its legal executive.
The 46-year-old Loo read law in the UK. Based on former 1MDB CEO Datuk Shahrol Azral Ibrahim Halmi's testimony, Loo proposed the disposal of 1MDB's 100% equity interest in PetroSaudi Oil Service Ltd to Bridge Partners International Investment Ltd.
In the US Department of Justice (DoJ) documents, Loo is described as "1MDB officer 3". She is also a signatory of a bank account under the name of Tanore Finance Corporation, which purportedly transferred US$681 million into Najib's accounts.
She is said to have left the country on April 28, 2018, and has not been back since.
Terence Geh Choh Heng
The 48-year-old Geh was 1MDB director of finance and was described by Najib's former aide Datuk Amhari Effendi Nazaruddin as the overall coordinator of the 1MDB/SRC debt resolution programme on their trip to China in 2016.
He and Nik Faisal were said to have played a role in approving the transfer of funds and investment in the Pacific Harbour fund. This was disclosed during the trial of former BSI private banker Yeo Jia Wei in Singapore.
Geh is said to have left Malaysia on May 8, 2018.
Casey Tang Keng Chee
Tang is a former director of 1MDB. According to Shahrol's testimony, Tang advised the former 1MDB CEO to sign a purported joint-venture agreement between 1MDB and an imposter JV company PetroSaudi Holdings (Cayman) Ltd, to form 1MDB Petrosaudi Ltd.
Tang, 54, is described as "1MDB officer 1" in the DoJ document, who played a role in misleading banks in the transfer of US$700 million to Good Star Ltd, a company controlled by Jho Low.
Like Geh, Tang left Malaysia a day before the 14th general election.
Kee Kok Thiam
Kee is said to be one of Low's associates and is named in the ongoing RM680 million forfeiture action filed by the Malaysian government.
It was revealed during the SRC trial that former AmBank relationship manager Joanna Yu Ging Ping was required to claim the money she advanced for Najib's account through Kee.
He is said to have left the country and his whereabouts are unknown.