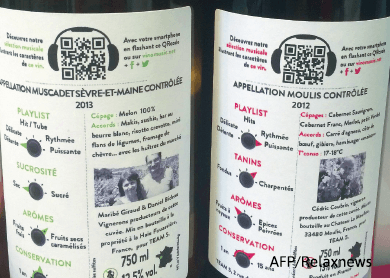 NOTES, accords, harmony... the worlds of oenology and music share the same language. Based on this, a team of aficionados has come up with a totally new line of wines, one which succeeds in associating a musical playlist to each of the nectars in order to better guide amateurs to the best selection. Code name: Vinomusic.
What if music is the key to choosing the right wine? Appellations, grapes, domain names ... there are plenty of details on wine labels and the novice consumers can quickly get lost in it all. Sommeliers and guidebooks are the best support system when you need help deciding which bottle best fits your needs. And now, a team of aficionados, comprised of vintners, communication and marketing specialists, and even the chief executive officer of a bottling and packaging company, has come up with a plan to solidify the relationship between wine and music in order to offer the consumers a new way to select their nectar.
A playlist for every wine
In the end, every wine sold by Vinomusic is defined by a musical playlist and every label includes a QR code to scan with a smartphone. By scanning the said label, oenophiles get access to different pieces of music that represent the wine's personality. The brand worked with various vintners from every appellation. Consumers are just as likely to come across recognisable names as they are producers worth discovering immediately. This is true across the wine colour spectrum.
The full range of Vinomusic wines is currently being distributed in small and medium-sized shopping centres. It was officially launched during the week of the Vinexpo international wine trade show in Bordeaux, France, where vintners and buyers congregated to determine the oenological trends of tomorrow. The wines are also available online, at www.vinomusic.net, as are the playlists that accompany them.
The team also added that a crowdfunding campaign will soon allow oenophiles to participate in the success of this unique project. — AFP/Relaxnews
This article first appeared in The Edge Financial Daily, on June 24, 2015.