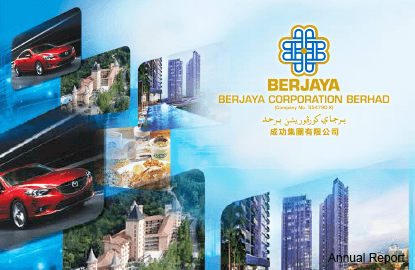 KUALA LUMPUR (Jan 20): Berjaya Group, controlled by tycoon Tan Sri Vincent Tan, has bagged an 18-year contract worth US$210.58 million (RM919.18 million) to operate number forecast operations (NFO) in Vietnam.
In a joint filing with Bursa Malaysia today, Berjaya Corp Bhd (BCorp) and Berjaya Sports Toto Bhd (BToto) said an investment registration certificate was issued by the Hanoi Department of Planning and Investment to BCorp and Vietnam Computerized Lottery One Member LLC (Vietlott) — a wholly-owned subsidiary of Vietnam's Ministry of Finance — today, which grants the two companies an exclusive 18-year contract to invest in and operate a nationwide computerised lottery in Vietnam.
"The estimated cost of the project is about US$210.58 million (RM919.18 million) to be incurred over a period of 18 years," they said.
BCorp and BToto said the investment required for the project will be funded through internal funds and/or borrowings over the tenure of the project.
Under the deal, both BCorp and Vietlott have agreed not to invest, participate in, directly or indirectly in any other project to conduct computerised lottery business in Vietnam. At present, Vietlott is the only enterprise permitted to conduct business in computerised lottery in Vietnam.
BCorp and BToto also noted that BCorp, via BToto, is already an established local industry leader in the NFO industry in Malaysia and the Philippines. "The project represents an opportunity for the BCorp Group to further venture into the gaming industry," they said.
This follows a business cooperation contract (BCC) the two companies had entered into with Vietlott on May 12, 2014. At the time, BCorp had edged out five other international bidders to undertake the Vietnam lottery business via Berjaya Gia Thinh Investment Technology Co Ltd (Berjaya GTI).
Berjaya GTI is 51% owned by Berjaya Lottery Vietnam Ltd, a company incorporated in Labuan, which in turn is 80% owned by BCorp and 20% owned by BToto. BToto is a subsidiary of Berjaya Land Bhd which in turn is a subsidiary of BCorp.
BCorp and BToto said the project was the culmination of a competitive bidding process with five other international lottery operators submitting proposals pursuant to a request for proposal issued by Vietlott.
"The BCC comprises investment for procurement and operation of the technical system, equipment, technology, software and computerised lottery in Vietnam.
"The tenure of the BCC is 18 years commencing six months from the issuance date of the certificate," they added.
Meanwhile, Berjaya GTI is expected to launch its first game, a Lotto Jackpot game by mid-2016, followed by a Digit game thereafter.
"Initially, the project will be launched in Ho Chi Minh City and will be rolled out progressively to reach nationwide coverage in Vietnam within the next five years with some 10,000 terminals," said BCorp and BToto.
They added that the high barriers to entry, its 18-year exclusive contract and low competitive pressure in the lottery business will provide a stable business environment for the project to sustain and achieve growth in Vietnam.
"With the large population of about 90 million in Vietnam and gross domestic product that grew by 6.5% in 2015, the interest and demand for lottery gaming in Vietnam is expected to be significant with its vibrant economic environment," they said.
"The project will facilitate the BCorp Group's objective of expanding its gaming business overseas. This will also enable the BCorp Group to strengthen and widen its core business network and also explore other businesses with growth potential in Vietnam," BCorp and BToto added.
In a separate statement today, BCorp chairman and chief executive officer Datuk Seri Robin Tan Yeong Ching said the award allows the group to strengthen its existing business and socio-economic relationship in Vietnam, which dates back to 2005.
"We have made substantial investments in property development and the hotel and stockbroking industries in Vietnam over the years," he added.
BCorp shares closed one sen or 2.86% lower at 34 sen today, for a market capitalisation of RM1.59 billion. BToto's stock, meanwhile, closed five sen or 1.7% higher at RM3, valuing it at RM4.05 billion.
(Note: The Edge Research's fundamental score reflects a company's profitability and balance sheet strength, calculated based on historical numbers. The valuation score determines if a stock is attractively valued or not, also based on historical numbers. A score of 3 suggests strong fundamentals and attractive valuations.)