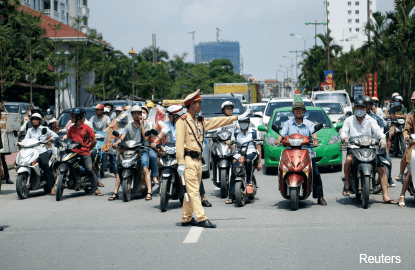 This article first appeared in The Edge Malaysia Weekly, on January 25 - 31, 2016.
IT seems Tan Sri Vincent Tan has won the lottery again. The Malaysian tycoon has been given the exclusive right to operate computerised lotto games in Vietnam for 18 years.
This will be Tan's third number forecast operator licence. His first is the local NFO licence held by Sports Toto Sdn Bhd — a wholly-owned subsidiary of Berjaya Sports Toto Bhd — that he was given in August 1985.
His second licence was awarded by the Philippines.
Berjaya Corp Bhd's (BCorp) shares spiked 8.8% the day after it was announced that the Vietnamese government had issued an investment registration certificate (IRC) to the diversified group and Vietnam Computerized Lottery One Member LLC (Vietlott). The IRC grants the two companies an exclusive 18-year contract to invest in and operate nationwide computerised lottery in Vietnam. Vietlott is a wholly-owned subsidiary of Vietnam's Ministry of Finance.
The estimated cost of the project for the whole duration is US$210.58 million (about RM919.18 million).
The NFO business will be undertaken by Berjaya Gia Thinh Investment Technology Joint Stock Company (Berjaya GTI), in which Berjaya Lottery Vietnam Ltd (BLV) holds a 51% stake and Vietlott the remaining 49%.
BCorp, in turn, owns 80% of BLV while its indirect subsidiary, Berjaya Sports Toto Bhd, holds 20% equity interest.
According to data compiled by Vietlott, Vietnam's lottery sales in 2014 amounted to VND63,000 billion (about RM12.3 billion), of which 95.5% comprised traditional lottery products, 3.48% Lotto, 0.7% Instant Lottery and 0.35% computerised lottery.
Judging from the statistics, computerised lottery is not popular in Vietnam yet. Nonetheless, some investment analysts believe the exclusive right is promising and could possibly provide the Berjaya group with a fresh and steady income stream, although there may be a gestation period before the revenue starts flowing in.
"They (BCorp) can launch all the lottery games via distribution channels that are not limited to traditional outlets; people can also buy (lottery) tickets through the phone and internet, so in terms of accessibility, it is quite easy," says TA Securities analyst Tan Kam Meng. "Moreover, Vietnam's population, especially the gambling population, is much bigger than Malaysia's, considering that it is not a Muslim nation."
Although the IRC is exclusive, Tan raises the possibility of competition from rampant illegal betting there. Nevertheless, he feels BCorp's partnership with Vietlott indicates that the Vietnamese government is committed to regulating the gaming industry.
A Hong Leong Investment Bank (HLIB) analyst notes that the computerised lottery market in Vietnam is underserved. "People are buying into the Vietnam growth story and, overall, we are positive about the news. But we are still waiting for more information, including the earnings feasibility of the business, from the group."
Currently, Vietlott is the only state-owned enterprise that owns an exclusive licence to operate computerised lottery games while the traditional lottery games are handled by 63 companies that are operated by the country's 63 provincial governments.
In a Jan 21 research note, HLIB remarks that the introduction of Lotto Jackpot, Digit (4D) and Keno games (a small bet amount with huge prize payouts) will capture the untapped segment despite Vietnam's low per capita income of US$2,052 (as at 2014).
Apart from the bright prospects for the Vietnam market, HLIB says BToto's vast experience and know-how in the gaming industry is also a positive factor.
In the announcement last week, BCorp said the products to be launched include Lotto Games, Digit Games and Fast Draw Games, which will be distributed through various channels, such as computerised terminals, telephones and mobile phones, and the internet.
The group also said that Berjaya GTI will launch a Lotto Jackpot game, its first, by mid-2016, followed by a Digit game thereafter.
The project will be launched in Ho Chi Minh City and rolled out progressively to reach the whole of Vietnam in the next five years with 10,000 terminals, BCorp said.
However, HLIB notes that the earnings contribution to BToto is likely to be minimal, given that the group only has a 10.2% indirect stake in the venture.
Kenanga Research analyst Teh Kian Yeong concurs. But as the Malaysian NFO market is saturated, he believes the venture will help improve BToto's earnings base in the future. "With a population that is thrice Malaysia's, at 90 million, the interest in and demand for lottery gaming in Vietnam is expected to be significant," Teh says in a note.
Some analysts, however, opine that it might be too early to draw any conclusions about the Vietnam venture because it may take a while for the Vietnamese to switch to computerised lotto games.
"Some of the information, like what are the taxes on NFOs, is very important to fill the puzzle, so we are still waiting for more disclosure at this juncture [to form a concrete view]," says an analyst who declined to be named.