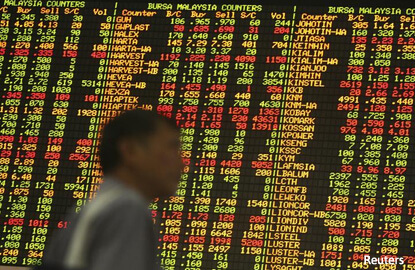 (Feb 15): Vietnam shares hit their highest since February 2008 on Wednesday, led by gains in financials, while most other Southeast Asian markets rose ahead of key US economic data that could influence Federal Reserve's rate hike decision.
The consumer price index is expected to have risen 0.3% in January after a similar gain in December, while retail sales are likely to have risen 0.1% in January after advancing 0.6% the previous month.
Vietnam index rose for a fourth straight session to close 0.8% higher. Trading volumes were 1.5 times the 30-day average.
"It looks like basket trading in a couple of key stocks... we are seeing a return to favour of some of the banks," said Fiachra Mac Cana, head of research at Ho Chi Minh Securities.
"We are sitting on top of a major resistance line right now... we may see the markets consolidate at current levels," Mac Cana added.
Vietnam Joint Stock Commercial Bank for Industry and Trade added 3.5% to end at its highest in nearly 15 months. Vietcombank gained 0.8%.
Vingroup JSC rose 4.6% to close at its highest since Sept 30, 2016. The real estate company's stock traded heavily, clocking over four-times its 30-day average.
Singapore rose 0.5%, lifted primarily by Thai Beverage PCL, up 6.8% at its highest in three months after reporting a 28% jump in its quarterly net profit.
Index heavyweight Singapore Telecommunications Ltd rose 0.8% to close at its highest since October 2016.    
Philippines reversed early gains and fell 0.5% to its lowest in almost a month, weighed down by financial stocks.
Conglomerate Ayala Corp and Bank of the Philippine Islands closed 1.8% lower. In contrast, International Container Terminal Services Inc gained 2.8%, recovering from the previous sessions heavy losses.
The Indonesian stock market was closed for local elections.
SOUTHEAST ASIAN STOCK MARKETS
Change on day
| | | | |
| --- | --- | --- | --- |
| Market             | Current        | Prev close    | % move |
| Singapore          | 3088.48        | 3072.47       | 0.52 |
| Bangkok            | 1573.37        | 1572.24       | 0.07 |
| Manila             | 7174.3         | 7206.84       | -0.45 |
| Kuala Lumpur       | 1709.79        | 1708.9        | 0.05 |
| Ho Chi Minh        | 711.57         | 706.26        | 0.75 |
Change this year
| | | | |
| --- | --- | --- | --- |
| Market             | Current        | End 2016      | % move |
| Singapore          | 3088.48        | 2880.76       | 7.21 |
| Bangkok            | 1573.37        | 1542.94       | 1.97 |
| Manila             | 7174.3         | 6840.64       | 4.88 |
| Kuala Lumpur       | 1709.79        | 1641.73       | 4.15 |
| Ho Chi Minh        | 711.57         | 664.87        | 7.02 |