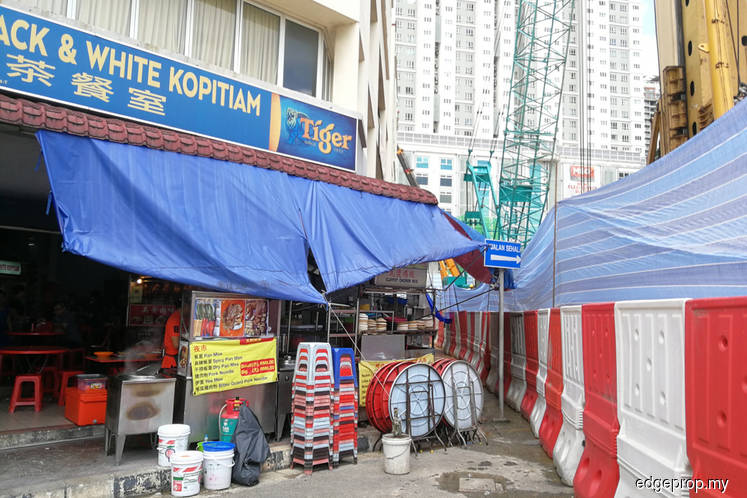 PETALING JAYA (Nov 15): Construction works for the Damansara-Shah Alam Elevated Expressway (DASH) happening at Jalan PJU 8/5C, Damansara Perdana this afternoon have caused a series of "obvious shaking" which scared the office workers in the nearby office to run-off from their buildings.
The incident, which took place at about 1pm today, frightened office workers at the upper levels of the nearby shoplots, according to Big Plus Properties (PJ) Sdn Bhd director Tom Ip, whose office is located about 100m away from the construction site.
"The shaking was very obvious, so people went down and ask them to stop. Now they stopped already," he told EdgeProp.my.
Apart from the Jalan PJU 8/1, the construction work is also taking place on a small stretch of road on Jalan PJU 8/5C, which is just a few steps away from the MK Land Holdings Bhd office and Kafe Black & White Kopitiam.
An MK Land staff who was working at the second floor of the building when the incident occured said the vibrations caused things on their  desks to fall down.
He believed the vibration was caused by the concreting work at the site, which started a few months ago.
"They bore until [a certain] depth before they put in the reinforced steel and pour the concrete. And then they pull out the steel sleeve, which causes the vibration. The vibration is to compact the concrete to make it stable," he explained.
He noted that although it was a normal construction process, there is concern over whether it will cause damage to the surrounding buildings.
"The process is like that, they have to do that. But I don't know if it will cause damage to the building or not, so they have to monitor. It is their responsibility," he said.
"They have stopped the work now because someone complained to them. But even if they don't do it [construction] now, they still have to do later."
"It is very inconvenient, but what to do?" he asked.
Meanwhile, the Kafe Black & White Kopitiam sitting at the back of MK Land's office is suffering loss of customers as the construction site took away a number of parking bays on the stretch, making it even harder for prospective customers to find parking and eat at the kopitiam.
The owner of the eatery, who does not want to be named said  the shop lost about 50% to 60% of their customers since construction works started.
"It affects our business and secondly, it causes pollution also. And I don't know how it is going to be like as they continue to undertake the construction work," she said.
According to the DASH notice board in the area, the main contractor for the construction work which is expected to be completed on April 30, 2019 is HRA Teguh Sdn Bhd.