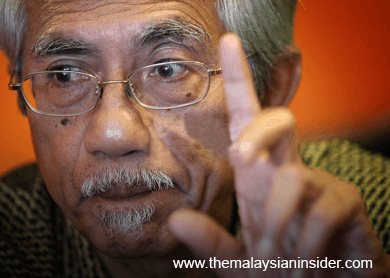 (July 23): Veteran newsman Datuk A. Kadir Jasin said the arrest of a top executive of a construction and property development company over investigations into 1Malaysia Development Bhd (1MDB) had a "twist" to it as the man was also linked to Lembaga Tabung Haji chairman Datuk Seri Abdul Azeez Abdul Rahim.
Checks on the man arrested on Monday, Jerome Lee, have shown that he is group executive director of Putrajaya Perdana Bhd (PPB), a planning and development company involved in developing the federal administrative capital, Putrajaya.
But Kadir also noted that checks on the company's website showed that Azeez was PPB's chairman.
"If the information is correct, (Lee's) arrest has another twist to it. According to the company's official website, its chairman is Datuk Seri Abdul Azeez Abdul Rahim, the Barisan Nasional MP for Baling and the chairman of Tabung Haji.
"Tabung Haji is one of the many government agencies embroiled in the 1MDB debt saga," Kadir said in a blog post, referring to the pilgrims fund controversial purchase of land from 1MDB's Tun Razak Exchange (TRX).
The Malaysian Insider earlier this week tried to contact Azeez to confirm that he knew Lee and that both men were top executives of Putrajaya Perdana.
Azeez, who is also an Umno Supreme Council member, was in the spotlight recently over Tabung Haji's RM188 million purchase in April of a 1.56 acre plot of land in the Tun Razak Exchange (TRX) project from 1MDB.
Tabung Haji's involvement in a deal with 1MDB drew severe public ire, leading to the pilgrims' fund's announcement that it would sell the land to respect the "sensitivity" of depositors, who use their savings with Tabung Haji to perform the Muslim pilgrimage.
Azeez had said that the sale was on the advice of Prime Minister Datuk Seri Najib Razak, who was also chairman of 1MDB's advisory board. He said there were ready buyers, but to date there had been no news of the land's disposal.
Information on the PPB website also revealed that Azeez was appointed to the company board on December 15 last year following the acquisition of shares in PPB by Lembaga Tabung Haji.
He was subsequently appointed as the non-independent non-executive chairman of PPB on January 1, 2015.
Kadir said Lee must be a "very important person" in order to be represented by Umno's high-profile lawyer Tan Sri Muhammad Shafee Abdullah.
"So logically Lee's arrest must have been very significant to the case so as to warrant Shafee's services," said the former New Straits Times Group editor-in-chief.
Lee's arrest on Monday was also linked to investigations into another 1MDB-linked firm, SRC International Sdn Bhd, which is owned by the Finance Ministry but was previously a 1MDB subsidiary.
SRC International has a government backed-loan of RM4 billion from the Retirement Fund Inc, and has drawn criticism from opposition politicians on Putrajaya's lack of clarity on the company's exact business.
Lee is one of two arrested so far in the task force's probe into 1MDB. The other is Ihsan Perdana Sdn Bhd managing director Datuk Shamsul Anwar Sulaiman.
Ihsan Perdana is a company that undertakes corporate social responsibility programmes for 1MDB's charity foundation, Yayasan 1MDB.
Lee was remanded on Tuesday for four days, while Shamsul was remanded yesterday for five days. – The Malaysian Insider