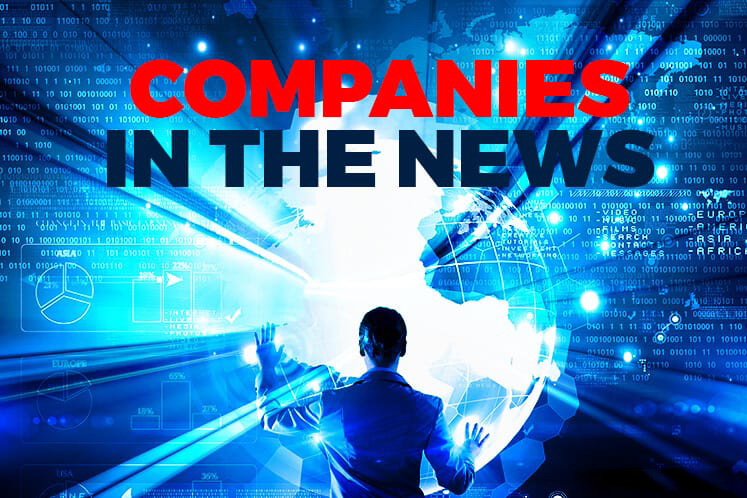 KUALA LUMPUR (April 3): Based on corporate announcements and newsflow today, stocks in focus tomorrow (April 4) could include: Vertice Bhd, Tien Wah Press Holdings Bhd, Bina Puri Holdings Bhd, MyEG Services Bhd, Lee Swee Kiat Group Bhd, Malaysia Airports Holdings Bhd and UMW Holdings Bhd.
Vertice Bhd, formerly Voir Holdings Bhd, has been awarded a sub-contract job valued at RM218.48 million in relation to upgrading works of the federal road from Gambang, Pahang, to Segamat, Johor.
Its wholly-owned unit Vertice Construction Sdn Bhd was offered the job by Kumpulan Liziz Sdn Bhd, the main sub-contractor for the upgrading of the federal road known as Federal Road 12, which was awarded by the Public Works Department.
Vertice said its job scope involves the coordination, inspection, testing, commissioning, as well as obtaining final approval for works done for the proposed upgrading works of the FR12.
Construction of the project will take about 13 months, starting from April 9 till April 30, 2019.
Tien Wah Press Holdings Bhd is seeking shareholders' approval to provide financial assistance of up to RM250 million to a joint venture company (JVco), and to diversify its business into property development and investment.
The JVco is Lum Chang Tien Wah Property Sdn Bhd (LCTWP), which Tien Wah set up with Lum Chang Holdings Ltd (LCH) on a 50:50 ownership basis to undertake the proposed redevelopment of its factory site along Jalan Semangat in Petaling Jaya into a mixed-use commercial project. The JVco was formerly known as Sterling Model Sdn Bhd.
Tien Wah proposed to provide the aid in two ways: in the form of cash advances to subscribe for up to RM100 million worth of the JVco's securities; and via the provision of guarantee, indemnities and collaterals for the JVco to obtain banking facilities of up to RM150 million — which is in proportion to Tien Wah's stake in the JVco held via its subsidiary, Tien Wah Properties Sdn Bhd.
Bina Puri Holdings Bhd plans to work with Sabah state investment arm Warisan Harta Sabah Sdn Bhd to build two small hydropower sites in Tuaran and Kota Belud, Sabah.
Collaborating with Warisan Harta Sabah will give Bina Puri an advantageous platform to venture into the development of hydropower plants in the state, the group said.
Bina Puri said its wholly-owned subsidiary BP Energy Sdn Bhd had on March 29 signed a Memorandum of Understanding with Warisan Harta Sabah to collaborate on the proposed development of the hydropower sites, which are expected to have capacity of 5 megawatts (MW) and 3.5 MW respectively.
The two parties will establish committees and sub-committees to pursue discussion and negotiations on the development of the project.
MyEG Services Bhd has inked a preliminary agreement with Johor's state investment firm, Johor Corp, to explore the possibility of buying or leasing a piece of land located within the state's Muar Furniture Park.
MyEG said its sub-subsidiary MY EG Lodging Sdn Bhd (MYEL) entered the Memorandum of Understanding with Johor Corp today.
"MYEL and JCorp wish to discuss the terms and conditions of the proposed option to purchase or lease a piece of land situated in Muar Furniture Park.
"The MoU shall form the basis of consensus of the parties to examine the feasibility of the undertaking until such time as the definitive agreement(s) is entered into by the Parties and that the document forms the basis of consensus for the two to examine the feasibility of the undertaking," MyEG's said.
Lee Swee Kiat Group Bhd is adopting a dividend payout policy of not less than 30% of its net profit for the financial year ended Dec 31, 2017 onward.
The company said the payment will be in the form of cash or share dividend in equivalent market value.
"However, such payments will depend upon a number of factors, including amongst others, the earnings, capital commitment, general financial conditions, distributable reserves as well as the solvency test," it said.
The Court of Appeal today allowed the main contractor for the Penang International Airport 2010 and 2011 upgrading works, Syarikat Pembinaan Anggerik Sdn Bhd (SPASB), to continue its legal action in relation to a RM43.99 million claim against Malaysia Airports Holdings Bhd (MAHB).
MAHB said SPASB's appeal was allowed on the ground that there is no arbitration agreement in the contract within the meaning of the Arbitration Act 2005 and therefore in essence, SPASB is right in commencing legal action in court.
In the suit filed in April last year, SPASB claimed against from MAHB a sum of  RM43.99 million, and other claims on damages and interest, in respect of losses and damages pertaining to development and upgrading works at the Penang airport.
UMW Holdings Bhd (UMWH) said there is no certainty that it will extend the proposed mandatory offer for all the remaining MBM Resources Bhd (MBMR) shares it does not already own.
"UMWH wishes to emphasise that there is no certainty that the MBMR offer will lead to any conclusive or definitive understanding between the parties," it said ina  statement.
UMWH said an appropriate announcement will be made when there are material developments relating to the proposed MBMR acquisition.