This article first appeared in The Edge Malaysia Weekly, on October 22, 2018 - October 28, 2018.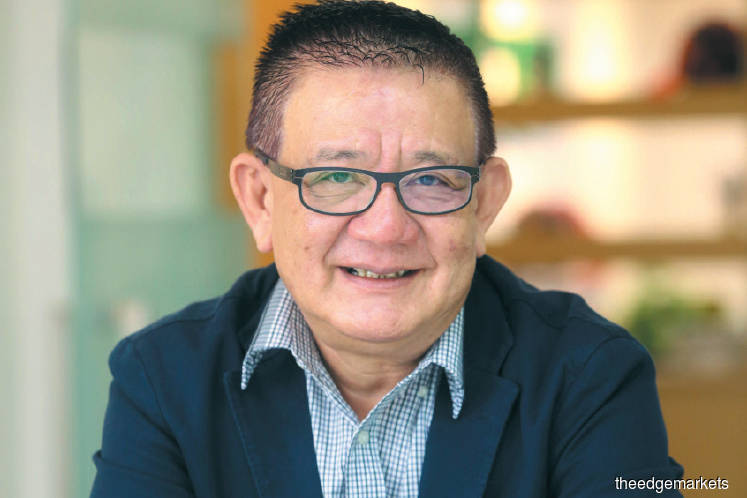 VERTICE Bhd, formerly known as VOIR Holdings Bhd, is confident that a mega infrastructure project in Penang, comprising three major roads and a third link, will be successfully executed.
Last month, Vertice and locally-listed builder Vizione Holdings Bhd secured the contract for Package 2 of the project — a 5.7-km bypass from Bandar Baru Ayer Itam to Lebuhraya Tun Dr Lim Chong Eu worth RM815 million — from Consortium Zenith Construction Sdn Bhd (CZC), the main contractor.
The infrastructure project, valued at RM6.3 billion, comprises the North Coast Paired Road from Tanjung Bungah to Teluk Bahang (Package 1), Ayer Itam-Lebuhraya Tun Dr Lim Chong Eu Bypass (Package 2), Persiaran Gurney-Lebuhraya Tun Dr Lim Chong Eu Bypass (Package 3) and the Third Link, an undersea tunnel connecting Persiaran Gurney to Bagan Ajam (Package 4). The project is part of the Penang Transport Master Plan.
The project, however, is opposed by various local groups and came under the spotlight in January when the Malaysian Anti-Corruption Commission (MACC) raided CZC — Vertice's 13.21% associate — in connection with an investigation into the undersea tunnel plan.
It has been in the news mainly because of the RM6.3 billion price tag as well as the RM305 million cost for the feasibility studies of the roads and tunnel. CZC said these were politically-motivated allegations by irresponsible parties.
Vertice's share price tumbled 29% — from RM1.10 on Jan 8 to 78 sen on Jan 17 — after gaining 58% last year. However, following Pakatan Harapan's historic win in the 14th general election, the stock rebounded to RM1.10. It closed at 82.5 sen last Thursday.
Although it is not clear if the MACC will take further action, Vertice executive director Wong Kwai Wah stresses that the company is ready to move on.
"We have big plans ahead. We intend to dispose of our women's fashion apparel business by the end of this year and hope to raise our stake in CZC in the first half of next year. We may secure more jobs in Penang in the last quarter of 2019," he tells The Edge in an interview.
On the controversy surrounding the project, Wong says CZC won the contract via an open tender. It has completed the feasibility study for Packages 1, 2 and 3, and in exchange, has got land from the state government.
"Hence, we do not see any possibility of the project being cancelled. The project was politicised in the past because the state and federal governments were from two different political parties. In fact, the feasibility study itself is not that expensive.
"The detailed design is what is expensive because it involves a lot of technical aspects. However, people politicised it to make it look bad. After the outcry, the Public Works Department and independent engineers came in to verify and prove that our quote is within a fair range," Wong explains. He adds that the detailed environment impact assessment has been reviewed and approved by the Department of Environment.
"We are very confident the project can be executed successfully."
It is learnt that the construction job for Package 1 is estimated to be worth RM716 million, while Package 3 is worth RM1.09 billion and Package 4, RM2.84 billion.
Work on Package 2 is expected to start in the first quarter of next year, and Wong estimates Package 1 will begin in early 2020, which means the contract is likely to be awarded by the last quarter of 2019.
"Package 3, which will be linked to the tunnel, will come later ...  around 2023. We can only talk about Package 3 after Package 1 is awarded," he says.
"Naturally, given the fact that we have common shareholders in Vertice and CZC, our (Vertice's) chances of securing Packages 1 and 3 are very high," he says, but is quick to add that nothing has been confirmed at the moment.
Asked if Vertice will team up with Vizione again for Packages 1 and 3, Wong says there is no commitment on that.
Vertice, which started out in the fashion apparel business, made its foray into construction in late 2016 after it secured a RM25.4 million Projek Perumahan Rakyat in Kota Setar, Kedah. To date, the group has won seven projects with a total contract value of RM786.1 million.
Wong says Vertice has long-term earnings visibility over the next few years with a strong order book.
Besides, the company has an order book to market capitalisation ratio of 5.1 times, with the ability to secure new contracts quickly.
Vertice disposed of its loss-making men's fashion apparel business for RM21 million at the end of last year and is now seeking interest for its women's apparel retailing arm, which is struggling to turn around.
In FY2017 ended Dec 31, the group's revenue grew 23% to RM207.7 million, up from RM168.9 million a year ago. It recorded a net loss of RM4.8 million, compared with a net profit of RM674,000 a year earlier.
The weaker bottom line was mainly due to lower profit margins as the fashion retailing business segment lowered product prices to more affordable levels to grow its market share.
"Next year, we are very confident of achieving an EPS (earnings per share) of 10 sen. If we can maintain at that level, we will definitely consider paying dividends," says Wong.
A back-of-the-envelope calculation shows that Vertice should generate at least RM18 million in FY2019, based on its share base of 186.91 million shares and a forward EPS of 10 sen.
That essentially means that it is currently trading at a forward price-earnings ratio of 8.2 times, based on last Thursday's closing price of 85 sen, giving it a market capitalisation of RM158 million.
Raising stake in CZC
To recap, last December, Vertice subscribed for a 13.21% stake in CZC and is looking to raise its shareholding.
"We are already working on that with our corporate advisers. Obviously, there has been always been the intention to raise our stake in CZC, but it is subject to board approval. There are a lot of technicalities because it is a related-party transaction," Wong says.
At the moment, "we are not sure by how much we want to raise the stake but suffice to say, we are looking for at least a controlling stake," he adds.
CZC senior executive director Datuk Zarul Ahmad Mohd Zulkifli's Zenith Construction Sdn Bhd currently has an 86.04% sstake in CZC, with Vertice (13.21%) and Juteras Sdn Bhd (0.75%) holding the rest.
Zarul also owns a 9.23% stake in Vertice, where he was previously the chairman.
"It is very likely that we will use a long-term share and debt instrument to finance the acquisition of an additional stake in CZC. We are not looking at bank borrowings or a cash call. Hopefully, we can get it done by early next year," says Wong.
Save by subscribing to us for your print and/or digital copy.
P/S: The Edge is also available on Apple's AppStore and Androids' Google Play.