This article first appeared in Personal Wealth, The Edge Malaysia Weekly, on March 2, 2020 - March 08, 2020.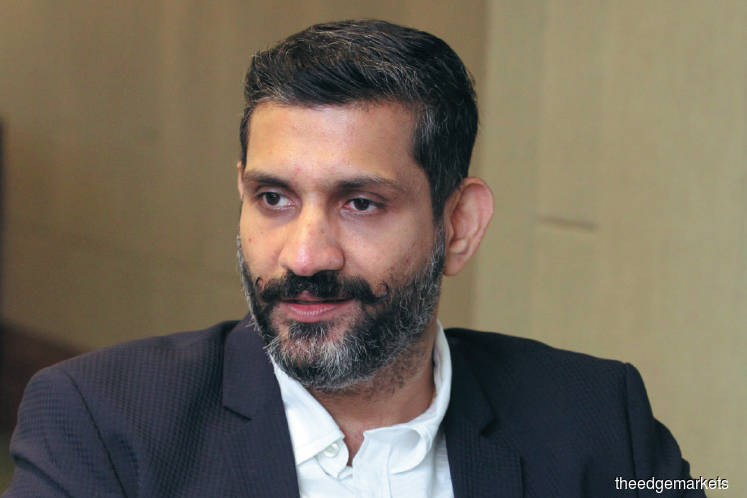 Anand: We do find really good deals and we invest in five each year. Photo by Kenny Yap/The Edge
Southeast Asia's deal landscape is no longer facing challenges, such as an insufficient supply of deals, lack of quality deals and no follow-up capital, like it did in the past, says Amit Anand, co-founder and managing director of Singapore-based venture capital firm Jungle Ventures. 
According to Anand, the landscape has improved significantly over the years. Hence, he believes there is no better time to take advantage of the growing ecosystem. "We are one of the oldest and largest venture capital firms in the region. When we started, we saw only 200 deals a year, now we are seeing 3,000 deals a year," he says. 
"Over time, we have heard people say there are no good deals. But we do find them and we invest in five really good deals each year. We have also heard people say there is no follow-up capital. This is no longer true. In fact, one of the companies we are investing in — budget hotel start-up RedDoorz — raised US$70 million [in August last year]. There is a growing number of venture capital firms in the region and an exit via initial public offering (IPO) is not impossible."
Anand thinks the ecosystem is becoming a lot more ideal for technology entrepreneurs to thrive. For instance, there are a lot of good talents that want to work for start-ups, the opportunities to raise capital are abundant and the region's regulators are generally supportive of innovation. 
"There are also many government agencies, such as Malaysia Digital Economy Corp, that are helping entrepreneurs succeed. We are bullish on Southeast Asia and have no intention to look for opportunities outside the region so far. We believe we will continue to see good opportunities in the next decade or two," he says. 
The market is growing steadily. In Cento Ventures' Southeast Asia Tech Investments — 2019 report, released on Feb 2, there was a significant increase in smaller venture capital deals last year, at US$2.4 billion compared with US$1.5 billion in the previous year. The number of liquidity events increased to 64, exceeding the previous year's total of 56.
For now, the challenge remains helping entrepreneurs stay focused, says Anand. "This is something we have struggled with for a long time. Entrepreneurs in the region are ambitious. They want to do a lot of things at once. While this is a good thing, they also need to make sure they are good at what they do. The industry is very competitive, after all. We want them to ensure that nobody can take their place in their market."
Jungle Ventures was founded by Anand and Anurag Srivastava in 2011. The firm was established at a time when there were not many venture capitalists (VCs) in the region. In 2012, it raised US$12 million for its first fund, making it the largest in Southeast Asia. Just three years later, it raised US$100 million for its second fund. 
Last year, Jungle Ventures raised US$240 million for its third fund. Almost 60% of the capital came from outside Asia. Investors included German development finance institution DEG, the World Bank's International Finance Corp, Bangkok Bank's corporate venture capital arm, Cisco Investments Ltd and Singapore's state investment firm Temasek Holdings. 
Prior to founding Jungle Ventures, Anand was an angel investor. He used to put his own money in companies in the region, believing in their growth potential. "What I saw was that once they used up the capital we provided to scale, they would find it very hard to raise the next amount of money to grow. At the same time, everybody was saying there is no growth in the region. It became a chicken-and-egg situation — if there are no parties around to help fuel these companies, how are they supposed to grow? The obsession to solve this problem was the reason we started the firm," he says.
Fortunately, the region was starting to become digitally connected, so scaling regionally was more attainable for Southeast Asian start-ups, says Anand. One example is streaming platform iFlix, which is one of Jungle Ventures' portfolio companies. 
When the platform started out, its services were only available to Malaysian consumers. Today, its services are available in 13 countries across Asia, including Sri Lanka, Myanmar, the Maldives and Nepal. 
Unlike some venture capital firms that sprinkle small amounts of money across many start-ups, Jungle Ventures' strategy has always been backing up to 15 companies for each fund, says Anand. 
The firm currently focuses on three themes — consumer brands for the digital native, platforms that enable the digital transformation of small and medium enterprises (SMEs) and Asian-born global technology leaders. 
"We have been doing this for close to a decade. We understand a few sectors deeply and believe that we can really add value to the start-ups in the space. For example, we do a lot of investments in the SME space. Southeast Asia is home to 100 million SMEs that are driving their countries' GDP growth," says Anand. 
"So, what is happening is that the children of these SME founders, who are very tech savvy, are now taking over the business. Once they realise that the company's legacy system is not as efficient as they want it to be and they do not have information at their fingertips, they will want to adopt newer technologies. We have a lot of expertise in helping SMEs do this. So, we invest in a lot of companies in that sector." 
The firm has been successful in providing returns to its investors over the years, having exited its portfolio companies when they were acquired by global tech players such as Rakuten, Twitter and Expedia. The firm's fastest growing portfolio companies currently include RedDoorz and point-of-sale software provider KiotViet. 
"A lot of people, especially young women in Southeast Asia, do not feel safe staying at some two-star or below hotels. There is no WiFi, the rooms are not as clean as they want it to be and they cannot read the reviews because these hotels are usually not listed on the internet. RedDoorz wants to solve this problem. It partners these hotels, upgrades the infrastructure and provides apt customer service. Customers pay US$25 to US$30 per night on average and can provide reviews instantly," says Anand. 
"We were one of its first investors when it started and the service was only available in Jakarta. Now, it is in more than 30 cities and expanding very quickly. Interestingly, back then, 90% of the bookings were made by women because it offered both quality and security. We are very excited to see its growth."
Vietnam-based KiotViet provides omnichannel business and management software solutions that cater for micro-businesses and SMEs. With fees starting from less than US$7 a month, its services include cash flow and inventory management  as well as marketing.
"We think KiotViet is a very exciting company. It is growing at more than 250% year on year and has a customer base of more than 70,000 active stores across Vietnam. We are looking forward to seeing its scaling exercise," says Anand.