This article first appeared in City & Country, The Edge Malaysia Weekly, on December 21, 2020 - December 27, 2020.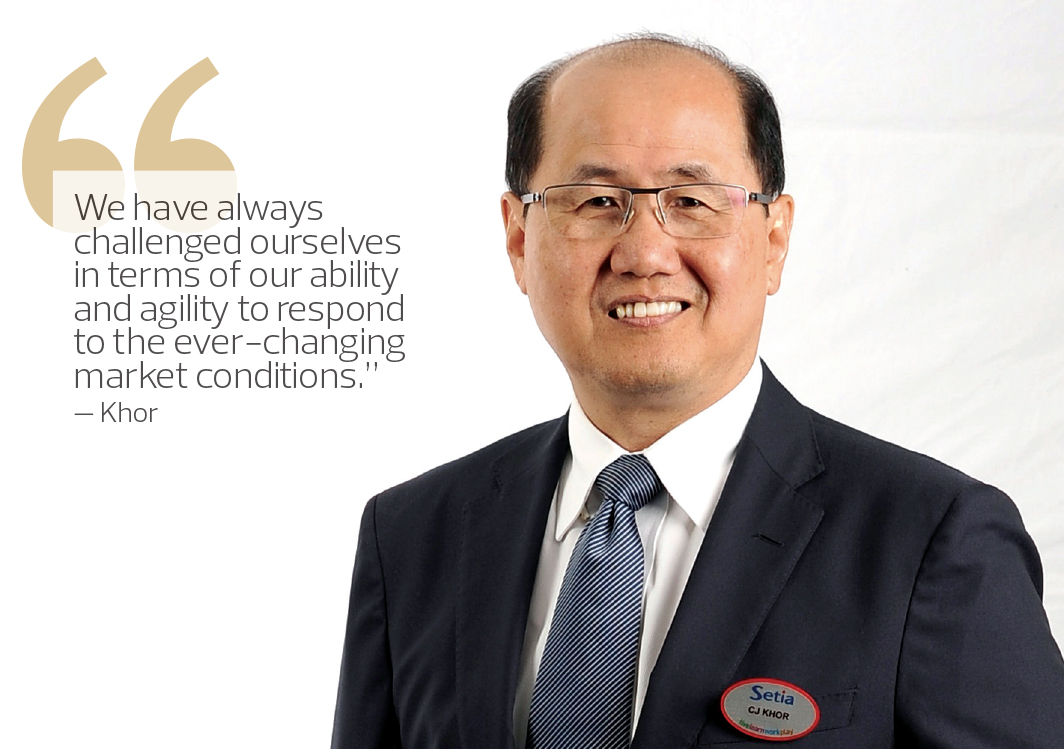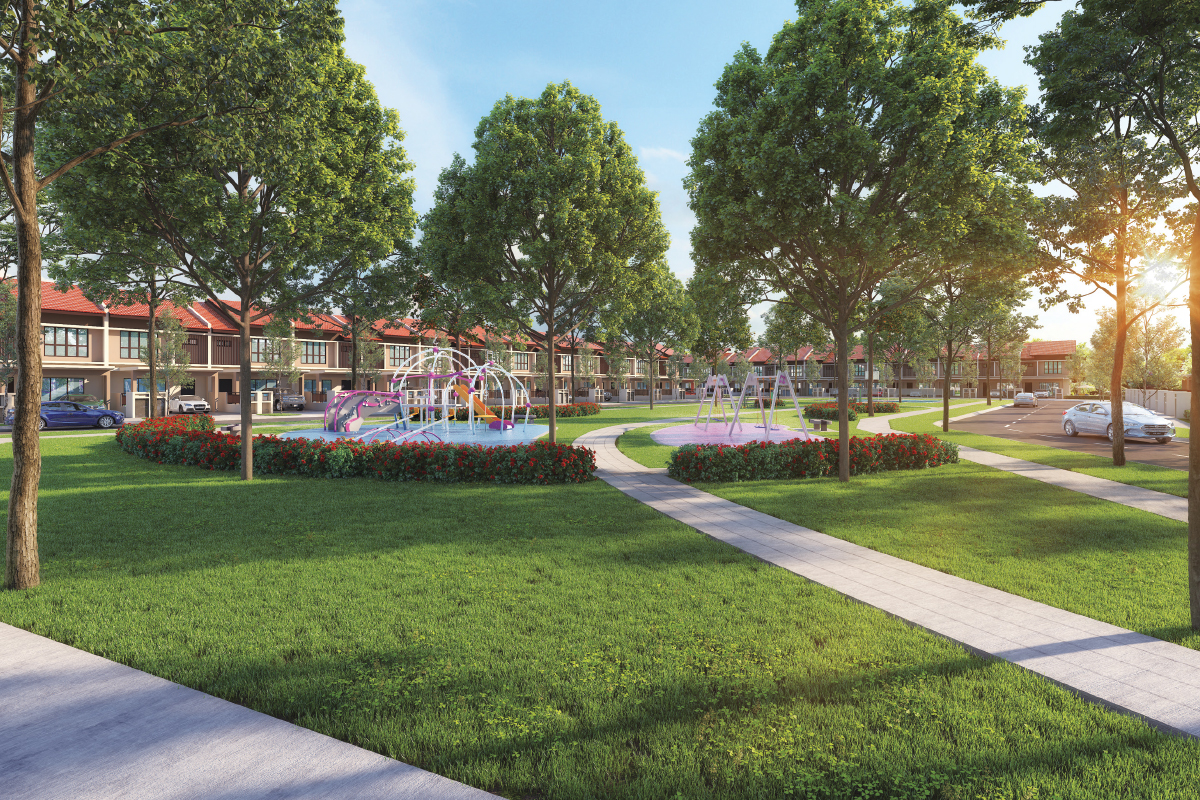 Viola in Alam Impian is one of S P Setia's ongoing projects (Photo by S P Setia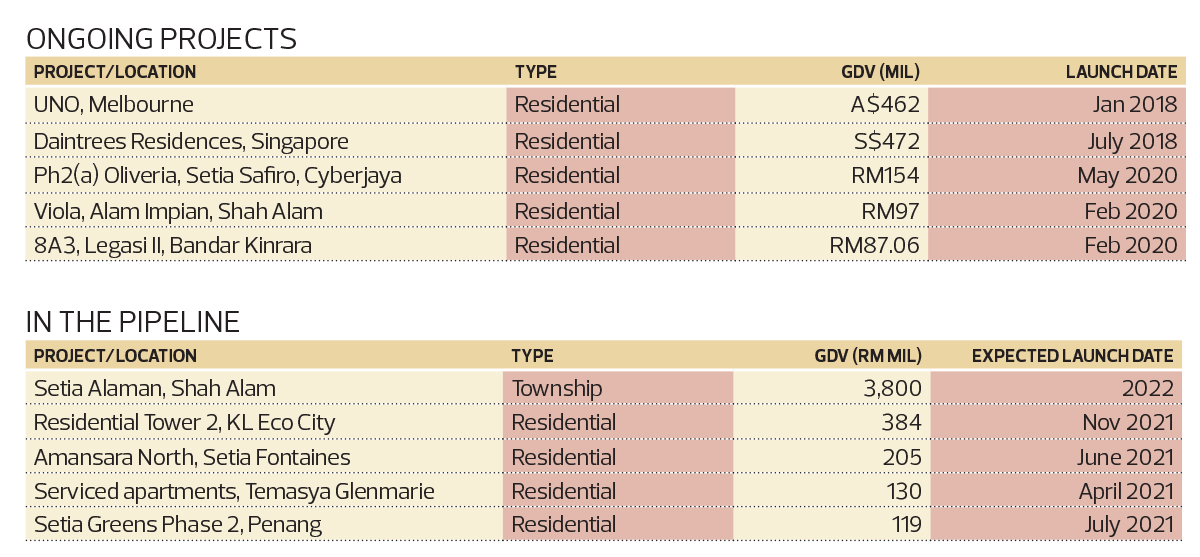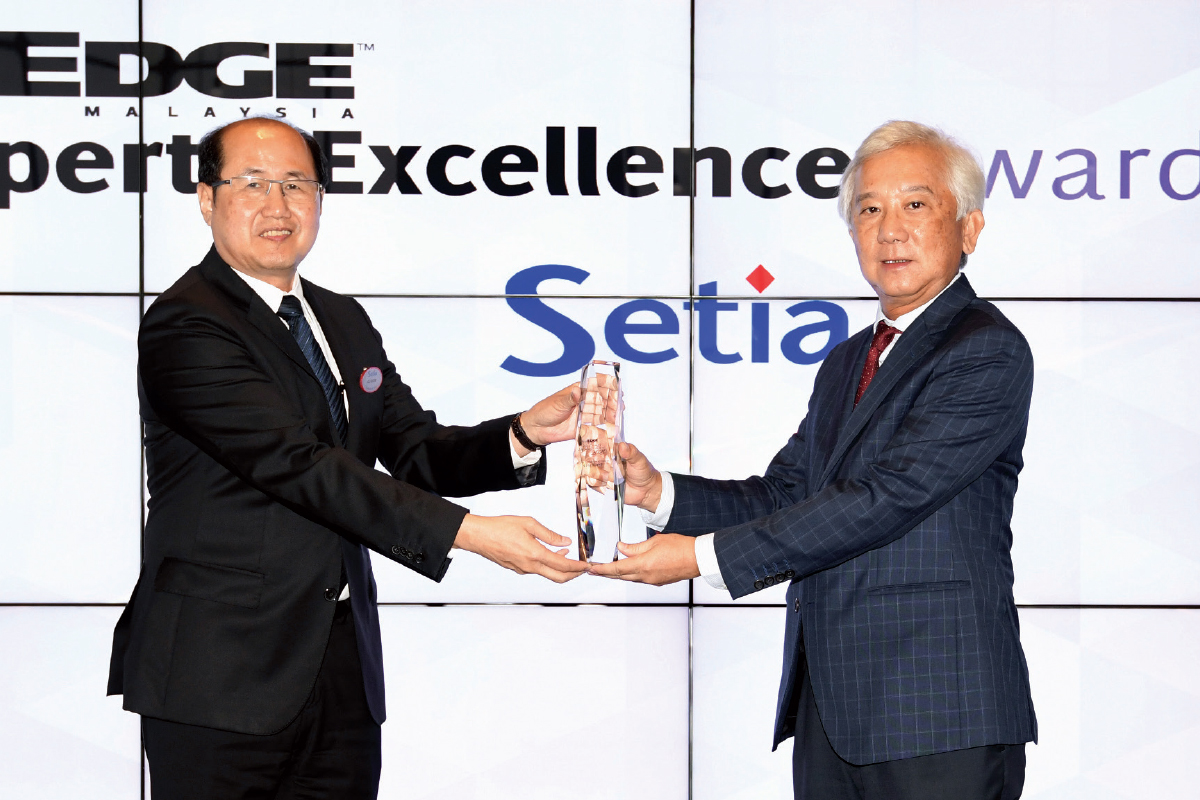 Khor receiving the award from The Edge Media Group publisher and group CEO Datuk Ho Kay Tat
No. 1 | S P Setia Bhd + Best in Qualitative Attributes
 
2020
2019
Overall
1
1
Quantitative
2
3
Qualitative
1
1
I am working from the office today, along with a skeleton staff. It has been a challenging time. Even so, we are limber and always observing the changing demands, needs and trends in the market," S P Setia Bhd president and CEO Datuk Khor Chap Jen tells City & Country via a Zoom call from the company's headquarters in Setia Alam, as he explains how the group is adjusting to the new norm.
S P Setia has undoubtedly demonstrated its grit and once again secured the top spot on the list of Top Property Developers Awards at The Edge Malaysia Property Excellence Awards. "We feel honoured to be recognised with this award, especially in the current times," says Khor.
"Our sales registered as at Oct 31 stood at RM2.86 billion. That is a good indication that there are still many potential homebuyers on the lookout for bargains and, most importantly, are able to afford such purchases even though the times are tough."
As at Sept 30, the group's remaining landbank stood at 8,653 acres with a gross development value (GDV) of RM137.44 billion. This landbank is expected to be developed over the next 15 to 20 years.
Khor shares with City & Country the group's plans to persevere in the market, its upcoming projects and its concerted efforts at digitalisation.
City & Country: S P Setia is on track to achieve its sales target of RM3.8 billion this year. Please review the group's performance in the last 12 months.
Datuk Khor Chap Jen: 2020 has not been an easy year for everyone, and no one has been spared from wrestling with the economic aftershocks of a soft market brought on by the Covid-19 pandemic. Nevertheless, it is also during this time that we see many genuine buyers who are still looking to own a property and wouldn't mind investing in and taking advantage of the promotions available.
The fourth quarter of 2019 was a very good one as we saw a spike in sales due to the Home Ownership Campaign (HOC). However, things slowed down in January and February. And then in March, we were all hit by the Covid-19 pandemic, and all the industries were affected. Construction progress was also halted due to the extended lockdown.
It was also during the lockdown and in making adjustments to the new norm that, we believe, many homebuyers started to rethink their homes. We note that there are three types of buyers:
• First-time homebuyers who are looking for a home with good security. This group has sustained our sales. Malaysia has a young demographic, with the average age [mean] of 29 years old, and we are generally a home-owning society.
• Upgraders who already have a home but, due to the pandemic, realise that they need something more comfortable, suitable and perhaps located closer to their workplace.
• Investors who have the money. Currently, this is a buyer's market. Hence, developers are throwing in more freebies, and this group will bite.
All in all [despite the challenges], we believe we have a fair chance of achieving our sales target of RM3.8 billion set for FY2020.
How does the group plan to continue setting a benchmark?
At Setia, we have always challenged ourselves in terms of our ability and agility to respond to the ever-changing market conditions. A quick recall of the 1997/98 Asian financial crisis, when we were embarking in a big way on our development in Bukit Indah, Johor. We quickly responded to the market by changing the plans to launch 2-storey developments to 1-storey ones. And when we went ahead to launch, it was sold out during the financial crisis. Fast forward to the aftermath of the 2008 global financial crisis, Setia launched the 5/95 scheme and it turned out to be a huge success.
Today, Setia continues to be agile, and instead of resisting the changes brought about by the Industrial Revolution 4.0, we started our digitalisation journey ahead of our many other bricks-and-mortar peers. This digitalisation journey has been further accelerated due to the current pandemic.
Our buyers are increasingly more adaptive and are at ease at using digital tools to source for new homes. Heeding this paradigm shift, the group is emphasising digital marketing initiatives and virtual events to engage its broad-based customers.
During the initial phase of the pandemic, we adapted our marketing campaigns to be digitally led. Both campaigns — "Stay Home, Stay Setia" and "Setia NOW" — were well received as there were many leads enquiring for more information. We even conducted two live stream online balloting sessions.
The group is also leveraging targeted social media and messaging apps to assist buyers in their buying process. An app called Setia On-The-Go was created to introduce our vast range of properties to potential homebuyers. Our online presence is further equipped with Setia Virtual-X, an online property showcase platform with interactive functions and combined features such as virtual tours and walk-throughs, virtual events and virtual show units.
In terms of the products, our four decades of experience and expertise has resulted in the best possible product layouts and designs, and our township master plans set the benchmark for the industry.
In the light of the Covid-19 pandemic, what have been the challenges? What are the group's plans to overcome them?
At the beginning of the lockdown, we were concerned about the health and well-being of our employees and foreign workers as the disruption was so abrupt that many were almost left in a lurch. Our employees, like many others, had to balance working from home, juggling the kids who were attending classes online and managing provisions for the family.
We engaged Naluri, an online coaching app that addresses physical and mental health through professional and confidential health coaching, to provide support to Team Setia. Our efforts include the following: We equipped the employees with digital tools to efficiently and effectively perform their jobs wherever they were; as for our foreign workers, we provided food aid to almost 6,000 workers at more than 50 of our construction sites until they were able to commence work.
In your opinion, what needs to be done to spur the recovery of the economy and property market?
The market is still flush with liquidity. Our hope is that the government will consider allowing more flexible lending guidelines to make it easier for Malaysians, especially for first-time homebuyers. We also hope there will be a short-term reduction of the price threshold for foreign buyers to own a property in the country.
We believe that if the government takes over the responsibility of building affordable housing for the B40 (bottom 40% income group) with some contributions from property developers, it will enable developers to concentrate on free-market housing. Cutting or at least maintaining the overnight policy rate at 1.75% will also help in the short and medium term to spur the demand for residential property loans.
We also hope the government will make available the Malaysia My Second Home programme as soon as possible to drive foreign investment, which will also help with the overhang situation we are currently facing.
In the current landscape, all parties have to work together rather than pointing fingers. For example [in some quarters], developers don't do the market study and just simply launch. It is safe to say that all developers need to do their research. The trouble is, there is not enough comprehensive data. It would be ideal for the whole industry to have a central data bank. Then, all parties can do their market research using this source.
Which of the product segments by the group has been the best performing in the last 12 months?
We see the mid-priced, affordable landed properties performing very well as many have realised the importance of owning a home that complements their lifestyle and needs in the new norm. We also noted the demand from Hong Kong, in particular for our apartments and condominiums in Penang.
What are S P Setia's strategies moving forward?
We will be focusing on clearing our inventories with digital promotion activities in addition to new launches in our mature townships. We will also continue with our accelerated digitalisation journey and enhance our digital touchpoints to stay connected with our prospective buyers.
Health and safety will be the basis of our planning and product offerings. The pandemic has reminded us of things we have taken for granted, such as real convenience and whether our lifestyle today is truly self-sustainable.
Is the group planning to acquire more land?
As at Sept 30, our effective remaining landbank stood at 8,653 acres with a GDV of RM137.44 billion. This will keep us busy for the next 15 to 20 years at least.
We are also looking at disposing of non-strategic landbank. We are not on an aggressive hunt for more landbank, but in the event that a good deal comes along and we are in a position to acquire it, we will be open to the offer.
Please share updates on ongoing and upcoming projects.
Our international projects are generally doing well. Battersea Phase 1 is thriving, albeit the progress is slightly delayed due to the new lockdown imposed. We have two developments in Melbourne, Australia — Sapphire by the Garden is targeted to be completed by 2Q2023 and we have handed over Marque recently. Over in Japan, we are monitoring closely as it is also affected by Covid-19, so we will hold on for a while.
Domestically, we will be looking at launches in our townships, including Setia Alam, Bandar Kinrara, Setia Safiro, Alam Impian, Setia Ecohill 2, Kota Bayuemas, Setia Fontaines up north, and Setia Tropika, Setia Indah, Taman Rinting and Taman Pelangi in the southern region. Taking a cue from the current market demand and buyers' affordability levels, we will continue to launch mid-priced products in our mature townships such as Setia Alam, Alam Impian and Bandar Kinrara in the central region and Bukit Indah in Johor.
Please share S P Setia's future plans and targets.
Looking at the market, we expect next year's growth to be flat. We aim to launch landed properties in our mature townships. We will also be embarking on a brand refresh and relaunch for Setia Alamsari and Alam Impian (both are mature townships).
We also plan to launch a new township, Setia Alaman, a continuation of Setia Alam. Should we see the market pick up in the middle of the year, we may consider launching integrated developments. We foresee pent-up demand from the upgraders market once the vaccine is avaliable as confidence will return and the market will naturally recover.