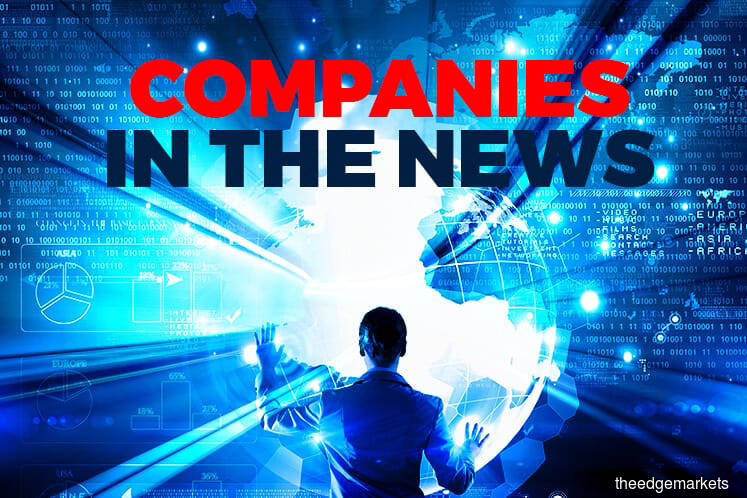 KUALA LUMPUR (March 3): Based on corporate announcements and news flow today, companies that may be in focus tomorrow (March 3) may include: Uzma Bhd, Top Glove Corp Bhd, WCE Holdings Bhd, GuocoLand (Malaysia) Bhd, FGV Holdings Bhd, Pintaras Jaya Bhd, PRG Holdings Bhd, Malaysia Building Society Bhd (MBSB), Bumi Armada Bhd and Perusahaan Sadur Timah Malaysia Bhd (Perstima). 
Uzma Bhd's subsidiary Uzma Engineering Sdn Bhd has secured a RM100 million contract for the provision of platform wells plug and abandonment campaign for Sarawak 2020 from Sarawak Shell Bhd and Sabah Shell Petroleum Co Ltd. The works are expected to commence in April and completed by November.
The group also secured another contract worth RM36 million from Petronas Carigali Sdn Bhd for the provision of well testing and tubing conveyed perforating for petroleum arrangement contractors. 
Top Glove Corp Bhd said it has resolved disputes involving its two subsidiaries — Top Care Sdn Bhd and Aspion Sdn Bhd — and four other parties, through a settlement agreement.
Top Care will receive a total of RM245 million as full and final settlement of the disputes.
Highway concessionaire WCE Holdings Bhd said toll collection has started at Section 5 of the West Coast Expressway, operated by its 80%-owned unit West Coast Expressway Sdn Bhd.
The tolling at the New North Klang Straits Bypass Interchange – Kapar Interchange, began after midnight on Sunday.
GuocoLand (Malaysia) Bhd is selling Menara Guoco in Damansara Heights to Tower Real Estate Investment Trust (Tower REIT) for RM242.1 million cash, in a related party transaction. It is expected to realise an estimated net gain on disposal of RM6.8 million.
FGV Holdings Bhd director Datuk Yusli Mohamed Yusoff has been appointed as deputy chairman of the plantation giant effective immediately. His role as the deputy chairman will encompass the senior independent director's role as well.
Pintaras Jaya Bhd, via its wholly-owned Singapore-based subsidiary Pintary Foundations Pte Ltd, has secured several piling contracts worth a combined RM116 million, with contract periods spanning between three and eight months between January and April.
PRG Holdings Bhd's 54.19%-owned subsidiary Furniweb Holdings Ltd, which is listed on the Growth Enterprise Market (GEM) board of the Stock Exchange of Hong Kong, has issued a profit warning, saying that it expects to record a "substantial decline in its financial performance", with a net loss of approximately RM43 million in FY19.
The company said its profitability for FY19 was mainly affected by recognition of impairment losses, increase in administrative expenses due to one-off professional fees, and loss from its retail division due to weaker sales performance, higher fixed overheads, and increased marketing expenses. 
Malaysia Building Society Bhd's (MBSB) net profit surged 202.38% to RM356.69 million in the fourth quarter ended Dec 31, 2019, from RM117.96 million a year earlier, helped by the financial services provider's financial asset impairment writeback, while revenue rose to RM784.14 million from RM680.37 million.
For the full year, net profit increased to RM716.9 million from RM642.4 million in the previous year, while revenue rose to RM3.01 billion from RM2.86 billion.
Bumi Armada Bhd, via its wholly-owned subsidiary, Armada TGT Ltd, has secured a loan facility of US$64.3 million (RM270.86 million), with a final maturity date on Dec 31, 2021 from ING Bank NV, Singapore, to fund the repayment of its existing loan, transaction expenses and financing costs.
Perusahaan Sadur Timah Malaysia Bhd (Perstima) is planning to undertake a one-for-five rights issue to raise RM59.58 million to partly finance its electrolytic tinning and tin free steel production line for the manufacturing plant in the Philippines as well as raw materials purchase. The company has also attached a one-for-two bonus issue to the rights issue.