This article first appeared in The Edge Financial Daily, on December 17, 2018.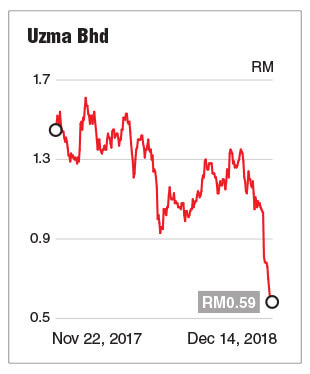 KUALA LUMPUR: Uzma Bhd, an international oil & gas (O&G) services company, has enjoyed a slew of contract wins throughout the year and anticipates to land a few more before the year ends.
The company, which is involved in the provision of O&G operational services and solutions such as drilling and well and production optimisation, has so far secured eight.
Though the group could not disclose how many or by when it is anticipating to land the jobs, group managing director and chief executive officer Datuk Kamarul Redzuan Muhamed said he would not be surprised if they come in in the last week, adding that last year the group won a contract on Dec 26.
"Yes we are still expecting a few more. We have been actively tendering for jobs as well as participating in market surveys. Our success rate is 20% plus and we feel that is pretty good," Kamarul told The Edge Financial Daily after the company's annual general meeting last week.
Kamarul said Uzma is currently participating in over 200 tenders, worth in excess of RM5 billion. On top of that it has secured 50 projects from over 30 clients in eight countries.
"We have recently won small projects in various places including in Sudan too. We continue to get jobs," he added.
Uzma's contracts are worth RM1.8 billion and are expected to last for the next three years. Around RM1.4 billion of the jobs are firm-order contracts while the remaining are umbrella-based contracts.
On the group's capital expenditure (capex) for the current financial year ending June 30, 2019 (FY19), Kamarul said it would depend on the nature of the contract wins.
"On average, we are looking at RM40 million to RM50 million for FY19," he said.
As at end-September, Uzma's cash balances stood at RM117.86 million while its borrowings totalled RM470.24 million, of which RM408.11 million are long-term debts.
In the first quarter ended Sept 30, 2018 (1QFY19), net profit grew 14% year-on-year to RM7.24 million from RM6.33 million previously.
Revenue, however, fell 12% to RM87.53 million against RM99.29 million a year ago on lower recognition for some of its projects.
Moving forward, the group is also looking to increase revenue contributions from overseas projects.
"Right now they contribute 15% of the revenue. We are targeting about 30% in the next four to five years, mainly around the region," said Kamarul, adding that some of the anticipated contracts could come from abroad.
Meanwhile, Uzma's chairman Datuk Abdullah Karim, said the current volatile oil prices could offer oil firms opportunities to start looking at well enhancement, which happens to be one of company's core products.
"Looking at the Petronas Activity Outlook (PAO), 2019-2021 (released last week), the oil price may affect some exploration activities and some development but one of the key things to take note is on the abandonment, decommissioning and maintenance of sites.
"Whether the oil price is low or high, if the [production life cycle] of the oil reservoir is up, you will have to abandon it," he said.
According to the PAO, Petronas projected well abandonment activities to involve around 50 wells in 2019, followed by around 40 wells in 2020 and around 60 in 2021.
UOB Kay Hian Malaysia Research, in its O&G sector report dated Dec 12, said the increase in well abandonment and drilling activities will benefit the visibility of Uzma, as it has a large portion of local umbrella contracts.
The research house upgraded Uzma to a "buy" call from "hold", with an unchanged target price of 85 sen, premised on inexpensive valuations as the group said that operational setbacks experienced in 1QFY19 had been resolved.
Uzma's share price has tumbled 57% over the past year to six-year low of 59 sen last Friday for a market capitalisation of RM185.6 million.