This article first appeared in The Edge Financial Daily, on December 17, 2019.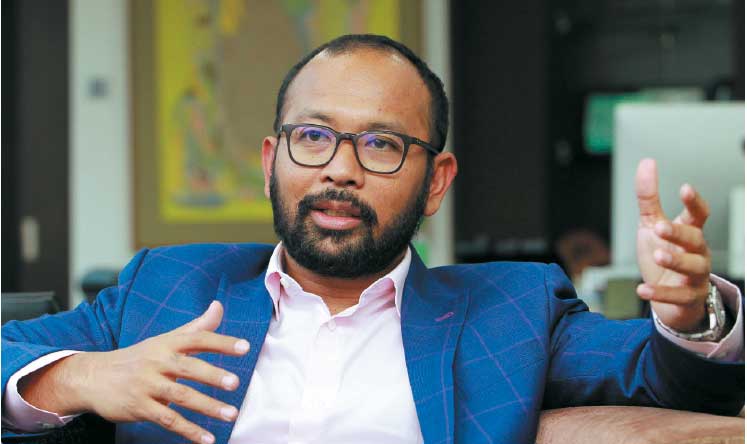 Kamarul: We believe we will have the highest-ever revenue in our 20 years of existence. The Edge file photo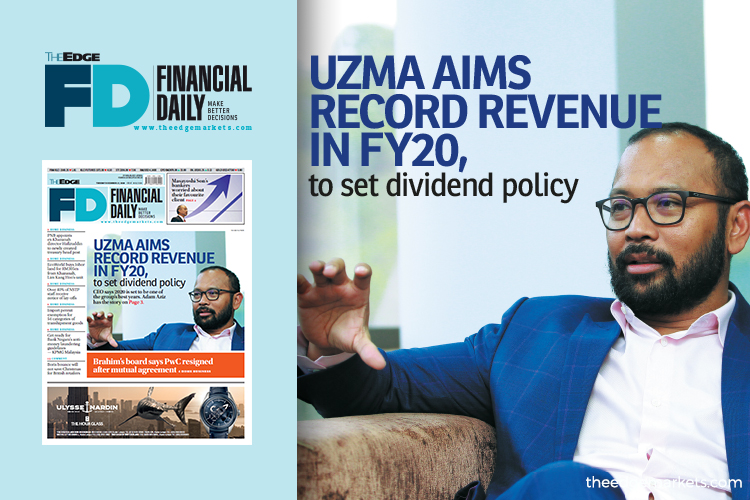 KUALA LUMPUR: Integrated offshore well solutions outfit Uzma Bhd is expecting to post record high revenue for the current financial year ending June 30, 2020 (FY20).
"I think 2020 will be one of our best years," said Uzma chief executive officer (CEO) Datuk Kamarul Redzuan Muhamed. "We believe we will have the highest-ever revenue in our 20 years of existence," he told reporters after the group's annual general meeting here yesterday.
To date, Uzma's highest annual revenue was RM516.25 million, which it achieved in FY15, just when oil prices crashed to below US$40/barrel (bbl) from over US$100/bbl in 2014. However, the group recorded a net profit of RM5.36 million that year, its lowest since FY11, due to foreign exchange losses and higher operating expenses.
Meanwhile, Uzma is "seriously looking at" setting up a dividend policy, and is currently preparing the guidelines for that, said Kamarul.
Uzma last paid an interim dividend of 3.78 sen per share in respect of FY14 ended Dec 31, 2014 — it has changed its year end since.
Uzma's best year in terms of bottom line was FY16, when it made a net profit of RM42.59 million, with an earnings per share of 14.64 sen per share, on a revenue of RM475.47 million.
'Subsequent awards from various clients'
The group's optimism about FY20 comes amid Uzma's efforts to strengthen its position in its core business of integrated well solutions (IWS), which involves workover or well intervention works, as well as well plugging and abandonment (P&A).
This year, it has upped its stake in Setegap Ventures Petroleum Sdn Bhd (SVP) to 64% from 49%. SVP's well cementing expertise complements Uzma's workover services, and acquiring a controlling stake reduces the group's operational risk when providing integrated services.
"It is to help us strengthen our integrated services offering, so that it is more seamless; everything is sourced internally rather than externally," Kamarul said.
"We are becoming a formidable P&A company that requires cementing. SVP is a very good cementing company," he added.
One major contract won by Uzma in the P&A area is the provision of well abandonment integrated services for Pulai-A, which involves 25 wells, that it secured from Petroliam Nasional Bhd (Petronas) last year.
Uzma has eight wells to go until the completion of the contract in the third quarter of 2020. Contracts involving a series of wells gives Uzma the chance to familiarise itself with the job and subsequently improve its cost base.
"There are foreign and local players with varying degrees of capabilities. But based on the number of wells we have completed, and the integrated services that we can do ourselves, I would say we are the market leader in the region," Kamarul said.
Uzma also has one of the biggest fleets of assets in terms of P&A works, he said, such as 11 hydraulic workover units, 14 coil tubing units and six electric line units.
"These are highly complex works," Kamarul said. "I think [the ball will start rolling] once you win projects and you have shown you are able to deliver … So far, we have subsequent awards from various clients [which will be announced accordingly]."
The majority of contribution to Uzma's anticipated top-line bump-up in FY20 will come from IWS, around 60%, while its production solutions (PS) should contribute 30% with the rest from subsurface solutions — all under the upstream segment. Uzma's business previously relied more on PS.
To date, Uzma has RM1.4 billion worth of outstanding order book, including an anticipated 30% of the contract sum under some umbrella contracts awarded by Petronas.
Uzma's plan is to further strengthen its three upstream-related businesses in the region. It now has footprints in Thailand, the Philippines and China.
Eyes on LLAs, solar energy projects
Meanwhile, Uzma is bidding to undertake technical studies to extend the value of late life assets (LLAs). Petronas opened tenders in October.
It is also reviewing whether to participate in discovered resource opportunities (DRO), following the opening of tenders by Petronas across four marginal field clusters  offshore Peninsular Malaysia and Sabah.
In a nutshell, on winning an LLA bid, the bidder will have to squeeze the remaining hydrocarbon out of a developed field. DRO, on the other hand, involves greenfield development of a marginal field, which may or may not be commercially viable.
Uzma appears to have expertise in both. It is involved in PS, and has undertaken a successful risk-service contract (RSC) with EnQuest plc for the Tanjung Baram marginal field from Petronas.
"Unfortunately [the Tanjung Baram] project is coming to the tail end of its life," Kamarul said.
Meanwhile, Kamarul confirmed that Uzma is bidding for "a little more than" RM300 million worth of tenders under the third phase of the Large Scale Solar scheme (LSS3), which will be awarded by the government in March.
"It is to support our strategy, to [go into] recurring business, with LSS potentially lasting 20, 21 years. At the same time, we are keen to participate in LSS4 as well."
"But it (LSS) is a tough market. So we are also participating in NEM (net energy metering) … From what we gather, there is still much unused quota under NEM. We think this is an untapped market, so we are going [in] aggressively," he said. Generally, solar panel installation is among the many potential business prospects in the implementation of NEM. Today, nearly 350mw of the 500mw quota offered by the government has yet to be taken up.
As analysts pointed out, Uzma will need to find the right partner to support its solar energy venture.
There are also concerns about its high gearing of near one time amid its timing to expand its business, but Kamarul assured that over 60% of its borrowings are project based and guaranteed by clients, of which half is under the RSC with Petronas.
Uzma shares closed 1.5 sen or 1.73% lower at 85 sen yesterday, with a market capitalisation of RM272.02 million. The stock has jumped a little over 44% since a year ago.