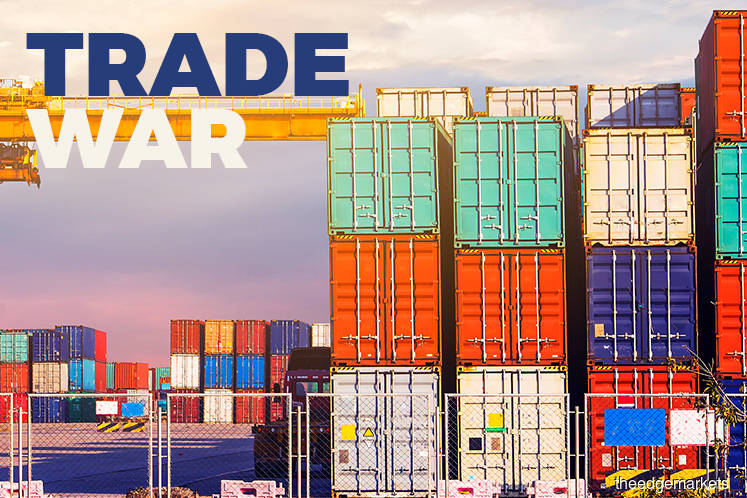 KUALA LUMPUR (Aug 14): Any trade diversion to Asean — which includes Malaysia — due to the trade tension between the US and China, is unlikely to outweigh the trade losses that will arise from higher tariffs that are expected to curb global growth, should the situation escalate into a full-blown trade war, according to CIMB Group Holdings Bhd's chief economist Dr Donald Hanna.  
In fact, Hanna believes "the worst may yet to come". 
For 2018, the banking group expects a slower gross domestic product (GDP) growth in Malaysia, even before taking into account the effects of the diminishing global trade. 
"If we get into a situation in which the tariffs continue to escalate and you get a confidence shock that affects financial markets that then generates not just a reduction in global trade — that would affect Malaysia because it's an open economy— but would also generate higher interest rates that would feed into Malaysian interest rates and exacerbate the problem," Hanna told reporters after the Asean Roundtable Series on "Trade War and Its Impact on ASEAN" organised by CIMB Asean Research Institute (CARI). 
Hanna explained that as the tariffs being put in place by the US and China are only on goods produced in both countries, manufacturers may circumvent that by going to other locations, for instance, Malaysia. 
"Therefore, you see both US firms and Chinese firms — in the face of the tariffs — are more likely to reallocate their investments to alternative locations, like Malaysia. That is the upside. 
"However, the downside is that global trade still diminishes. And in that environment, unless that investment comes very quickly — which is hard to do unless you already have something established — you have that effect on trade generally declining in this environment, because of the uncertainties, that is a net negative," Hanna said. 
The US has already imposed 25% tariffs on US$34 billion worth of Chinese goods, with an additional US$16 billion worth of Chinese goods to be taxed from Aug 23, 2018. The Trump administration has warned a further 25% to be charged on the next US$200 billion of Chinese imports into the US. 
The reduction in global trade as a result of that, will erode Malaysia's GDP growth rate by 1.3% relative to what the growth rate would otherwise be, over the next two years. This brings Hanna's projection of the GDP growth for Malaysia in 2018 to be between 5.1%-5.2%. 
However, he affirmed that the moderating growth rate was happening even before the issues of the trade conflicts arose. 
"Most of the deceleration [so far] is not because of the conflict between the US and China per se. It is the natural deceleration after what was a very rapid expansion in the second portion of 2017 in global trade," he said. 
"Right now, it is very difficult to see where the solution lies. We don't know how the Trump administration or the Chinese administration can declare a victory and stop [the trade war]. Hopefully, there will be some development whereby he (Trump) would be able to declare a victory and move on to policies that would be less detrimental to global trade and the rest of the world," Hanna added.  
Besides Hanna, the panel of speakers at the 13th edition of the CARI Asean Roundtable Series were: Malaysia Productivity Corp board member and former ambassador and permanent representative of Malaysia to World Trade Organisation (WTO), Datuk Muhammad Noor Yacob; European Union-Malaysia Chamber of Commerce and Industry CEO, Roberto Benetello; and American Malaysian Chamber of Commerce executive director Siobhan Das. 
The forum was moderated by CARI chairman Tan Sri Dr Munir Majid.